Property of the month
Former World Bank HQ up for rent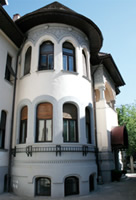 BLVD DACIA A pretty, secure and classic villa on Blvd Dacia near Parcul Ioanid is now available for rent for 15,000 Euro per month from real estate estate agency CB Richard Ellis.
At the heart of the leafy and residential Embassy Zone, but close to the centre at Piata Romana, this is an area that was once favoured by doctors, lawyers, politicians and members of the old boyar families.
Due to its heritage and the area, the villa is best suited for a dignified residence, sophisticated business headquarters or Government institution. The villa was the former country office of the World Bank from 1992 until 2007.
With curvilinear glass-interiors separating the rooms and tall ceilings that do not suffer from an overabundance of decoration, this is a light and airy villa with a touch of art nouveau.
Designed by architect Petru Antonescu in a mixture of Romanesque and Brancovenesque styles between 1910 and 1916, the house was nationalised in 1950. Since then it served as the headquarter for the Red Cross, the Romanian Institute for Foreign Relations and then the Embassy of Sudan.
Since 1992 the villa has seen a little investment, but there is still need for renovation in keeping the space waterproof. There is 1,200 sqm of usable area displayed on a ground floor, first floor and attic. There is 24-hour security, alarm systems, air conditioning, IT infrastructure and a reception desk in the lobby.
Inside there are 34 large rooms up to 40 sqm in size, original oak flooring and large stained glasses windows. Porcelain stoves, original coal heating systems and a pre-war oven also add to the aesthetic and cultural value of the building.
On street parking is available in front of the house in addition to the four parking spaces provided on site.
For more information call
Iuliana Sanduc at CB Richard Ellis on 0749 120 615
---
Beating the con tricks in real estate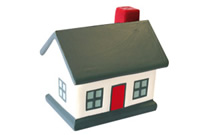 Speculators who have exhausted the real estate boom of Poland, the Czech Republic and Bulgaria are now buying and selling in Romania – but must watch out for the same kind of con tricks.
Buyers' profit expectations are often unrealistic and their limited market knowledge can transform into easy prey for unscrupulous brokers and agents.
Cases of foreign investors being fooled in Bulgaria include projects described in brochures that do not resemble the end result and without the facilities promised. A familiar complaint – but one hard to resolve through the justice system's long and tiresome processes.
Desislava Leshtarska, a real estate expert at PropertyWise Bulgaria, cites a "phantom" holiday project in Albena that required 5,000 Euro to reserve a place and a 30 per cent deposit, with payment installments due at every stage. The project was scheduled for completion by the end of 2007 but eight months before its completion the site was empty. An investigation revealed that the land had always been designated for farming. So, before you buy, be sure who owns the land.
Foreign investors face other forms of deception on the Romanian market, argues David Howe, investment consultant at InvestmentRomania. "They are told they must set up a company to buy a residential property," he says. "This is untrue. But from an agent's point of view, it makes the property look 19 per cent cheaper than it will be."
Foreigners can buy buildings in Romania freely and land with a residency permit. By setting up a company, Howe argues, the foreigners dilute their exit profit. If they buy in their own name, they only pay a two per cent property transfer tax. As a company, factored into this is also 19 per cent VAT, 16 per cent flat tax on profits, along with the costs of establishing and dissolving the firm. Land tax is also 1.5 per cent of the property value for a firm and only 0.5 per cent for an individual, argues Howe.
Another problem with setting up a firm to buy property in Romania is its shaky legal status, making it vulnerable when drawing up a contract with a sneaky developer.
"Such a contract equates to nothing more than a gentleman's agreement and is therefore reliant upon both parties acting as gentlemen," says Howe.
This means that if a developer sells half his apartments to foreign speculators and their "fake companies" but witnesses a surge in the property price, he could return the deposits to the investors and sell the flats again himself. If the investors complain, the developer could threaten them by asking the Romanian version of the Inland Revenue or the IRS (Garda Financiara) to investigate their 'firm'.
Agents sometimes dress up the square metres of built surface area as the living space. "Foreigners buying 100 metre-apartments assume the apartment is 100 metres in size," says Howe. "But a lot of the time they are paying for the common area as well, such as the corridor and stairs that others in the block use."
Florin Nine, investment manager at real estate firm Regatta, argues that to avoid being fooled, it is worth asking around for a trusted developer with a solid background.
"It would be ideal for a developer to offer guarantees that they will finish the project," says Nine, "but because the demand still exceeds the supply, these guarantees don't exist in Romania."
Mihai Alexandrescu
---
High class villa project for airport town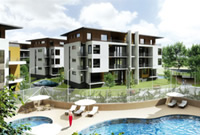 OTOPENI A 15 million Euro residential project in Otopeni is scheduled for completion in 2008, according to real estate agency Regatta.
The 'Aurora' project will include 14 units, including 13 villas and one building delivering 140 apartments, shops and offices.
The apartments will have two, three and four rooms with areas ranging between 72 and 180 sqm.
The project will also feature 162 parking spaces, three swimming pools and a tennis court, with an initial price of 1,050 Euro plus VAT until the end of this month.
---
Brits plan mall onslaught in north-west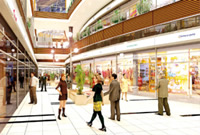 TRANSYLVANIA British investment fund Dawnay Day Group is investing 185 million in three shopping centres in Arad, Cluj-Napoca and Baia Mare under the Atrium Center brand.
Atrium Center Cluj will have a total area of 96,000 sqm and will be built on Blvd 21 Decembrie 1989 on the land of former Tricotaje Somesul factory. The project will have a shopping area of 31,500 sqm, a 10,000 sqm office area, a four-star hotel of 150 rooms and 900 parking spaces. Works for the demolition will start in June and the project is to be completed in the first quarter of 2009.
Atrium Center Arad will be located on Blvd Aurel Vlaicu and will be completed at the end of 2008. It will have almost 150 shops, a supermarket, an entertainment area with a multiplex cinema and a fitness centre.
Located on Blvd Independentei, in the west of the city, Atrium Center Baia Mare will be built on a six hectares-area and is scheduled to open in April 2009.
The complex will have 40,000 sqm of rentable area and will include a hypermarket, 160 shops and a parking lot of 1,000 spaces. Other facilities will include a casino, bowling alley, fitness centre and multiplex cinema.
---
Maramures sees new shopping centre
BAIA MARE Futureal Group and Immoeast will build a 97 million Euro shopping centre in Baia Mare, Maramures county.
Dubbed Gold Plaza, the centre will make use of total usable space of 43,000 sqm.
Gold Plaza will be developed by Futureal. Immoeast has acquired 80 per cent of the project and will buy the remaining stake upon completion. Construction is scheduled to begin in the fourth quarter of 2007 and completion for the fourth quarter of 2008. Between 2007 and 2008 Austria-based Immoeast plans to invest 1.8 billion Euro in Romania.
---
Property Bucharest
GHENCEA Impact will invest 600 million Euro in a mixed residential-commercial project in Ghencea. The project will include 960 houses, 3,200 apartments, 37,000 sqm of office spaces, 73,000 sqm of retail space, 93,000 sqm of warehouse space, playgrounds and sport grounds. Construction is planned to begin by the end of 2007, depending on permission, and will be finished at the latest in 2014.
CRANGASI Lithuanian developer Europa Group will invest 68 million Euro in a residential project in Crangasi, near Lacul Morii on Str Piatra Craiului. Europa Group Towers will consist of two blocks of flats with a total built area of 55,000 sqm, delivering 318 apartments and office and commercial spaces on the ground and first floors.
PIPERA UK Investor Chayton Capital and local partner Arca are developing Swan Pipera, a 56,000 sqm office project based in northern Bucharest. The first phase of two is estimated to cost 52 million Euro and is now under construction. Chayton Capital closed its Duna Fund for real estate projects in Hungary, Romania and Bulgaria at the beginning of 2007, with 115 million Euro in equity commitments. This fund owns 95 per cent of Swan Pipera. Chayton Capital also aims to develop Swan Constanta, a 92 hectare land assembly close to the Black Sea port.
SPLAIUL UNIRII Greek developer REDS will invest 45 million Euro in a mixed residential-office project, after purchasing a 6,000 sqm land in Splaiul Unirii. The land was purchased via subsidiary Profit Construct and it will be used to develop the 32,000 sqm project.
STR DR FELIX
British investment fund First Property Group has purchased the HQ of Portuguese bank Millennium, which plans to begin operations this Autumn, on Str Dr Felix for ten million Euro from Felix Development, part of Cefin Group. The building, located near Piata Victoriei with a area of 1,360 sqm, was developed by Cefin in collaboration with First Property Group.
Property: Romania
BRASOV, MACRO MALL British investment fund Dawnay, Day Carpathian has purchased Macro Mall in Brasov in a 19 million Euro transaction intermediated by DTZ Echinox. The deal also includes land worth two million Euro of almost 7,800 sqm next to the mall. The mall in Brasov was opened in 2005 and has a rentable area of almost 7,900 sqm, a parking lot of 350 places and over 80 tenants.
SIBIU, SALA TRANSILVANIA Paltinis Leasing, part of Atlassib Group, will invest over 18 million Euro in a business centre comprising two 18-level twin towers in Sibiu, next to Sala Transilvania on Str Octavian Goga. The project will be the tallest building in Sibiu and will include commercial areas, office spaces and hotel rooms. The works have already started with contractors Concefa Group. Atlassib is also opening a new 12-storey Ramada Hotel in the centre of the 2007 European Culture Capital.
IASI, CITY CENTRE Golden Gate Iasi is investing 20 million Euro in a mixed retail and office complex scheduled for completion by 2010, according to Mediafax. The 100 metre-tall building in the centre of the city will have a built area of 25,000 sqm and will comprise five underground parking levels, 32 floors of retail units, offices, restaurants and leisure areas.
SINAIA Turkish developer Ozer will build a four block residential complex delivering 344 apartments in Sinaia. Belleview will include one, two and three room apartments between 41 and 76 sqm and duplexes between 73 and 133 sqm. The complex is scheduled for completion by 2010 and will also feature underground parking and an indoor pool
TIMISOARA
Austrian investment fund CA Immo and a Romanian company will invest 30 million Euro in a office building in Timisoara, according to
Ziarul Financiar.
The office building will be located close to the town centre and will cover 17,820 sqm and 1,980 sqm of commercial space and parking.