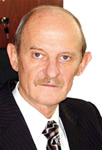 Mr Petre Albu has been appointed head of the secret service of the Ministry of Interior. Nominated by Minister of Interior Cristian David, Mr Albu was working as a civilian in the National Anti-drugs Agency. Mr Albu replaces Virgil Ardelean, who was in the position for more than ten years, and resigned from the position last summer along with the other two heads of secret services over the vanishing of Romania's most wanted man, Omar Hayssam, but Prime Minister Tariceanu refused to approve his resignation. After the new Government was sworn in, Ardelean tried his luck again and this time Tariceanu let him go. Albu established the Romanian Police Force's Department Against Organised Crime in 1993, which he managed until 2001. He was sacked by the Social Democratic (PSD) Government's Minister of Interior, Ioan Rus, because of a scandal involving the disappearance of two tonnes of heroin from the Police storage. After an investigation, Mr Albu was cleared.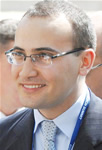 Mr Valeriu Turcan has been reappointed as spokesman of the Presidential Administration, following the return of Traian Basescu to power. The former journalist has worked as a producer for the BBC, a counsellor for Prime Minister Tariceanu and, between 2005 and 2006, was president of the Agency for Governmental Strategies. He studied at the University of Bucharest and has an MA in communication from Leeds University, UK. He is married to Liberal Democratic Party (PLD) deputy, Raluca Turcan.
Mr Ilie Banica, 38, is the new spokesperson for the Ministry of Foreign Affairs. Since 2004, Mr Banica has been a first secretary (politics) in the Embassy of Romania in The Hague. He was also the director of the Ministry's Information and Public Relations Department between 2002 and 2003. Mr Banica has also been press attache at the Romanian Embassy in Brussels. A former journalist, Mr Banica was editor and presenter on TV station Antena 1 between 1993 and 1995 and is a graduate in Letters and History from the Craiova University and Ecole Nationale d'Administration, Strasbourg. He replaces Mrs Corina Vintan, who resigned in May.
Mr Kurt Leitner, 40, is the new CEO of Porsche Leasing, replacing Mr Peter Demmer. An Austrian national, Mr Leitner has 19 years of experience in the Porsche Group and, before coming to Romania, was director at Porsche Leasing Serbia and Montenegro for three years. Mr Leitner has vast experience in car sales and was in charge of Skoda's distribution network in Austria between 2001 and 2004.