From the sublime to the ridiculous
Something to shout about from the collections of France's eastern regions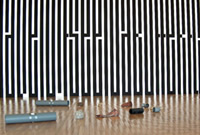 Loud screams from a man running on the spot echo around four floors of emergency stairs in the contemporary art museum at Ceausescu's former palace.
From a TV monitor the sound filters into the massive gallery, through the security gates and out to the front of the glass annex to the largest building in Europe. The motivation behind the actor in Abel Abdessemed's 'A cri court' is unclear. Is he trying to escape, to mourn, is it a moment of catharsis, inter-coital ecstasy or does he want to sneeze? This is disturbing in its savage intensity and undermines the notion that this exhibition, named 'Sublime Objects', should be taken at face value.
Abdessemed's pain and pleasure trip is so powerful one wonders why it hides in the fire exit, like a mad aunt kept in a far wing of a baron's palace. Moved to the front of the exhibition space on the five metre-high wall that greets visitors, with pumped-up volume and visuals, this could have petrified gallery-goers and acted as a therapeutic projection of what most of us want to do now and again: to never stop screaming until it kills or cures the pain of existence.
The impact of this video version of Eduard Munch's moaning portrait is augmented by the setting: a kitsch mansion built within living memory on the blood of forced labour. It seems as though the plaster, reinforced concrete and marble are trying to tell the visitors something, if only they could stop crying first.
Apart from the yelling, this exhibition offers a selection from the collections of Frac du Grand Est, from France's eastern regions, that ranges from the banal to the inspired. There is a photo story showing a man walking into a subway station and, just when you think it can't get more pointless, there are a few pictures of the entrance to the subway station without the man. Pieces of driftwood attached to a looking glass, a model of a disused building and a projector showing nothing fill the space without necessity, beauty or intelligence.
When disciplines such as geography, biology and sociology enter into contact with an inspired idea the exhibition improves. There are pipes, rocks, a relief model of a hilly landscape and an appeal to donors to create a cubic metre of sperm.
Stunning the visitor on entry is a massive mural with elongated words stating: 'I have never seen a butterfly here'. Ceal Floyer's '9.7 m' (above) has lines so close together and the words are so thin it upsets the viewer's visual focus, giving the impression the painting is animated.
This is a neat piece of optic art and, like the rest of the exhibition, provokes and maddens the visitors while giving little away. This is an exhibition as a set of questions, where the sublime is not the idea of perfect order, but something restless, curious and ambiguous.
Michael Bird
Sublime Objects: Collections sans frontiers VI
Works from the collections of Frac du Grand Est
National Museum of Contemporary Arts (MNAC),
Palatul Parlamentului
Calea 13 Septembrie entrance
Until 30 June 2007