Housing boom still has space to expand
Look at the statistics: the housing boom will not let up, argues Ionut Costea, president & CEO of housing bank Raiffeisen Banca pentru Locuinte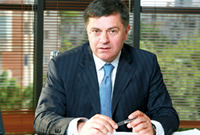 Romania has seen stagnation in terms of real estate development. But the last few years have seen an increase in new projects.
I believe that, in the future, Romania's real estate market will continue to grow in an exponential way.
Here are the reasons why:
• Homes are crowded
Romania has 375 homes (lodgings) per 1,000 inhabitants, which is way below the level of the European Union of 470 homes per 1,000 people.
In Romania, 77 per cent of loans are for personal
needs and 23 per cent for home improvement.
In the Euro-zone it is the opposite
• Trend for ownership
In Romania, as well as in all countries in south-east Europe, the term 'lodging' differs in a fundamental way from the way it is used in western European markets. If, in the West, more than 50 per cent of the population rent their homes, east Europeans want to own the house or flat they live in. There is a roosting mentality. Hence their financial behaviour means they are willing to save, even for a lifetime, to be able to own their house.
• Few new homes
The quality of the living conditions in Romania, despite witnessing continual improvements, is way behind those seen in other countries in the EU. Over 50 per cent of the current homesteads have been built before 1970, hence they are in desperate need of repair, refurbishing or modernisation. This is the one market for which many banks will be fighting over in the future.
• A slower boom, but still a boom
During the 2000 - 2006 time frame, the growth of the weight of real estate financing as a percentage of the Gross Domestic Product (GDP) grew by over 130 per cent. This is a market boom. This rhythm will continue to remain high between 2006 - 2010. During this period we estimate a growth of 25 per cent.
• Loans are still not exploited
A very important index is the weight of loans to individuals as a percentage of the total GDP. This shows the degree to which an economy is developed and Romania is lagging behind the level encountered in many other EU countries. This stands at nine per cent in Romania, whereas in other central eastern European countries, it stands at 17.4 per cent in Hungary, 14.3 per cent in the Czech Republic or 16.7 per cent in Bulgaria. Over 77 per cent of all personal loans given in Romania are for individual needs, and just 23 per cent for improving housing conditions, whereas in the Euro-zone this state of affairs is the opposite way around. On top of this, private individuals do not save that much, as the need to improve their living standards pushes them more towards a trend of consumption than towards one of saving.
• Increased spending power
We believe that the main triggers for the growth of real estate financing in the medium and long term are: the demographic factor, which will stimulate a demand for houses and for financing instruments to support an improvement in the housing situation, as well as for special products for this segment. For example, the number of Romanians who were working abroad and are now coming back with money, is increasing every year. This is added to those who still work abroad, but are transferring money back to the local economy. Then, there is an obvious interest from foreign investors in the Romanian real estate market, which has increased as Romania joined the European Union. Last but not least, the focus has shifted now to developing large real estate projects in other big cities, such as Cluj-Napoca, Timisoara, Iasi, Sibiu, Brasov and Constanta. Given all these, banks have the potential to sell real estate financing projects.