Countering the risk of rolling back reform
Reform of the justice system and discipline at all political levels are necessary for Romania and the EU's future, argues Mats Aberg, Swedish Ambassador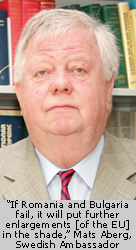 Having travelled from Egypt to Vietnam, Spain to Norway and from Laos to Russia, Swedish Ambassador Mats Aberg is a man who knows a little bit of everything and a great deal about many things.
Following the results of the referendum to impeach the President, which ended in the return of Traian Basescu to power, Aberg hopes that all politicians, including the President and other parties, will have "the good sense to learn something and to strengthen the discipline of working for Romania." The Ambassador has a good opinion about Romanian politicians, who he says are 'not stupid'.
But Aberg is dissatisfied by the slowing down of the reform in the justice system. If attempts to rebuild the judicial system fail, the EU could enact a safeguard clause by 2010. This means that decisions made by the Romanian justice system will not be recognised by the EU, less EU cash for Romania and an effective "exile" from EU justice decisions for the country. This is a humiliating situation for an EU state.
"We don't want the safeguard clauses to be activated," says Aberg. "This is out of loyalty to Romania. Plus, if Romania and Bulgaria fail, it will put further enlargements [of the EU] in the shade. We are members of the same club now, and it is in our responsibility to see that everything functions correctly. If we didn't do that, we wouldn't be friends."
Romania's foreign policy includes the desire to establish a stronger Black Sea regional community. Critics argue that the country lacks the political weight to establish a forum that could engage great nations such as Turkey and, especially, Russia.
"The same happens in the Baltic Sea region," he says. "Moscow thinks it's too big for the countries there and they want to talk at a higher level with big counterparts such as the EU, for instance."
Aberg is also the Ambassador of Sweden to the Republic of Moldova. His country is the biggest single contributor to Moldova's development after the USA, for which it funds 11 million Euro per year.
This year, Sweden has adopted a Strategy for Cooperation with the Republic of Moldova which has three main objectives: support for meeting the Copenhagen criteria (democratisation, justice reform, anti-corruption and press freedom), support for competitiveness of small and medium-sized enterprises and energy security.
"But it is not written in stone," he says, "because there are other people in Moldova who aren't very happy with the strategy."
Open market
Unlike the UK and Ireland, Sweden has continued its policy of fully opening its labour market to new member states. But Aberg says it is difficult for foreigners to get a job in a country far up north, cold and dark for half a year.
"Something that I am ashamed of is that if you have a name that is not Swedish you will have slim chances to be called up for a job interview," he says.
But there are few Romanians who are interested in working in Sweden.
"They want to go to Italy and Spain and, if I were Romanian, I would probably do exactly the same," says Aberg. In the next few months Romanians will be able to travel to Sweden only with their ID card and not necessarily a passport.
Ana Maria Nitoi
Textiles could still see future
Although many from the clothing industry believe its time is past in Romania, textiles, shoes and leather manufacture still have a future industry in Romania, argues Jan Kettnaker, trade commissioner of Swedish Trade Council Exportradet Romania.
"The talk about Romania being no longer interesting for investment in textiles, shoes and leather are exaggerated," he says. "EU membership offers benefits to Romania that Ukraine and the Western Balkans don't offer – where the ease of trade offsets the potential rise in wages." Kettnaker argues that Romania has a large population, of which 30 per cent are still in agriculture – a situation which cannot continue.
"These people will be pushed into other sectors and given their qualifications, it is likely they will be going into production of mass market goods," he says. But there could also be another niche which western firms, sometimes controversially, are outsourcing: the manufacture of luxury items – including limited editions of clothes and collections.
"These are ones made on a smaller scale where a factory in Asia might not open its doors to you," says Kettnaker.
But Romania does not yet offer a self-sufficient market for producing and selling within its borders.
"The link between production and selling within the captive market of Romania is weak," says Kettnaker. "If a Swedish company produces in Romania, it must be for export to the global market."
There are many small and medium-sized Swedish enterprises, such as those of a turnover in the region of ten million Euro or so, who are looking to invest in Romania.
The presence of Ikea as both a producer and retailer in Romania is a stamp of approval for the EU country. Although it has entered Budapest and produces clothes in Romania, however, high street fashion store H&M has no plans to enter Romania yet.
With billions of EU money due to enter Romania between 2007 and 2013, energy, environment and infrastructure should see the main bulk of this investment.
"Swedish companies help at the sub-supplying level," says Kettnaker. "Such as in smart drainage pipes, climate control equipment and small energy-efficient gadgets, ventilation and air-conditioning gear."
Electrolux: moving with the market
Stability is the watchword at Swedish white goods producer Electrolux, as sales manager Florin Porojan says the group's activities in Romania follow market trends.
"This market is on its way to becoming mature and our activities are run along the same lines: stable development in a market still in transition," says Porojan.
The Swedish firm has invested over four million Euro last year in improving production facilities at its gas stove plant in Satu Mare, which it took over in 1997 and where it now produces a considerable number of Zanussi stoves. "Our aim is for the Satu Mare plant to reach Electrolux's worldwide standard," he adds.
The sales manager sees 2007 as a similar year in terms of market development, with a focus on categories such as dishwashers, tumble dryers and built-in products. "Despite such products not being top of the list in terms of home purchases, the Romanian client is open to new ideas and we are now involved in educating the market," he adds.
Electrolux
White goods producer
Total investments in Romania: 30.6 million Euro
Two divisions: sales and marketing and production in the gas stove plant in Satu Mare
Brands: Electrolux, Zanussi, ARG - Electrolux
2006 turnover: 141.53 million Euro
2006 investments in Romania: 4.22 million Euro.
Employees in Satu Mare: 1,686
ABB makes robotic moves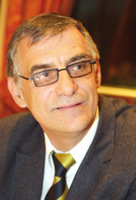 Capitalising on its worldwide leading position in the installed base of industrial robots, ABB last year launched the Robotics Division in Romania.
"There are more than 100 robots active in separate plants in Romania, and once [the robot] operates, it needs service, so we decided to focus on this field in Romania," says Peter Simon, country manager for ABB in Romania, the Republic of Moldova and Bulgaria.
In Romania, the firm provides robots to the Dacia car plant to spray-paint bumpers. "Using a robot saves up to 40 per cent of paint, and also helps with environmental waste," argues Simon. ABB has been involved in the automotive industry through realising its robotic lines at Daewoo Romania and in the sanitary industry at Sanex Cluj-Napoca and Cesarom Bucharest.
Starting 1 January 2007, Simon also has Bulgaria, where there are production facilities, and the Republic of Moldova operations under his responsibility.
ABB Romania
Power and automation
technologies company
2006 business volume: 111.5 million Euro
Employees: 75 in Romania and the Republic of Moldova, 440 in Bulgaria
Ericsson: mobiles have become
a basic need
On a dusty country road there is a Rroma man driving a cart full of rusted old metal, cardboard, plastic bottles and wooden furniture. It looks like his entire world is crammed into the shoddy vehicle. But on his face there is no sense of unease: the man is chatting away on his mobile.
Such an image has emphasised for Ericsson Romania's country manager, Adriana Boersma-Rodrigues, that although there are two Romanias – one rapidly developing, another driving 19th century wagons - little by little the gaps are being bridged.
Mobile phones, she adds, are becoming a basic need. They seem to be as crucial to livelihood as a pair of shoes or a hat in winter.
Setting up shop in Romania back in 1994, Ericsson Telecommunications now enjoys what the country manager calls "the best year" in Ericsson Romania's history.
"We won new market shares and improved in new areas, improved the clients' portfolio and want to shift from traditional ways of working to new services and multimedia," she says.
Though Romanians now have more economic power and disposable income, the country is still a hybrid market. Bucharest is mature, but parts of the rest of the country still has some steps to burn to achieve such a status.
"The Government and suppliers try to bridge the gaps, and no one knows when it will happen," she says.
"In Romania, about 50 per cent of the people live in rural areas and the Government, suppliers and operators have a big role to play in bridging the communication gaps."
Ericsson Telecommunications Romania
Founded in Romania: 1994
Largest Swedish investment in Romania
Representative clients: Vodafone Romania, Orange Romania, Cosmote Romania, Romtelecom, STS (Special Telecommunication Service)
Employees: 135
Oresa: looking to services, construction
materials and consumer goods
Swedish investment fund Oresa plans to invest five to 15 million Euro per year in two or three companies from sectors including financial services, business services, construction materials and consumer goods.
"We are looking for companies who can reach the top and have professional management," says Cornel Marian, investment officer of Oresa.
Last month the fund sold water cooler firm 'La Fantana' to investment fund Innova Capital for an estimated price in excess of 35 million Euro.
"We decided that it was best for Oresa than rather to keep investing in La Fantana, to start investing in two or three other projects and diversify our risk," he adds.
"The profit from La Fantana was very good and Innova Capital will keep investing in the company and take it to another level," says Marian.
Romania's EU accession, reforms in all areas, entrepreneurial zeal of Romanians and the desire for better products are the main factors contributing to Romania's business development, argues Marian.
But, even though real estate investments funds are one of the most profitable in Romania, Oresa is not targeting this sector as a future opportunity.
Oresa Ventures Investments
Investment fund
Investment in Romania:
50 million Euro in companies such as Flamingo, Fabryo, Credisson, Motoractive, Medicover, Churchill Media and Brewery Holdings
Employees: 15 in Bucharest, Warsaw and Brussels
Lindab plans to open four
sales centres
Having invested nine million Euro so far in Romania, Swedish-based maker of sheet metal products Lindab boasts a 26 per cent increase in 2006 over the previous year in the country.
The firm is active in profiles and ventilation and this month will open its first sales centre in Romania.
Dubbed Lindab Ventilation Center, this is located in Floresti, Cluj county, close to Cluj-Napoca.
"This is the first out of four planned for opening in 2007," says Andrei Sulyok, general manager of Lindab in Romania.
Sulyok adds future plans include expanding the end-products warehousing space by 2008, as well as launching new production lines for profiles and ventilation.
Last year the firm widened its residential products portfolio by introducing a new type of metallic roof tile and a new production line for structural cassettes. The new production line has a production capacity of one million square meters per year. The structural cassette is used in making sandwich panels for warehouses and is also used for covering metallic and concrete structure buildings.
This March Lindab launched a new production line for light girders with a 500,000 Euro investment, meant to produce for both the domestic and the eastern European markets.
Lindab
Developer, manufacturer
and marketer of sheet metal
products in the ventilation
and profile business areas
Established in Romania: 1994
Total investments in Romania: nine million Euro
2006 turnover: 38 million Euro
2006 profit: 5.4 million Euro
Employees: 170
Business interviews by Corina Mica,
Michael Bird and Mihai Alexandrescu