Making history
Breakdown assistance to a fractured administration and a fragmenting neighbourhood will be a hard test for incoming Minister of Foreign Affairs, Adrian Cioroianu, as he talks to Ana Maria Nitoi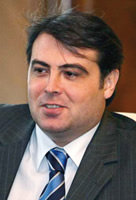 Every politician wants the position of Minister of Foreign Affairs. It has the best opportunities for travel, the most interesting people to meet, the smartest cars and gives a minister the role of an ambassador for a small country playing on all international stages.
But no one envies Adrian Cioroianu as he takes up this new role.
Relations between key neighbours such as the Republic of Moldova, Serbia and Russia are not at their best and there is trouble at home. Bridging the gulf between President Basescu and Prime Minister Tariceanu will be hard to accomplish with non-violent means.
The country's relationship with the Republic of Moldova has worsened in the last few months.
Chisinau has decided not to allow Romania to open two more consulates to resolve the 100,000s of Moldovan requests for Romanian visas. This is a deliberate attempt to make it difficult for Moldovans to access the EU through Romania.
"We understand that, for now, there are different views on the matter," says the new Minister. "That is why we hope that the relationship between us will not become the prisoner of statements made in the heat of the moment."
Cioroianu pledged, by the time we went to press, to travel to Chisinau and talk with his counterpart to attempt to resolve the deadlock. This will be the first big test of his diplomatic skills.
"We are a firm supporter of Moldova's European [Union] aspirations," says Cioroianu. "Any sincere attempt by Chisinau in this direction will have our unconditional support."
Autonomy question
Kosovo will be a major issue for Cioroianu. In the past, Romania has, on balance, taken a more pro-Serbian line on the question of Kosovan independence than many of its EU colleagues. The current UN proposal is for the Muslim-majority province to be given an "everything but sovereignty" status. This is a potential overture to full independence, a position rejected by Belgrade.
The new Minister believes the best solution for the conflict is a UN strategy negotiated and accepted by both Serbs and Kosovans. "In this delicate period of defining Kosovo's status, maintaining the province's security is extremely important," he says. "It is vital for the UN Administration and the governing authorities to prove firmness and stop any attempt to raise tensions."
But Romania's position as a serious partner in negotiations deteriorated in February, when several Romanian officers under a UN mandate killed two Albanian protesters in a demonstration in Pristina.
The future status of Kosovo must not affect the current borders of the region, says Cioroianu, guarantee the multi-ethnic character of the province, reduce and eliminate organised crime, ensure economic development and not lead to ideas of unification.
The Black Sea region needs more security, prosperity and democracy, but Romania's effort last year to lead a Forum for the Black Sea saw little enthusiasm from Turkey and Russia. The Minister salutes the recent European Commission's statement to outline an EU policy in the Black Sea region, which it will soon present.
What to do with Russia

Romania and Russia have a tricky relationship. During the campaign for overturning his impeachment, Basescu invoked the ghost of Russophobia by claiming that Romania should not rely upon energy resources from their Slavic acquaintances. Regarding Bucharest's relationship with the Kremlin, Cioroianu says: "We shouldn't forget the fact that Russia is the biggest of our neighbours, a country with which we share a long common history marked by important and sometimes dramatic moments."
The Liberal expresses "satisfaction" over his meeting in Belgrade with Russian Minister of Foreign Affairs, Sergei Lavrov. It is the economic dimension of the relationship between Romania and Russia that is most developed, with energy and metal firms such as Lukoil, Gazprom, TMK, Mechel, RAO EES and Ruskii Aliumini's interest to invest in Romania.
Russia has been a long-term beneficiary of the trade relationship between the two countries – with its exports to Romania putting to shame its imports. But Cioroianu argues that there is a movement towards balance and his nation's exports towards Russia grew in the last year by 60 per cent.
Membership rights
It is time, says the new Minister, for Romania to stop talking about being an EU member state and start acting like one. Romania's qualified work force, very well educated young people and continuously growing economy are its best advantages, argues the Minister. Using these resources, he says, will help Romania become the European Union's seventh state not only in population and surface area, but economically as well.
But the Liberal does not subscribe to the concept of a Europe of two speeds, with different development strategies for the pre-2004 member states and the 12 that since joined. He considers this dangerous for Romania.
At the same time, the Minister agrees with the idea of 'groupings' of countries, where some are more economically developed than others.
"Differences exist and have always existed between the member states as much as it exists in one country," he says.
"But I believe that these differences shouldn't lead to exclusions of groups that have different views on the Union's future development. For us it is essential to benefit, just like the other members did, from the wide range of instruments and mechanisms that will allow us to catch up to the European average."
Keeping watch
A seasoned observer of Romania's political horseplay, the 40-year-old lecturer at the Bucharest University began his political career late, when he joined the National Liberal Party (PNL) in 2002.
He started as a counsellor for then Liberal President, Theodor Stolojan.
Elected a senator in 2004, he was an observer of the European Parliament and was, since 1 January 2007, one of its members.
He also chose to stay in the PNL, even when his mentor Stolojan and the pro-Basescu wing left in 2006 to create the Liberal Democratic Party (PLD).
Sticking with the National Liberals paid off, as Cioroianu was rewarded with the crown jewel of Government portfolios, the Ministry of Foreign Affairs.
However, this was not going to happen.
At the beginning of this year, the Prime Minister asked his party colleague, Mihai Razvan Ungureanu, to resign from the Ministry because he failed to inform the head of cabinet that two Romanians in Iraq had been imprisoned by the US army on allegations of spying. Tariceanu then proposed Cioroianu for the vacancy.
But President Basescu refused to appoint the historian due to his lack of experience – he has never been a diplomat and has only five years in politics. With only months spent as a member of the European Parliament, Cioroianu was seen as a watcher and not a doer.
Many assume that there was another reason behind the President's obstruction.
Asked if he knows the real reason for the president's decision, Cioroianu says: "No matter what it is, I am convinced it will come out sooner or later."
Now Cioroianu is viewed by some, including himself, as the future intermediary between Basescu and Tariceanu, who hate each other.
He is the man the two leaders must talk through at summits, cabinet meetings and across the dinner table.
This may be a tougher call than resolving Transnistria or Kosovo.