Still all to play for
Romania must make sure it does not throw away the chance of making the most of its new EU status, argues Italian Ambassador Daniele Mancini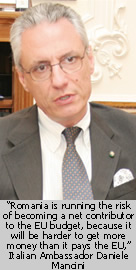 Almost half a year into its EU membership, political infighting and a delayed strategy for its post-accession planning means Romania seems to have loosened its grip on how to handle its new status.
"Last year Romania was not badly equipped to bridge the gaps with the European Union," says Italian Ambassador Daniele Mancini. "It was more of a problem related to Romania's attitude, as it seems that there is a national sport to feel depressed in Romania. People here feel depressed when they encounter the first obstacle and become overenthusiastic and excited when they receive good marks from Brussels."
The first months after the accession were rather disappointing in terms of Romania's ability to make the best use of EU structural funds, adds the Ambassador. Due to the political turmoil, the absorption rate of such cash remains low.
"Romania is running the risk of becoming a net contributor to the EU budget, because it will become harder to get more money than it pays the EU," he adds. "But this is not something which should be considered definite and its importance shouldn't be overestimated. Italy did poorly in its first months of EU accession and this should be [heard] like a cry of alarm."
Mancini feels another worrying signal by Romania was its choice to postpone the European Parliamentary elections from May this year to sometime in the Autumn and that the present political situation prevents Romania from establishing a sound political base to build its EU ambitions.

TRADE TALK
● Romania's fifth largest foreign investor: 850.73 million Euro
● Romania's largest trading partner
● Trade balance in Italy's favour:
1.31 billion Euro
● Total volume of bilateral trade in 2006: 10.59 billion Euro,
● Most important investors: Pirelli, UniCredit, Enel, San Paolo Imi Bank Romania
● Italian exports to Romania in 2006:
5.95 billion Euro
● Top five products: textiles and derivatives; shoes, umbrellas and canes; electrical machines and equipment; common metals and other metallic products; miscellaneous merchandise.
● Italian imports from Romania in 2006: 4.64 billion Euro
● Top five products: electrical machines and equipment; raw materials for textiles and derivatives; common metals and other metallic products; raw leather products and derivative products; plastic, rubber and derivative products.
● Number of Italian companies active on the market: 21,519
● At end-2006, leader in number of foreign companies active in Romania
"The Balkans and the Black Sea area were dominated by a stable, dynamic and energetic Romania, but, in just a few months, this has become uncertain," he says. "The goal is the same but there are different steps to take."
Business boom
Economically Romania is a stable force and Italy enjoys the status of Romania's largest foreign trade partner. "The magnitude and spread of Italian investment in Romania is beautiful," says the Ambassador. "Look at the 'miracle' called Timisoara and the plethora of Italian investors in Banat."
Italian brand names active in Romania include Unicredito, Enel, Pirelli, Ansaldo, Tenaris and Benetton. But the Ambassador says he misses Fiat as a true competitor to local car brand Dacia.
"In the Romanian economy, eight per cent of the GDP is produced with the help of Italian investors," he argues.
Officially, there are about 3,500 Italians living in Romania, but informal estimates rise to at least 15,000 Italians living here, with many of them commuting during the week.
Italy remains one of the main foreign destinations for Romanians.
"Romanians in Italy might become what Turks used to be for Germany," Mancini says. "The most significant dramatic change is now seen on flights from Romania to Italy. There are people travelling with their children and their in-laws. You see a new and free generation emerging. You don't see [the typical] Italian man travelling with a Romanian girl any more - you see the opposite as well."
Romanian students will soon be able to study in their mother tongues in Italian schools, which should help foster a mature cultural relationship. However the Ambassador says recent small crimes from Romanians in the Italian peninsula may enhance tensions between the two communities.
"These minor misdemeanours do not define a nation, and to counteract potentially negative actions, we have decided to highlight the success stories of Romanians living in Italy," he says. "This might take some time to accomplish, but in the end we want to work together with the Romanian counterparts and try to change the image."
Enel: counting down the days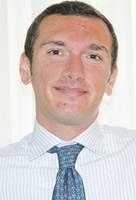 Italy's largest investor in Romania, Enel, is counting the days until the 820 million Euro deal to buy the crown jewel in power distribution in Romania – Electrica Muntenia Sud – finally gets the go-ahead from the Romanian Parliament.
"The deadline for the completion of the transaction is July 17 and the Privatisation Authority (AVAS) has finalised the negotiations for the take over of the company," says Enel Romania CEO and country manager Matteo Codazzi.
AVAS said a special commission to coordinate the privatisation has approved the privatisation contract, and now the Government will draw up a decision to be voted in Parliament for the completion of the deal.
"It is in the best interests of Romania to complete this transaction, as we have a solid investment plan for EMS," adds Codazzi. "We have prepared investments of up to one billion Euro for in the next ten years."
But until Enel buys EMS, which has 2.5 million customers and supplies electricity to Bucharest, the Italian giant is focusing on the two other distributors it purchased in 2004 for a combined 112 million Euro, in the west and east of the country: Enel Electrica Banat and Enel Electrica Dobrogea.
"So far we have invested 67 million Euro in refurbishing the networks of Electrica Banat and Electrica Dobrogea, and an extra 380 million Euro is prepared to be invested in the two branches in the next five years," says Codazzi.
The CEO wants the firm to own the whole supply chain from energy generation to distribution and sale. So far Enel has submitted an offer to AVAS to buy the Braila thermal power plant and is currently waiting for the privatisation commission to process its offer.
"We are definitely interested in taking part in the building of units III and IV of the Cernavoda nuclear power plant and are ready to start work, should we be selected," says Codazzi. "We believe in nuclear energy as it makes sense for the security of energy supply in the region. Nuclear power will become an important source of electricity in Romania and south-eastern Europe and through added investment it could gain a significant role, so that Romania could become an energy exporter. It takes a long time to build a nuclear power plant, and Romania should take decisions quite fast in this respect."
Enel is also looking at opportunities connected with Romania's three energy complexes in Turceni, Rovinari and Craiova, which the Government is planning to privatise, and also at renewable energy such as wind energy projects.
"Romania's main advantage is that the regulatory framework is already in place in distribution, and it is fully aligned to EU standards," says Codazzi. "There is also good interconnection between Romania's power grid and that of the EU, and, because of Romania's endowments in hydro and nuclear power it can become a regional hub," he adds.
Enel Romania
Electricity distribution and supply
Owns Enel Electrica Banat and Enel Electrica Dobrogea
Winner of the auction for Electrica Muntenia Sud (EMS)
Investments to date: 87 million Euro (20 million Euro in 2005 and 67 million Euro in 2006)
2006 turnover: 470 million Euro
2006 profit: 20 million Euro
Employees: 3,600
UniCredit Tiriac becomes
Romania's fourth largest bank
Starting this month there is a new bank resulting from the mega-merger of Banca Tiriac, HVB Bank and UniCredit Romania.
UniCredit Tiriac Bank is now Romania's fourth largest financial institution in total assets and will target retail and corporate customers in 37 cities in Romania.
"From the legal point of view this is a merger through absorption, in which HVB Tiriac Bank absorbs UniCredit Romania, for reasons connected to costs and the client database," says CEO Rasvan Radu.
UniCredit Tiriac Bank
Resulted from the merger of UniCredit Romania, HVB Bank Romania and Banca Tiriac
Q1 2007 total assets: 3.7 billion Euro
Market share at the end of 2006: 6.8 per cent
Ranks fourth in terms of total assets at the end of Q1 2007
No of branches: 134
Total no of cities covered: 37
Employees: 2,600
UniCredit Tiriac Bank will have almost 140 branches spread nationwide.
Radu argues that each of the three banks come with their own qualities. HVB is a solid bank for large and multinational clients, as well as in real estate and has a focus on Austrian and German clients.
UniCredit has a strong presence in relationships with medium-sized companies, both Romanian and Italian, and also brings on board a wide range of Turkish companies. Meanwhile, Banca Tiriac, part of former tennis star and business billionaire Ion Tiriac's holding firm, has a strong position on the mass-market and connections with small and medium-sized enterprises.
Pirelli: production site
to see ongoing expansion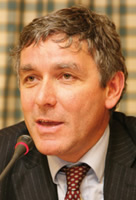 Opened last year, Italian tyre manufacturer Pirelli's 170 million factory in Slatina, Olt county, is targeting production of two million tyres by the end of 2007.
This factory coordinates Pirelli's activity in the main east European countries bordering Romania and intends to target an annual production of five million tyres, 90 per cent of which are destined for export.
"We bet on Romania a few years ago and we found a great development opportunity in the main geographical and economical factors, but also in EU accession," says Enrico Malerba, executive director of Pirelli Romania. "Apparently the main advantage of Romania is the cheap labour, but we are convinced that soon the country's efficiency will be measured by important values that will count in time."
Raw materials are at present imported from Turkey and Germany, but the firm's production hall and research laboratory plans to help manufacture the main ingredients for the products.
Pirelli collaborates with car brands from Germany, Italy, England and France. In Romania the firm targets the performance tyre market and the small engine car market.
"We found here the [same] competition we see in all other countries, but we have to take into consideration the import of similar, but much cheaper, products from Russia," says Malerba.
Pirelli Romanian
Tyre manufacturer
Location: Slatina
Annual production: two million tyres estimated by the end of the year
Target: five million tyres annually
Number of employees: 720; estimates 1,000 by the end of the year
Cefin: opening a management
school for staff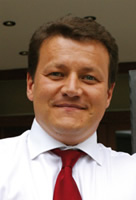 This year mixed interest group Cefin Romania will also open a management school for its employees.
The business school will open on 1 September and will offer training to the company's employees, according to Cefin Romania managing director, Stefano Albarosa.
"Companies spend a lot of money on staff training in Romania," says Albarosa. "Cefin Business School will offer classes in management, product information, technical information, sales and customer relations and there will be exams to help us choose the best to work for us."
As an importer of utility vehicle brand Iveco, Cefin has seen an increase in sales of its trucks.
"More trucks means more merchandise traffic on the roads and the need to invest in infrastructure," says Albarosa. "We have seen an increase in the sales of construction equipment, which means the real estate and infrastructure market is developing."
Romanian customers are similar to those in Italy, according to Albarosa, who adds that Romanians like to own their vehicles. Because of the economic growth, customers in Romania buy to increase the size of their fleet of cars and in fewer cases, to replace the older models they own, says the managing director.
Cefin is also investing in relocating bodyworks factory Eurobody next to the Cefin Business Park on a 25,000 sqm land. This project will be finished by the end of 2008. The factory produces 8,400 bodyworks annually for trucks and has more than 600 clients.
With 17 sales points, Cefin is also the distributor of Pirelli tyres in Romania and plans a joint venture with another tyre manufacturer who wants to enter the market. "In 2007, we target 60,000 sold units and we expect to double the volume if the other deal closes," says Albarosa.
Cefin Romania
Iveco truck importer, Pirelli tyres distributor, agricultural equipment importer, car components importer, bodyworks manufacturer
2006 turnover: 140 million Euro
2007 forecast: 200 million Euro
Employees: 1,250
UniCredit Leasing: focus on
public utilities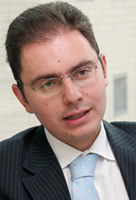 With Romania's leasing market witnessing growth above its expectations, newly merged UniCredit Leasing is looking to tackle the top spot among local firms specialised in hire-purchase or instalment buying. "The new company will function under the UniCredit Leasing umbrella and aims at focusing on financing public utilities in the future," says CEO Septimiu Postelnicu. "To this end, our plan is to finance to the extent of half a billion Euro and to increase our client portfolio and the branch network." The firm offers financing means in equipment, vehicles and real estate, as well as sale and lease back and public utilities leasing – where a public authority borrows money from a leasing company to fund its utilities. In addition, the company also offers insurance brokerage services through its affiliated company, HVB Insurance Broker.
It has also set up UniCredit Fleet Management to offer fleet management services. Leasing has so far competed with banking products such as mortgages in the real estate market, and it was structured as a financial product rather than as a package of services, says Postelnicu.
"This year we expect the market to lean towards this type of service. Leasing firms acted as banking financiers, offering money but without after sales services," he says.
Equipment leasing could witness the fastest growth. "It will be like an engine for development in this market this year, mainly in the industrial areas, especially infrastructure and construction," he adds.
UniCredit Leasing Corporation
Resulted from the merger between HVB Leasing and UniCredit Leasing
Net total assets: 523 million Euro
Market share: 12 per cent
Offices in Romania: 16
Cellini: witnessing upswing
in luxury market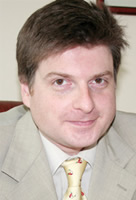 Sales of luxury goods should be the biggest beneficiary of the increased spending power of some Romanians.
This could lead to up to a 100 per cent increase in some categories of the luxury market in Romania, argues Alessandro Amato, general manager of Sodo Migliori, which runs luxury watch, accessory and jewelry store Cellini.
Bucharest, according to Amato, is still leading the field in gaining brand awareness in this market. "Bucharest has a special dynamism, an adaptability and creative capacity which is not yet happening in other cities in Romania," he says.
This year Cellini will offer its premium brands in a separate store 'Benvenuto Cellini', while the Cellini brand will include the mid-range products. New products this year include the 'Porsche design' products and individual diamonds.
In Romania Cellini customers are divided into two categories. The first are important for the company's image and include people with annual incomes of over one million Euro.
"They are very wealthy and usually we have to contact them or go to their homes," says Amato. "They consider themselves different. They want customised products and usually get big discounts."
The second category includes the upper middle class who are aware of the brand's reputation. "They are more important as volume for us, as they know our services, they know they can return the products and that we will not say no to them if something needs to be repaired," he adds.
Top sellers include Reuge music boxes with prices between 300 and 60,000 Euro and attractive battery chargers for watches. Tissot and Swatch are the top selling watches, but luxury brands like Omega and Breguet are becoming more desired.
Cellini
Luxury products retailer
Turnover: over ten million Euro by the end of 2007
2008 forecast: 15 to 20 million Euro
Employees: 120
Parmalat: juice market
still dominates production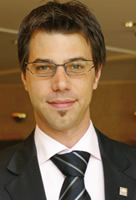 Parmalat is now testing its UHT long-life milk products and will start a consumer education campaign for its new juice products in Romania.
"Milk consumption in Romania has grown and we started to import white milk in September 2006 knowing that the taxes for milk products will be lowered after EU accession and we wanted to enter the market with a competitive price," says Parmalat Romania administrator, Giampaolo Manzonetto.
Parmalat has four production lines in Romania and is currently investing two million Euro to increase for juice production. While worldwide Parmalat is a milk producer and the leader in UHT milk, in Romania the production represents 90 per cent juices. According to Manzonetto, this is because the bacteria content of Romanian milk is not low enough for Parmalat's standards of 100,000 bacteria per litre.
"Our production lines meet the requirements for milk production in Romania but we have not invested further because the quality of milk here is not good enough," he adds.
According to the EU, Romania has more individual milk producers that the rest of the EU countries put together.
"One problem is that in Romania every farm has almost two cows where you cannot have an industrial production without 100,000 to 300,000 cows," says Manzonetto.
In Romania Parmalat has 33 distribution centers covering 95 per cent of the market, but closed around four distributors last year.
"On juice products we are the most expensive on the market and we cannot afford to be present in less developed cities where we will not sell," he adds.
Manzonetto argues the Romanian Parmalat consumer is aged between 22 and 35 years old with a high income and is willing to pay extra for a better product.
Parmalat Romania
Juice, squash and still drinks producer
Capacity produced 2006:
12 million litres
Forecast for 2007:
17 million litres
Employees: 140
Special report and business interviews by Corina Mica
Additional reporting by Mihai Alexandrescu