Brits make a cautious entry
Real estate, manufacture and services are needed for UK-Romanian relations, as the Brits show a low-key interest in the market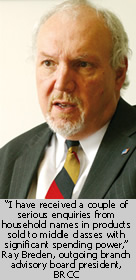 UK manufacturing is no stranger to Romania. Craiova-based Electroputere assembled railway locomotives for Loughborough's Brush Traction in 1976. But this did not emerge into the best example of investment relations over the Iron Curtain.
"The whole thing was an absolute disaster," says Ray Breden, outgoing chairman of the Branch Advisory Board at the British Romanian Chamber of Commerce (BRCC). "Ceausescu would not allow British engineers into Romania to supervise the production."
The 30 trains suffered design faults and damage on their journey to the UK, where their life-span saw a quick end. Such a deal derailed any long-term business relationship between the two countries at that time.
Hopefully things have now changed.
UK firms are working in Romania on a small scale in services and manufacture – much like the recent wave of German companies in the country. This includes recruitment specialists and IT maintenance support to Romanian companies.
But Breden has not seen a massive interest from UK real estate companies, although there are a few UK-based funds investing in Romania.
"There is a lot of publicity about investors' opportunities in real estate," says Breden. "But there is more interest in Bulgaria and people are more confident investing in France or Germany."
One of the drawbacks is the law pertaining to land ownership, with Romania now seeing over 100,000 litigations pending regarding land ownership. "It's not just about identifying land that might make you a profit, but there are doubts over whether, when you buy land, you end up owning it," he says.
But Romania still has a future for outsourcing manufacture, argues Breden.
"Textiles is the exception," he says. "It requires low labour costs and has nowhere to go because of pressure on costs and because buyers of [clothing], such as large supermarket chains, have enormous strength. They are already looking at labour markets outside of Romania."
Luxury maker
But Romania could become a centre for production of specialist items for the luxury market – which need to get to market fast and in small quantities. These could be run by firms employing up to 200 people in a ten to 20 million Euro investment.
"In [April] I have received a couple of serious enquiries from household names in products sold to middle classes with significant spending power," says Breden.
British companies with a smallish turnover of around ten million Euro are staring to provide components to car assembly plants in and outside of Romania. These should emerge around the three areas of automotive activity in Brasov, Pitesti and Craiova.
Breden still believes UK could offer a market for a right-hand drive Dacia Logan, which is, for the moment, only on sale in India.
"It will be attractive for the UK in terms of reliability, cost and a market for a good quality low price small car," he says. "It will be extremely competitive given the strength of the Sterling against the Euro."
Global UK brands such as Aviva, Vodafone and GSK are in Romania, but retailers are only present as franchises, such as Costa Coffee, Debenhams and Marks and Spencer.
Big box chains Tesco, Dixons Store Group and DIY-store B&Q have steered clear of the country, neither has UK-owned east European coffee chain Coffeeheaven entered the market, as promised, although it opened in Bulgaria.
British banks may at last come to Romania when (and if) either Barclays or Royal Bank of Scotland buy out Dutch ABN Amro, which has a 3.1 per cent market share of the Romanian banking market.
Balance sheet
Investment in Romania: three billion Euro (UK Embassy figures)
At the end of 2006, over 2,500 companies with British capital were registered in Romania
Main British investors: Vodafone, GlaxoSmithKline, Coats, British American Tobacco
By November 2006, imports of Romanian products to the UK: 1.1 billion Euro.
Exports of UK products to Romania: 900 million Euro.
Vodafone: tackling landline telephony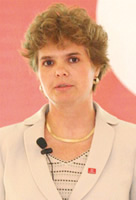 UK giant Vodafone is now tackling landline telephony in Romania, which its main rival Orange is also looking at, while landline firm Romtelecom is interested in the mobile market.
This is an indication that convergence among the three main players on the market is now becoming a reality.
But Vodafone will not be creating its own network, or piggy-backing on Romtelecom's extensive lines to target the consumer market.
The mobile phone company has launched fixed voice services with its own numbers for business customers as a tool in an integrated communications system. The new number range will be assigned to the almost 6,000 large companies which use these services.
"Vodafone's offer for integrated communications services relies upon our extensive experience in providing voice and data services, to which we add the advantage of the national coverage of the Vodafone network," says Vodafone Romania president and CEO Liliana Solomon. "By attaching our own fixed line number range to the integrated solutions proposition, we aim to consolidate our capabilities to serve our business customers as a total communications provider."
Vodafone Romania
Launched in Romania in 1997 under the Connex brand
End-March 2007 total number of clients: 7.954 million (33.8 post paid subscribers, 66.2 per cent pre pay customers)
Service revenue at end-March 2007: 1,012 billion Euro
Total number of 3G clients: 298,000 at end-2006
Average revenue per user (ARPU) 15.1 USD
Badea Clifford Chance: high level of
activity in equity capital markets
Romanian firms are now looking to attract equity on the London Stock Exchange (LSE). The success of local pharma group A&D Pharma's listing on the LSE has inspired others to check out this funding mechanism – although it comes at a price.
"An IPO in London brings a degree of transparency and a stamp of approval which in itself can add value to the business," argues John Fenemore, associate at Badea & Associatii in association with Clifford Chance. "A stock market listing also brings increased regulation and quite a heavy administrative burden."
The law firm, associated with the largest legal group in the world, has seen an "unusually" high level of activity in the equity capital markets recently.
"So far this year, we have been working on four issues of equity securities by Romanian companies abroad, including both IPOs and the issue of Global Depository Receipts," he adds.
However, in the long term, he argues that the European trend has been for companies to move away from the restrictions of the stock exchange to invest in private companies.
"The private equity funds that are the powerhouses of this move from public to private capital are already active in Romania," says Fenemore.
Much of the law firm's work is generated by banks and investment funds active on the financial markets based in and around the City of London.
"We have seen particular interest from London based investors in real estate, financial services, health care and pharmaceuticals," says Fenemore.
In real estate, the law firm is seeing activity from UK-based funds in retail, residential and office developments and less interest in the hotel sector.
There is also a trend towards portfolio deals which include a package of properties, often from different areas. "Portfolio deals are particularly well suited to the large London based institutional investors because they are large in size and can distribute risk better than single property deals," he adds.
Badea & Associatii in association with Clifford Chance
Law firm
Partner to lawyer ratio: 3:29
Representative clients include: Barclays, Citibank,
Credit Suisse, Deutsche Bank, JPMorgan, GLL
Aviva: making most of private pension wave
British insurance company Aviva has received the license to sell products under the 'pillar three' of the private pensions in April and is waiting for the green light from Romania's Commission to Supervise the Private Pension System (CSSPP) to act as operators.
Under Romania's new private pension system, three pillars are in force to allow fund managers to enter the market. Whereas pillar one has not been adopted yet, pillar two established the legal grounds to compel any employee under the age of 35 to contribute a percentage of their monthly wage to a private pension scheme, while pillar three makes it available for people over 35 to contribute to any chosen scheme.
"We have sold our first facultative [private] pensions starting in the middle of May using 2,000 marketing agents, targeting first the big companies in our portfolio," says Shah Rouf, general director of Aviva Life Insurance Romania, who thinks this country will become the second largest market in central and eastern Europe after Poland.
For pillar three Aviva will administrate a single pension fund with moderate risk and is the process of acquiring authorisation for private pensions for pillar two, which will be on sale in August.
Aviva Romania
Insurance company
Gross written premiums: 5.8 million Euro in the first quarter of 2007 (up 30.5 per cent)
Total assets: 50.37 million Euro at the end of March 2007 (up 57 per cent)
Employees: 1,200 permanent agents, 800 part time
Dawnay, Day kicks off with mall trio
British developer Dawnay, Day has entered the Romanian market tto develop a network of malls ender the Atrium Centers brand. In Romania the company's goal is to develop shopping and entertainment centres nationwide, by contracting international, national and local retailers.
Dawnay, Day plans to invest 900 million Euro in Romania in the near future and has started three mall projects in Cluj-Napoca, Arad and Baia Mare, reaching a total investment of 185 million Euro.
"Our goal is to be in the top five major such companies in central and eastern Romania," says Paul Rogers, joint managing director of Dawnay, Day Group.
Atrium Center Cluj will include offices, a hotel and a shopping mall in an 85 million Euro investment located in the centre of Cluj-Napoca.
"Our strategy was to start investing first in Transylvania," says Adina Calinescu, country manager of Atrium Centers. "Cluj-Napoca is the most important city in the region, in terms of industrial development, accessibility and number of inhabitants."
Dawnay Day Group
Develops in Europe, India, USA, Middle East and Australia
Investment plan: 900 million Euro in Romania
Developer Dawnay Day Carpathian has a joint venture, Atrium Centers
Will build malls in Baia Mare, Cluj-Napoca and Arad
Modus signs up Carrefour for Colloseum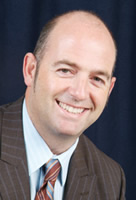 Manchester-based developer Modus Properties has entered the Romanian market in collaboration with Nova Imobiliare to develop a shopping complex in north-west Bucharest, the Colloseum Center, in an investment of 450 million Euro.
The development is now going ahead, with Carrefour signing up to open a 15,000 sqm unit in the Chitila-based location.
This is the company's only development in Romania at the moment and its first outside of the UK.
"We decided to enter the market with a commercial centre because we specialise in retail-led schemes and are leaders in the field of regeneration in the UK," says Brendan Flood, general manager of Modus Properties. "This experience has encouraged us to look at other growing markets and Modus views the Romanian economy as having great potential for growth, given that Bucharest is one of the largest cities in Europe."
The firm is speaking to a number of "well known" retailers throughout Europe and should be able to announce further signings, adds Flood. The first phase of the project will be finished in the summer of 2009 and will deliver 55,000 sqm of space to rent.
Modus Properties
Real estate development and regeneration
Projects in Romania: 450 million Euro 'Colloseum Center' in Chitila, northwest Bucharest
Brithouse targets west and Transylvania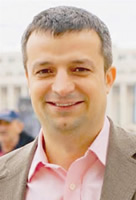 Using British capital and based in the UK, new DIY retailer Brithouse plans to invest 25 million Euro in the next five years in Romania and targets a turnover of 100 million Euro by 2012.
The DIY market in Romania is still at its beginning, according to general director of Brithouse, Florin Stanciu who thinks low prices still prevail.
"Let's not forget that the first players on the market came only six years ago," he says. "The market is educating itself through the evolution of the client's needs and expectations."
The main shareholders of Brithouse are two Romanians, who established a firm in London seven years ago in the construction industry. The firm chose Timisoara to open its first store due to the increasing real estate market, argues Stanciu, but sees Bucharest and Moldavia as options for development.
Brithouse targets an eight per cent market share of the DIY market in Banat and Transylvania and to open 15 shops by 2012.
Brithouse
DIY retailer
Turnover: 100 million Euro
by 2012
Employees: 100, targets 1,800 in the next five years.
Coats: shifting gear to auto sector
British industrial sewing thread manufacturer Coats is shifting its focus to the automotive and outdoor wear sectors in Romania, due to the increased pressure on costs for high intensive work.
At present Coats manufactures sewing thread for airbags, safety belts and steering wheels for car component firms such as Takata-Petri, Autoliv and KSS.
"For now, 60 per cent of our business is in textiles, but in the next three to four years there will be a shift to automotive," says Anamaria Grecu, general manager of Coats Romania.
But Romania is seeing a market shrinking in the textile industry due to the increased demand for wages.
"There was a theory during Communism that Romania would be the main supplier of textiles for USA," she adds. "Of course, things did not go in that direction and we were left with a lot of large production capacity. After EU accession, between 1 January until April this year, costs rose up to 30 per cent."
Textiles that were made in Romania are now migrating towards Asia, Tunisia, Morocco and Egypt.
Coats has invested over 17 million Euro so far in Romania, in its two Odorheiu Secuiesc sewing thread production units and is divided in the industrial division and Crafts division, which makes embroidery.
"For Crafts we are trying to develop the need because in Romania, the tradition exists," says Grecu.
Coats Romania
Manufacturer of industrial sewing thread and consumer needlecraft products
Turnover [end of 2007]: ten million Euro
Employees: 350 in Odorheiu Secuiesc, 100 in Coats Romania Impex (embroidery)
British Airways: visa lift sees
upswing in travel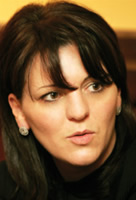 With a load factor now over 90 per cent, Corina Enciu, British Airways country commercial manager for Romania and Moldova, says the airline has witnessed above expected growth in all segments.
"With the UK lifting visa requirements for Romanians once the country entered the European Union, this was reflected in the increase in air traffic between the two countries," Enciu says. "There are many Romanians working in the UK and there is also adjacent traffic, namely family and friends flying to and from London to visit those working in the UK."
The country manager does not fear competition, which takes the form of WizzAir's almost daily flights through London's Luton airport and a new flight to Liverpool starting this October.
Instead the airline is thinking of widening its local options. "We are looking at launching an agreement with Malev to fly from Timisoara, Targu Mures and maybe Constanta starting next year," she says. "Leisure traffic also saw an increase once visas were lifted. Romanians now have the opportunity to spend a long weekend in London, without having to worry about staying in line at the British Embassy for a visa."
Enciu adds traffic is increasing the other way as well, especially on the business segment. But Romania is still not seen as a city break destination.
British Airways Romania
Established in Romania: 1994
Operates two daily flights to
London Heathrow
Current load factor:
more than 90 per cent
Employees: seven in the city
office, two at Henri
Coanda Airport
Report by Mihai Alexandrescu, Corina Mica,
Michael Bird and Ana Maria Nitoi