Half of energy sector unfit for business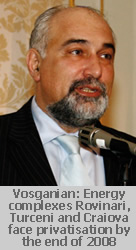 About 9.8 billion Euro is needed to modernise Romania's ailing energy sector between 2007 to 2020, says a new strategy document from the Ministry of Economy and Finance.
Such investments are necessary as over 50 per cent of the power plants and the gas and electricity distribution networks are now obsolete. Romania's oil and gas reserves will drop significantly by 2025, adds the draft. Along the same lines, uranium reserves for the proper functioning of the nuclear reactors at Cernavoda can only suffice until 2017.
Meanwhile, energy complexes at Rovinari, Turceni and Craiova, which produce 30 per cent of the nation's energy, will be privatised by the end of 2008, according to the new draft of Romania's energy strategy.
The strategy also proposes postponing the transfer of the thermal power plants in Bucharest to the City Hall until 2008, in which time, Bucharest's Heating Utility RADET should pay its 180 million Euro debts to state thermo power producer Electrocentrale Bucuresti.
The price of Romanian gas is estimated to rise to 193 Euro for 1,000 cubic metres in 2009, an increase of 53 per cent on the current value.
At the same time, import gas prices are expected to rise by only 1.4 per cent to 218 Euro per 1,000 cubic metres.
On the other hand, the Ministry predicts national electricity consumption between 2007 and 2020 will rise by three per cent each year.
At the same time, the energy exports are expected to grow significantly after 2015, when Units III and IV of Cernavoda nuclear power plant should start producing.
Varujan Vosganian, the Minister of Economy and Finance said the current electricity producers, Hidroelectrica, Termoelectrica and Nuclearelectrica, should remain with the same corporate set-up.
But thermal power producer Termoelectrica has two possibilities regarding its restructuring. One option is to link a thermal power plant such as Mintia, in Hunedoara county, with the mines from the Jiu Valley, to become an energetic complex which uses coal from pits. Another way to revive Termoelectrica is to partner each thermal power plant with one hydro power plant.
The Ministry of Economy and Finance's proposal is expected to be adopted by the Government this month.
---
Continental joins Accor in developing national Ibis network
Continental Hotels and French-based Group Accor will develop a network of seven new Ibis hotels in Romania by 2010, in a total investment process of 130 million Euro. From this figure, 50 million Euro will be Ibis's contribution, according to Radu Enache, president general manager of Continental Hotels.
Continental Hotels will build or renovate at least seven hotels in different cities in Romania, which will subsequently be managed by Accor under the Ibis brand. The hotels will have between 120 and 193 rooms and are located in Timisoara, Targu Mures, Sibiu, Bucharest, Brasov, Cluj-Napoca and Iasi.
Enache told The Diplomat that, out of the two hotels the hotel chain owns in Sibiu - Continental and Bulevard - the first will be re-branded into Ibis after its modernisation, while the second one will operate as a Continental.
---
European Commission: deficits to rise above initial forecast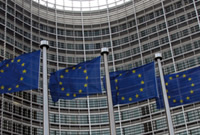 European Commission (EC) has revised its forecast on Romania's current account deficit this year from 11.8 per cent of GDP to 12.1 per cent of GDP. Rises in consumer demand, an appetite for imports, the growth in budget spendings and an improving currency are contributing to this revision, which predicts this to rise to 12.3 per cent by 2008.
Experts from Brussels argue investments made with EU money will slow down the impact of this worrying change. At the same time, the EC calculates that Romania's budget deficit will grow to 3.2 per cent of GDP in 2007 and 2008, an increase on its Autumn 2006 prognosis of 2.6 per cent, due, in part, to higher spending forecasts and uncertainty about the impact of Fondul Proprietatea (Ownership Fund) on the state budget.
However, the European Commission predicts a higher rate of growth and a lower price rise of products for consumers that its initial forecasts. The EC said Romania's GDP will grow to 6.7 per cent this year, above the anticipated 5.8 per cent.
In 2008, Brussels expects an economic growth of 6.3 per cent in compared to the 5.6 per cent it estimated in the Autumn. The EC has also modified its forecast on the average growth of prices in Romania down to 4.6 per cent in 2007, from 5.1 per cent.
---
Oil Terminal joins 'dream pipeline' consortium
Romania's state-owned company Oil Terminal has joined the international consortium to implement the Pan European Oil Pipeline (PEOP) project, which aims to transport Caspian oil from Constanta to Trieste.
Mircha Taiss, head of the development programs of the company told APA Eastern Europe that representatives of five states participating in the construction of the pipeline will specify the regulations of the consortium in the Oil Terminal in Constanta next month.
The main aim of the Constanta-Trieste pipeline that will unite Romania's port on the shore of Black sea and Italy's port on the shore of the Adriatic Sea, is to bypass the Bosporus strait.
"So, the influence of non-EU member Turkey can be avoided and European countries can be provided with non-Russian oil, especially from Kazakhstan and Azerbaijan," he reportedly said.
The 1,350-km pipeline will cost 3.5 billion Euro. Romania shares 650km of this pipeline, which will unite Romania, Serbia, Croatia, Slovenia and Italy, with access to the Transalpine pipeline from Trieste to Hamburg.
Oil Terminal, founded in 1898 has the biggest oil terminal in south-eastern Europe in Constanta.
---
Short News
Natural gas will fizz out by 2037
Romania's supply of natural gases will last for the next 25 to 30 years according to Gicu Borosi, general director of the National Agency for Mineral Resources. Romgaz predicts are that by the end of 2015 the price of natural gases from its own production will double from 126 Euro per 1,000 cubic metres to 260 Euro. Romania's Gas Regulatory Authority said the local gas production will drop by 23 per cent by 2015 and, at the same time, imports will increase by 63 per cent.
Gaz de France targets
electricity production
Gaz de France International plans to become an electricity producer and distributor in Romania and to consolidate its position in the field of gas distribution and storage, Tanguy Moulin Fournier, the company's development manager in Romania, told Mediafax. "Gaz de France is highly focused on the privatisations in this field in Romania," he said.
Ericsson opens new service
centre for Bucharest
Ericsson will open a new support centre for its global customers in Bucharest this July. The firm's 20th Global Service Delivery Centre (GSDC) will employ 200 engineers. "The increase in the services business and the new needs we are seeing within, for example, managed operations in IT management, application development and support areas are the main reasons for opening a new GSDC in Bucharest," said Fredrik T Strand, vice president and head of Service Delivery at Business Unit Global Services.
Sibiu airport gains
43 million Euro loan
Dexia Kommunalkredit and the Sibiu County Council last month signed a loan agreement to finance extending and modernising the Sibiu Airport. The loan, worth almost 43 million Euro, has a 25-years maturity with a grace period of five years.
Ansaldo secures railway contract
Ansaldo STS, through its Ansaldo Segnalamento Ferroviario subsidiary, has been awarded a six million Euro contract by Romania National Railways Company (CFR) for the design, development, installation and commissioning of Signalling and Telecom equipment on the Bucharest - Brasov line. This is for the Campina - Predeal section and is part of Pan-European Corridor IV. The project is co-financed by the EU. The overall contract value is worth over 15 million Euro and Ansaldo STS will be acting as leading partner of a consortium that also includes ISAF, a Romanian signalling company.
Euroholding takes over
Marcora operations
Mixed-interest group of companies Euroholding last month paid a reported 12 million Euro to take over the local operations of Italian-based construction company Marcora. Part of the acquisition were eight working sites in Romania.
Wizz Air links Liverpool
to Bucharest
Low cost airline Wizz Air will launch a new service between Liverpool John Lennon Airport and Bucharest, starting 1 October. The new flight joins its existing service from Luton Airport. Hungarian-Polish Wizz Air will begin services to Palma and Valencia from Bucharest and increase the frequency of flights to Romania from Luton and Rome.
Innova Capital buys up
water-cooling firm
Water-cooling company La Fantana has been purchased by investment fund Innova Capital from Swedish investment fund Oresa Ventures for an estimated amount in excess of 35 million Euro. La Fantana Group has 500 employees in Romania and Serbia and a turnover of 15 million Euro in 2006. Innova Capital has invested almost 210 million Euro in 33 companies in Romania, Poland, Croatia and Serbia.
Government funds Cluj-Napoca to support Nokia
Romania's Government will give 3.5 million Euro to fund infrastructure work and the utilities network of the industrial park in central county of Cluj, where Finnish mobile phone manufacturer Nokia is to build a 200 million Euro factory and research centre.
Mobexpert moves close to Targu Mures
Furniture maker Mobexpert will invest 28 million Euro to relocate its four factories to an industrial park outside Targu Mures, officials said quoted by Ziarul Financiar. Production and logistics facilities will move to the industrial park, 15 km from the city, which will become operational in a year.
New car tax due for 2008
Changes occurring to the criticised first car registration tax in Romania will come into effect in January 2008. The new tax will drop in inverse proportion to the age of the car. The EC criticised the previous tax for breaching rules on free trade of goods, as it targeted imports of second hand cars over six years-old.
RPPF closes at double the investment
Investment fund Romanian Post Privatisation Fund (RPPF) managed by GED Capital Development has closed, with a return on investment (ROI) of more than double on the initial amount. Launched in 1996, at a value of 44 million Euro, RPPF and has since exited 12 local companies, including Continental Hotels, pharma producers Sicomed and white goods maker Arctic, with an ROI standing at 95 million Euro.
Car components industry to rise to four billion Euro
Car components market will reach a four billion Euro turnover in 2007 said Constantin Stroe, president of the Romanian Association of Automobile Constructors and vice president of Dacia, quoted by Business Standard. Last year this market had a turnover of 3.2 bilion Euro. Stroe added the increase is in part due to Dacia's production growth. The automotive sector generated four per cent of GDP in 2006, with a total of 120,000 employees.
Dairy giant aims big
Israeli dairy giant Tnuva will invest 55 million Euro in a dairy in Popesti-Leordeni, according to Business Standard. Tnuva will compete on the Romanian market with Danone, La Dorna and Friesland, Albalact and Covalact.
Israelis build houses in Militari
      Israeli developer Aura Investment in colaboration with Baron Adam group will build a 200 unit residential project in Militari, west Bucharest. The company has already purchased a 3.5 acre land plot for 2.4 million Euro. Aura Investments owns 75 per cent of the joint venture and Israeli-based Baron the remaning 25 per cent.