Editorial
Lonely heart: Romania has no best mate in EU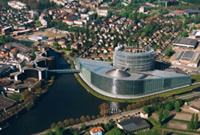 Romania does not have a best friend in the European Union. Unlike the Visegrad countries of Czech, Slovakia, Hungary and Poland, which can club together, the Baltics, Scandinavian states or Iberian nations, Romania has no obvious ally in or out of the EU.
It has tricky relationships with its neighbours Hungary and Bulgaria, and cannot offer the EU the chance of being a 'broker' on relationships with Russia.
However it can make friends with nations which need Romania for its large market and cheap labour. These include France, Italy, Austria and Germany, its greatest trade and investment partners. But the relationship will be tough to maintain between these old imperial nations, because part of their attraction to Romania is the nation's status as a centre for low cost manufacture in the EU. This is under threat by the rising wages and quality of life engendered, in some way, by EU integration.
In this issue, on page 18, we showcase the sectors where Romania should lobby hard in Brussels: agriculture, energy, transport, Black Sea and border security, workforce migration and its relationships with the Republic of Moldova.
Romania must have a strong voice in agriculture – just as the EU is losing enthusiasm for bankrolling farms, Romania needs to defend its right to the large subsidies that helped older member states reconstruct their antiquated rural systems.
The European Commission can complain that Romania is not absorbing its funds, especially as Romania has, so far in 2007, become a net contributor to the EU budget. But maybe Romania should lobby for a better system to allow its Government to fast-track EU cash to sectors which need massive and long-term reform, such as drainage and irrigation systems to prevent agricultural disasters.
Although Romania is a small player in foreign affairs, the EU will be a megaphone that Romania can use to make its voice heard with more conviction in the Kremlin, Chisinau and Ankara. The country must support the principle of enlargement. It would be hypocritical not to, because Romania is the greatest beneficiary of the policy.
This is good news for Croatia and Turkey in this decade and maybe Serbia, Albania, Macedonia, Bosnia-Herzegovina and Montenegro in the long-term. They should all find an ally in Romania for their EU ambitions.
Romania will also be a good free market player in the club. Basescu supports both a single EU energy policy and the EU constitution. Although Tariceanu's Government introduced this year a punitive tax on car imports that smacked of protectionism, Romania has shown a centrist policy which may cohere with the new Sarkozy-Brown-Merkel troika that will dominate EU politics for at least three years. But the main problem will be Romania's relationship with Russia.
In the last few months Basescu has made various comments insinuating that Russia is a force of corruption in Romania. This may have been an attempt to woo anti-Soviet voters during the referendum for his presidency in a populist attempt to bash the old enemy.
But it harms Romania's chances of forming bipartisan relations with both the Romanian and Russian-speaking strands within the Republic of Moldova.
If it is a cheap swipe for short-term electoral gain, this may come back to haunt Basescu as he realises that the EU and Russia need each other and diplomacy, not name-calling, is the best policy between the two blocs.