Chile: historical paradise of wine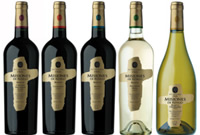 Chile has been producing wine for five centuries. But in the past decade, its wine has 'exploded' on the international market, stealing territory from French and Spanish wines. This success is mainly owed to Chile's climate, soil and purity. The quality of Chilean wine mainly derives from the Mediterranean climate, with long and dry summers and a daily fluctuation of temperatures above 15 degrees Celsius, plus a humidity of 50 to 60 per cent, which favours the accumulation of sugar, flavours and colours. Recent studies show that Chilean wines have the biggest concentration of flavanol, the natural antioxidant which protects one's health. The advantage of this? Very good wines at reasonable prices.
The Misiones de Rengo brand represents a modern concept, where an old and conservative industry adapted itself to keep up with the tastes and lifestyles of contemporary consumers. Produced in Chile by Southern Sun Wine Group, Misiones de Rengo captivated the specialists, fans and consumers through its exceptional quality and original presentation. Its vineyard is in central Chile and it enjoys all-year sun. It can produce seven million bottles per year and store eight million litres. The main export nations are Great Britain, then the US, Holland, Germany, Japan, Belgium, Mexico, Switzerland, Russia, the Czech Republic, Italy, Poland, Costa Rica, France and Peru. This international success has convinced Cluj-Napoca-based importer Vino Vero to bring the wine to Romania. Local connoisseurs can now indulge in a great wine at a fair price.
Due to its long history, wine from Rengo Valley is reputed to have a special gift that captures the spirituality, faith and dignity of the Chilean people. This Valley and its inhabitants keep an aura of mystery and pious worship, connected to the first Christian missionaries to Rengo. Conquistadors and locals, different doctrines and churches all met here. Farms and houses from that time remain and are still built with the same conviction shown in 1730 by one of the last missionary monks, who completed the first church in Rengo. He made it simply, from brick and wood, with a small tower. Since then the city has been protected by a veil of faith and humility. This is the mystery those walking on the streets of Rengo find today. The old farm, the Apostolic School, the ancient monastery and the warm light maintain the spiritual identity of this small and unique town at the heart of Chile. The Rengo missionaries' wine is the heir of this sentiment.
Catalin Paduraru
www.evinoteca.ro