Reclaiming the streets
Making billboards of children's drawings, renting art to companies and putting giant fruit in city squares. These are among the current missions of Galeria Grigore Mora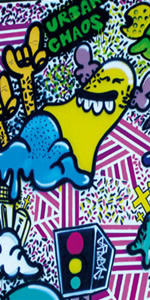 Galeria Grigore Mora and its associates are pioneering projects in the Capital's community under the banner 'I love Bucharest'.
"It's not really ironic as a name," says artist in residence Irina Abaza. "But we have to do something to love it."
This aims to reclaim the capital's public space. For most city dwellers, Bucharest is a place to work and go home. Public space is an area where people trip up, run away from dogs, throw their rubbish or get stuck in traffic. "Bucharest is very grey, the people look unhappy and it smells bad," says Abaza. "Our fault is that we remain passive."
The project has so far included brightening up the Historical Centre. On the outside of the disused Club Hermes, the gallery has stuck paste-ups of cartoons by Alexandru Ciubotariu of monocled gentlemen, dandies and monsters.
The gallery team and helpers have also picked up kids living in shoddy houses in the Lipscani area, sat them down in the middle of the street, given them pens and paper and asked them to draw what they want. The results included football pitches, flowers and trees – all the things they drew were very, very green. The kids loved it. "Even when it was raining they wanted to come out and draw," says Abaza.
The gallery intends to make banners of the children's drawings and put them around the city.
The grandest scheme is an urban landmarks project. This is inspired by the lack of public sculpture in the city, especially at cross-roads or in deprived areas.
Such a move would need the City Hall to authorise the space and business donors for the cash, but it would be an important move for a Capital where there few (if any) public sculptures have been erected since the fall of Communism, except those commemorating that collapse.
The ideas? One concept is a giant model of an apple in the middle of Piata Victoriei.
It waits to be seen whether this is to Mayor Videanu's taste.
Art for hire
For a law firm, boutique hotel or Government office looking for something contemporary, young and Romanian to fill its office walls, Galeria Grigore Mora is offering art-to-rent.
This includes landscapes of peasants dragging cows into fields, figurative sketches or paintings of a baby half-sunk in earth and transformed into a plan for a coal-mine. From 20th century Romanian sculptors, such as Ion Irimescu, to hardcore contemporary art, these are hired from Avrig 35's collection of 1,500 artworks at four per cent of their cost for six month periods.
Funds generated from 'lending' art are used to finance exhibitions in the gallery on Strada Grigore Mora and its art activities in the community. The gallery is an atelier in the shadow of the Charles de Gaulle Plaza with three rooms displaying new works.
Firms or individuals only have to rent the pieces, so if they decided they hate them, they can swap them for something different and no one gets offended, except maybe the artist – but he or she doesn't need to know.
Michael Bird
Galeria Grigore Mora
39 Str Grigore Mora
Tel 0724 015 905
www.arttorent.ro