Smooth operator
Like slipping into a hot bath on wheels is how Mihai Alexandrescu finds the new SUV from Lexus, the classy Japanese brand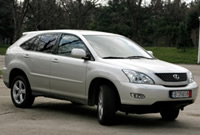 Modern Japan is a country pushing everything to the extreme.
It is a home for the hottest technology and the most consumer-hungry teenagers, addicted to the most kinetic video games, the most baffling pornography and the most terrifying horror movies.
When I was young, the killer in gore films was a psycho just out of an asylum with a kitchen knife chasing girls through dark forests.
But since the dawn of Asia Extreme Cinema, I am scared to walk past a school or enter a playground, fearful I may see a white-skinned boy in pants or a girl who combs her hair over her face.
From a nation whose culture can provoke a strong reaction, it was with some trepidation that I took the wheel of the SUV from premium sleeping giant, the Lexus.
But from the moment you step into this car, it is like dipping your toes into a hot bath.
Toyota launched into uncharted territory in the late 1980s when it launched a classy brand to compete with Audi, BMW, Mercedes and Cadillac.
The result of this was the Lexus, which has stood at the fountainhead of the resurgent Japanese car giant, which now ranks as the leading global car-maker.
Stripping bare
STATISTICS
Engine: 3.6 litre V6 petrol, 277 BHP, 342 Nm of torque
Transmission: 5 speed automatic
Fuel consumption: 13 litres mixed consumption
Acceleration: 7.8 seconds from 0 to 100 km/h
Top speed: 200 km/h
Price: 61,000 Euro DDP
tested model (Boulevard plus)
Warranty: three years
or 100,000 km,
12 years for the body
Suitable for:
hot-tempered politician
Because first impressions do make a difference and size does matter, Lexus has reinvented the premium concept when it comes to built quality, modern equipment, safety and comfort.
The car does not stand out from the crowd in terms of design, but instead it has the common sense other cars in its category lack. There are no big shiny grills, chromed wheels or side vents on this SUV. The outside is clean, slick and bare. It has the same smart, civilized and sober presence of a politician in front of a TV camera. The Lexus itself is the perfect car for a Member of Parliament who wants to give the impression of restrained sophistication, but has a secret plan to take over the world.
When you drive a Lexus after a regular car, it is similar to waking up from a coma in a Zen garden.
The engine is a 3.6 litre V6 24 valve petrol with 277 BHP that sounds like a gathering storm when pushed to higher revs. But like all Lexus, this engine is powerful but quiet. Such stillness combined with the comfortable seats makes it almost dangerous to drive, because you feel you could fall asleep. Concerns about tough traffic, missed deadlines, annoying bosses and daily fights with a jealous girlfriend will disappear when driving this car.
Overall, the Lexus RX 350 is a great engineering masterpiece, but fragile. It doesn't seem to be made to be intimidating in traffic or to tackle the toughest terrain. But it has a therapeutic quality. It is the equivalent of transcendental meditation on wheels. If you are the kind of person who wants to punch the next hole in the road because it ruined your new wheels, then riding in a Lexus is the perfect tonic for you.