Lifting of house-buying rules could see new rise in prices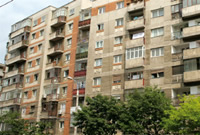 Romanian families will find it easier to buy a house following a central bank (BNR) decision to cut the minimum down-payments for home purchasers.
This move would empower many new buyers on the real estate market and could push apartment prices up by 15 per cent. But there are fears the mass liberalisation of the home market could lead families to assume too much on credit and cause a wave of debts.
BNR is no longer compelling the banks to request a minimum 25 per cent down payment on the value of a house, paving the way for 100 per cent mortgages. The central bank is also dropping the rule that a bank can only limit the monthly payment of mortgage loans to 35 per cent of a consumer's income.
Following this initiative, BRD – Groupe Societe Generale launched two types of mortgages for the self-employed and businesses. The former is a 100 per cent mortgage for a maximum of 20 years, at a value of 300,000 Euro.
Real estate experts predict this will increase the demand for old and new apartments that could result in a price increase of up to 15 per cent. "This increase in demand can be justified by developers and Romania's accession to the EU, which has lead to a lower level of risks," says Victoria Linca, senior consultant, residential at DTZ Echinox.
Meanwhile, Alex Van Breemen, general manager of real estate developer Cascade, believes this will create much speculations and investors are likely to buy properties off-plan and sell them for profit before the project is finished.
For the consumer market, Sorin Lacusta, director of residential projects at Regatta, sees banks lowering the down-payment percentage gradually until extinction. "Consumers have started to realise the costs of a mortgage and they are very careful before they choose," adds Lacusta.
General manager of ING Bank Romania, Misu Negritoiu, believes the BNR regulation is good as it creates a flexible system where banks set their own rules. But he is sceptical about the 100 per cent mortgage. "It will be lower than 25 per cent and probably will get lower in time, but will not be eliminated," he says.
Consumer lending is likely to see a healthy growth with the recent BNR decision, argues Peter Weiss, country executive of ABN Amro in Romania.
"I am not very afraid that families will become overly indebted with this liberalisation," says Weiss. "So far the biggest safeguard has been BNR itself, due to it being cautious, and I'll assume it will continue to be careful from now on as well."
---
Romanian copper giant buys into Serbia
Local copper manufacturer Cuprom Romania has won a 305 million Euro bid for Serbia's largest copper company.
Cuprom, which has no experience in copper mining, offered the highest bid in the race for the privatisation of the Bor mines and a smelter, which are close to the Romanian border. The next bidder in the race, Cyprus-based East Point, offered around 244 million Euro for the mining complex, the Serbia's Privatisation Agency said.
Cuprom also took over 4,500 employees and, according to company representatives, is prepared to invest a further 150 million Euro in the first four years. The firm has mandated Merrill Lynch and Deutsche Bank to arrange a 450 million Euro syndicated loan.
The privatisation includes the over-the-ground and underground copper mines from Bor, an over-the-ground mine in Majdanpek and a copper melting and refinery unit.
Cuprom forecasts an output increase at Bor from 75,000 tonnes to 180,000 tonnes in the coming years and hopes to become profitable by 2011.
---
Nokia to produce mobile handsets in Cluj-Napoca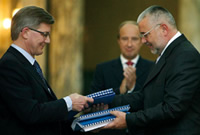 Worldwide mobile phone giant Nokia has sealed the deal to invest 60 million Euro in a production and research outlet in Cluj county, in the Terarom III industrial park, located in Jucu, near Cluj-Napoca. This will be the company's 11th mobile device production facility, and works are scheduled to begin this Spring.
Cluj County Council officials decided that almost 50 per cent of the park's space will be tax free and has agreed to investments estimated at 33 million Euro in infrastructure for the industrial park, which will be funded by the local authorities and the Government. The location will be known as the 'Nokia Village' and will also bring together the main dealers of the company.
Raimo Puntala, senior vice president for Nokia's Operations and Logistics, said the Finnish firm selected Cluj-Napoca because of the county's availability of skilled labour, its good inbound and outbound logistics connections, efficiency and the industrial tradition.
Nokia's new facility in Cluj-Napoca is located about 400 kilometres north-west of Bucharest. Construction work will start this Spring and production is expected to begin in the first half of 2008. Nokia foresees ramping up the factory gradually and will recruit approximately 500 employees there by the end of 2007. As part of the plans, Nokia is looking to establish an industrial village in the area, enabling a number of key suppliers and partners to locate their operations there.
---
Romania urged to exploit the good times to speed up fiscal unity with Europe
Romania has been urged to use its economic boom to control public expenditure and reduce its budget deficit by international agencies.
The International Monetary Fund argued that Romania was ticking many of the boxes that conform to the economic agency's criteria for good fiscal governance in 2006 .
These include strong output growth, substantial disinflation and falling unemployment. But an IMF release read there was "no room for complacency" in Romania's road towards economic parity with western Europe.
The IMF called for more attention on the country's balance of payments and called attention to risks due to Romania's widening current account deficit. The IMF also urged Romanian authorities to tighten fiscal and wage policies. Due to the private sector boom, the institution favours a general government deficit of below one per cent of GDP in 2007.
A European Commission report on monetary convergence calls for Romania to reduce its deficit in structural terms from three per cent to 0.9 per cent of GDP by 2009, instead of the 2011 date the nation predicts.
This will help Romania qualify for membership of the single currency. "Romania should aim for a more ambitious budgetary consolidation path," said economic and monetary affairs commissioner, Joaquin Almunia.
---
Short News
Not so fast: central bank governor warns on hasty Euro entry
Central bank governor Mugur Isarescu has warned of the dangers of a hasty entry into the single currency Eurozone, in an interview with the Financial Times. The governor argued that Romania may be on course for 'nominal convergence' for the European Exchange Rate Mechanism II by 2010 or 2011, which means the earliest date Romania could enter into the Eurozone is 2012. This was due to low public debt, well-performing local currency and lowering inflation. But he said that Romania may not reach 'real convergence' until a later date. Problems included poor management of Government budgets and a current account deficit of 11 per cent of GDP, stated the FT.
No hike in wages since EU join-up
Romania's net average salary dropped by 16.5 per cent to about 270 Euro per month in January on the previous month due, said the National Statistics Institute (INS), to the absence of Christmas bonuses. This figure was up 11.1 per cent on the January 2006 figure and resembles the figure for November 2006 of 268 Euro per month. This indicates that the feared 'big bang' hike in salaries due to EU entry has yet to happen.
Consumer lending helps boosts GDP for 2006
Higher wages, increased lending and a stronger local currency boosted Romania's Gross Domestic Product (GDP) ahead of EU entry. GDP grew by 7.7 per cent in 2006, faster than the growth of 4.1 per cent in 2005, but below that of 2004 of 8.5 per cent, according to the National Statistics Institute. Retail sales last year rose 24 per cent from 2005 and consumer lending increased by more than 50 per cent. Growth was also boosted by a 75 per cent increase in foreign direct investment in 2006 on the previous year to 9.1 billion Euro, helped by Erste Bank's two billion Euro purchase of the state's shares in Banca Comerciala Romana.
Poor perception of property rights persists
Romania ranks below Tanzania, Peru and Honduras in a poll on the security of physical and intellectual property rights in the country, in a report from US-based think tank Property Rights Association. Romania, which ranked higher than Russia and Ukraine, polled the worst among the EU27 from the list, which included Bulgaria. The International Property Rights Index polled experts from 70 nations on how well they believed countries protected the rights of people's property.
Bankruptcies on the rise
Romanian companies declared bankrupt increased by 44 per cent last year to 10,431, compared to 7,240 firms in 2005, according to a study conducted by risk management company Coface Romania. Wholesale trade remains the sector with the most bankruptcies, registering nearly 37 per cent out of the 10,431 firms declared bankrupt, according to the same study. Retail is the top ranking sector in terms of companies experiencing difficulties. The services sector experienced the smallest number of bankruptcies, with IT, banking, postal services, telecom, energy and real estate each seeing less than a one per cent level of bankruptcy.
Heineken will invest 80 million Euro in three year upgrade
Romania's leading brewer, Heineken, plans to invest 80 million Euro in Romania in the following three years, around half of it in upgrading existing facilities with new technology. "About 30 million Euro will be invested this year, another 32 million Euro in 2008 and 20 million Euro in 2009," said Edwin Botterman, CEO of Heineken Romania. He added that the estate of four factories the Dutch have in Constanta, Craiova, Miercurea Ciuc and Hateg are enough, and the firm will not build any further facilities. "We can still increase capacity of the existing factories," he told The Diplomat.
Local pharma wholesale firm secures 80 million loan
Citibank Romania has arranged an 80 million Euro syndicated loan for local pharmaceutical wholesaler and retailer Fildas Group, in a transaction advised by Deloitte Romania. The facility has a five year maturity and will finance Fildas's working capital needs and investment plans. Fildas registered a turnover of around 150 million Euro in 2006 and has 1,600 employees.
EBRD loans 80 million Euro for shopping centres
European Bank for Reconstruction and Development (EBRD) will loan 80 million Euro to Globe Trade Centre (GTC), a Polish real estate developer, and Aura Investment, an Israeli company, to develop shopping centres in Romania. At present the joint company is investing over 50 million Euro in three centres in Buzau, Piatra Neamt and Suceava. The joint company will buy, administer and develop such centres in cities with over 100,000 inhabitants in Romania.
Hill and WSP win Constanta by-pass project
Construction and consulting firm Hill International and Swedish company WSP International will design, manage and construct the construction of a by-pass on Constanta's ring road. The Romanian National Company of Motorways and National Roads has assigned the six-year contract, worth 6.7 million Euro, to provide the 23-km north-south by-pass around the city of Constanta. Construction on the project is expected to begin this month and is scheduled for completion in February 2013.
World Bank money goes down the drain
Bucharest's City Hall will invest almost 74 million Euro to extend the sewage and drinkable water systems in Sectors 1 and 6, in a project with the World Bank. Works for Sector 1 are valued at 57 million Euro and 17 million Euro for Sector 6. The municipality will pay for 35 per cent of the total value of the project, due for delivery in 2010.
Turkish dreams in Pipera
Turkish developer Plus Development is investing 25 million Euro in a 10,000 square metres residential project in Pipera near the American School, scheduled for completion in Autumn 2008. 'My Dream Residence' will deliver 174 apartments and will also include underground parking, gym, playground, supermarket, pool and tennis court.
Qatar Bank to open rep office
Doha Bank, Qatar's fifth-largest lender by market value, will open a representative office in Romania within three months, according to Dow Jones Newswire. This is the bank's first move into Europe, where it has applied for four other licenses. Romania and Qatar plan to set up a liquified petroleum gas platform in Constanta.
Cluj hotel to double room capacity
Transilvania Development will invest five million Euro to expand the accommodation capacity of the City Plaza four star hotel in Cluj-Napoca. The company bought almost 1,000 sqm of land near the existing construction at 500 Euro per sqm to build a new wing to increase the hotel capacity from 40 to 90 rooms, three new restaurants and a pool
Insurance merger ups local stakes
Insurance firms Ardaf and Roumanie Assurance International (RAI) – both part of Czech-based PPP Investments fund – will merge this year. The news came immediately after PPP Investments announced it took over over 70 per cent of Cluj-Napoca-based Ardaf, but no figure has been released.
Astra wins Tarom fleet insurance contract
Insurance firm Astra Asigurari has won the bid to insure the fleet of national airline Tarom, starting 1 May this year, for a period of 12 months. Astra will insure civil planes and spare parts for them, as well as passengers, luggage, commodities, and third parties.
Siemens buys local electric equipment firm
Siemens has acquired local company Frosys that will be included in the Industrial Service and Solutions division (I&S). Active in Romania since 1995, Frosys specialises in equipment for the industrial automation and electric field, has more than 120 employees and had a turnover of eight million Euro in 2006.
Local mayor: brick firm due for Cluj
Austrian brick factory firm Wienerberger intends to invest 20 million Euro in a new facility at Tritenii de Jos, Cluj county, according to mayor Valer Sasa. The works for the new facility are scheduled to start in 2008. Wienerberger has brick factories in Gura Ocnitei near Targoviste and Sibiu.
Lugoj mayor: safety belt making for Timis
Swedish safety systems manufacturer Autoliv will open two production facilities for safety belts, airbags and cabling in October at Lugoj, Timis county, following a 30 million Euro investment, said Lugoj mayor, Liviu Savescu quoted by Mediafax. The Swedish firm already produces safety belts in Brasov.