Property of the month: 99 Blvd Dacia
Pre-war phone company home sees modern office makeover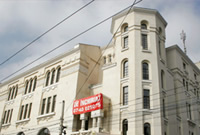 BLVD DACIA Currently undergoing renovation, this 1930s old school building situated in the Embassy heartland of Blvd Dacia is up for sale for ten million Euro from real estate agency Alliance Properties.
Dating from 1929 to 1930, the building was first the headquarters of the Telecommunication and Post Office Administration and the Romanian Society of Telephones, which became the national telephone company in 1931. After 1932, the surrounding area between Strada Alecu Russo and Strada Aurel Vlaicu was turned into a residential area.
The facade is decorated with floral and vine motifs in a Brancovenesque style which are situated underneath the cornices. Even though the building is not listed among the historical monuments in Bucharest, it has the personality and grace which will resist any future attempts of a drastic renovation. It perfectly merges with the architectural environment of the area and boasts a well-proportioned tower at its corner that shines out among the contemporary developments.
The property has a total built area of 668 sqm, a volume of 18,000 sqm and a height of 22.6 metres, two underground levels, ground floor, three upper floors and an attic.
The interiors do not have any decorations and are undergoing a complete renovation to create a modern office-style environment. The new building will have six elevators and new plumbing, sewerage and electric systems.
This could become the prestigious headquarters for a bank, public institution, university or museum.
For more information call
Cornel Ionescu at Alliance Properties on 0722 101 102
---
Reaching saturation point
How does the Bulgarian market compare to Romania?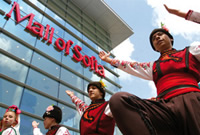 While Bulgaria's residential market could soon become saturated, Romania's remains the more expensive option.Tahi Ali, managing director at Bulgaria Revealed and Romania Revealed property agencies, believes some areas south of the Danube are overdeveloped.
"Sunny Beach on the Bulgarian Black Sea coast has proven to be catastrophic for some investors who bought recently," he says. "They are struggling to achieve decent rental yields as there is an oversupply."
According to real estate developers Willbrook Management, the areas with the best investment opportunities in the two countries are the coast and the capital, but in Romania costs are higher. "You can buy a 75 sqm, two room apartment in Varna for 45,000 Euro, where in Constanta the same type of apartment will cost 58,000 Euro," says managing director Daiana Voicu.
"For buying, the real estate market in Bulgaria is more attractive, but profits in Romania are superior compared to other central and eastern European countries."
Like in Romania, the Bulgarian office market is expanding. The biggest office transaction in Bulgaria was the purchase of Sofia Business Park for 180 million Euro from German company Lindner.
This is similar to Romania, where Austrian investment fund Immoeast purchased shopping complex Polus Center in Cluj-Napoca for 210 million Euro from Trigranit. Unlike Romanian companies which decide to rent office space, Bulgarians prefer to buy.
"The offer for office spaces for sale in Romania is still low and is easily and rapidly absorbed," says Silviana Badea, broker at Colliers Romania.
Retail is on an upswing in Bulgaria, with four shopping malls opened in 2006, three of which were in Sofia.
Names present in Romania such as Marks & Spencer, Carrefour, Ikea and Zara are looking to Bulgaria, according to Landmark Property Bulgaria.
A new master plan was approved for Sofia that came into force at the end of January to set clear rules in the height, types and density and zoning of buildings.
"In the past, there have been some loopholes in the legislation that have provided opportunities for witty developers to build higher buildings than the standard or even building in the parks and green areas," says Tanya Kosseva-Boshova, executive director at Landmark Property Bulgaria. "The master plan is not perfect, but the administration is willing to listen to the business to make improvements."
Unlike Bucharest, which is moving towards the north, developers are looking for land all around Sofia.
The proximity of Vitosha mountain resorts, only 30 minutes away by car, made developers build residential projects on the outskirts of the capital.
The average price per sqm for a property in Sofia starts from 1,200 Euro to 1,800 Euro at the higher end and between 650 and 850 Euro at the lower end. 70 per cent are bought off-plan by foreigners from UK, Ireland and Scandinavia looking for speculations, ski and spa resorts. In Bucharest luxury prices are similar, with middle class residences trading at between 1,000 and 1,500 Euro and the top end at 1,850 Euro per sqm plus VAT, according to the residential department of Colliers Romania.
Current legislation allows foreigners to buy freely in Bulgaria and take out mortgages, but land purchase is conditioned by establishing a company in the country. While, according to Radu Rafirou, tax adviser at Norr Stiefenhofer Lutz, Romanian resident EU citizens are entitled to acquire land in Romania starting with the date of Romania's accession to the EU. Romanian residents are deemed to be those citizens who "have the right to reside in Romania."
EU citizens who do not qualify as Romanian residents are entitled to acquire land in Romania only after 2012.
Mihai Alexandrescu
Japanese minimalism descends on Snagov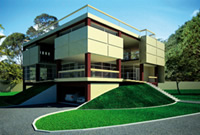 SNAGOV Falcon Corporation, the European subsidiary of Falcon Group LLC from Miami, is investing four million Euro in four luxury villas in the north-eastern side of Snagov area.
The Arigato residential compound will consist of four Japanese-style villas raised on 1,000 square metres of land, each comprising 350 square metres terraces, fire place on both levels, leveled parking space, sauna, pool and jacuzzi incorporated in the semi covered terrace.
The construction works will start at the beginning of May and will be completed by the middle of December.
---
Classic capital market due for revamp
PIATA AMZEI Central fruit and vegetable market Piata Amzei will undergo a massive modernisation, with Sector 1 City Hall awarding the design contract to architect Andrei Fenyo from Punct Concept.
The winning project, 'Piata Amzei in six markets' will include the construction of a new food market hall, flower market and an underground parking of 200 spaces that will require initial costs of 500,000 Euro. "We spotted six different areas with different characteristics that will create six different environments," said Fenyo. The Ion Creanga Theatre for children will remain in place at the centre of the project
A feasibility study is ongoing to determine the final plan and costs. When this is released, Sector 1 authorities will put out a tender for a building contractor. This should happen by the Summer and work could be completed in one year – targeted for 2008.
---
Five-star holiday hotel blitz due from football club owner
MOUNTAINS, SEA AND CAPITAL Romconstruct Tourism & Hotel, a company 50 per cent owned by Vasile Turcu, a shareholder in the Dinamo football club, will invest 15 million Euro in the construction of five star villas and hotels in Eforie Sud, Predeal, Poiana Brasov and Bucharest. The project will offer a service where businesspeople can hire out the entire complex, Turcu told The Diplomat. The first two villas, totalling 70 rooms, are being built in Eforie Sud seaside resort and are scheduled for completion in 2008. Turcu said the next stage will include the development of two hotels in skiing locations Predeal and Poiana Brasov and a 60 room five-star hotel in Bucharest.
---
Property: Bucharest
BLVD 1 DECEMBRIE 1918 A new logistic park is available to buy for 14 million Euro or to rent in eastern Bucharest, inside Faur platform on Blvd 1 Decembrie 1918 from Regatta. East Logistic Center is a mixed Romanian-Greek development covering 27,700 sqm. The project will deliver ten halls totaling 16,700 sqm with 240 sqm of office spaces for each hall.
CERNICA Greek developer Panhol will invest 60 million Euro in a housing complex and logistics park. According to vice president Ioannis Panagiotidis the 30 million Euro residential complex will be developed on a 44,000 sqm area in Cernica with 430 apartments and 40 villas and the first units will be ready next year. The 30 million Euro logistic park will start construction this year near the south arc of the ring road.
PIATA UNIRII Brancovenesque 19th century city inn Hanul lui Manuc has been returned to heirs of its former owner after a ten year trial. The court case was between Prince Serban Cantacuzino, a descendent of the previous owners, the Baicoianu family, and the company administrating the inn, Trocadero, majority owned by the Privatisation Authority. Valued at 15 million Euro, the inn was nationalised by the Communist state in 1949. The historic building was built in 1808 by trader and politician Manuc Bei.
SOS DOMNESTI Romanian developer Kone is investing 32 million Euro in a residential project on Sos Domnesti scheduled for completion in December 2008. 'Curtea Domneasca' will stretch over a 120,000 sqm plot of land and will deliver 110 Brancovenesque villas.
STR ARON COTRUS Developer Persepolis is building a condominium estimated at 50 million Euro on Str Aron Cotrus, near Parcul Herestrau, delivering 124 apartments and 150 underground parking spaces. The project is 95 per cent complete and consists of three blocks of flats of six floors. Persepolis has a total area of 33,000 sqm and includes apartments from two to five rooms and penthouses.
Property: Romania
DEALU LOMB, CLUJ COUNTY Developer Impact is investing 415 million Euro in a 203 hectares residential project in Dealu Lomb, Cluj county. The project will deliver 500 houses, of which 75 will be donated to the City Hall for subsidised housing for young families. Work is estimated to begin this Autumn.
CLUJ-NAPOCA Austrian investment fund Immoeast has bought shopping centre 'Polus Center Cluj' from Trigranit Holding in a deal worth 210 million Euro. Immoeast will purchase the centre in stages with the respect to the progress of the building and its level of occupancy. Polus Center Cluj has signed rental agreements for 55 per cent of the property and pre-agreements for an additional 20 per cent of the lettable space. Construction for the shopping centre is scheduled for completion in November 2007.
ARAD Businessman George Paunescu, who co-owns the Intercontinental Hotel and TV station B1TV, is investing 500 million Euro in a residential complex comprising 3,000 apartments in Arad, according to Mediafax. The project will be built on the land of the former furniture factory IMAR, which will be relocated outside the city. The 25 hectare land near the centre of Arad is owned by the businessman and is estimated to be worth 45 million Euro, said the news agency. The project is currently in the process of obtaining planning permission.
TIMISOARA Property developer Plaza Centers has acquired 31,800 sqm of land near Timisoara where it will develop a 60 million Euro project comprising a shopping centre of 30,000 sqm of gross lettable area and 20,000 sqm of mixed retail, office and residential space. Plaza Centers has also announced it will enter into a private-public-partnership to develop the mixed-interest 'Dambovita' project on the site of the half-built Communist Casa Radio. This project is opposite Eroilor Metro in Bucharest on the banks of the Dambovita and is worth around 750 million Euro.