Betting on the right tech
Size, speed and access is what matters in telecom in Romania today, but it is not clear which technology will be best to accommodate this. Corina Mica analyses the market
At a telecom conference a few years ago, a journalist asked Varujan Pambuccian, president of the IT&C Commission in Romania's Chamber of Deputies, to define the term 'broadband'.
"Games, girls and gambling," said the Deputy.
Since then content has indeed become the new watchword in terms of telecom. Operators are now betting on what they believe will be the best system to supply the largest amount of data in the fastest time possible to as many places as it can.But not everyone can agree on what this will be.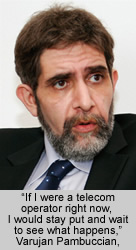 "We live in a more than unpredictable world, a fact that I'm not that fond of," Pambuccian says. "But when it comes to technologies, this unpredictability has its charm."
At present, landline systems have the benefit of being able to accommodate larger amounts of data, while wireless systems have the advantage of flexibility.
Last year saw the winning of two more 3G licenses by operators RCS&RDS, which has launched its services, and Zapp's owner Telemobil. But the 3G portal, which Vodafone and Orange also use in Romania, is already facing competition from new services. Operators are not sure whether such technologies will be complementary or adversarial.
But technology is moving fast. Romania's General Inspectorate for Communication and Information Technology (IGCTI) is now preparing to launch more tenders for further licenses to allow new wireless technologies to tackle the Romanian market. These auctions will be for WiMAX, which aims to make a broadband network access widely available without using wires.
"All major telecom operators have expressed interest and claim they want to develop services based on this technology," says IGCTI president Catalin Marinescu. "We will start auctioning four such licenses [for WiMAX] by the end of July this year, and the strategy to implement such broadband access systems is available for consultation for all interested parties."
Once won, the president says that any winner of the license may use it for other technologies than WiMAX on the same frequency. This is part of a concept embraced by the Inspectorate, that of 'technological neutrality', which means once an operator has a frequency, they can do what they want with it. "By adopting this neutrality we welcome any new technology on the market and will do anything in our power to make it accessible for both users and operators," says Marinescu.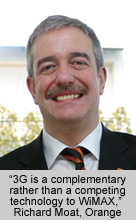 But WiMAX, which many argue is competition for 3G, is not the only option. "If I were a telecom operator right now, I would stay put and wait to see what happens, because everybody was sure WiMAX would be the next step, but new technologies now appear in wider bandwidths," says Pambuccian. "We may even see a surprise of larger bandwidths from WiMAX. Nobody knows. Everything is possible."
WiMAX's success will depend on how low it can keep its costs and its ability to pass data smoothly across different operators. But the IGCTI president says 3G network operators are "counter-attacking" WiMAX with the development of High Speed Downlink Packet Access (HSDPA) services, which have a very fast data transfer speed.
"There is a debate in the press over whether WiMAX is going to kill 3G," says Richard Moat, general manager of Orange Romania. "In our estimation it is a complementary rather than a competing technology. The way the spectrum is used is different. 3G is designed to provide access to a greater number of users over a wider geographical area. WiMAX is a more focused way at delivering guaranteed bandwidth to a more focused group of users in the corporate sector."
Meanwhile, Liliana Solomon, CEO of Vodafone Romania says the future in telecom is "definitely" the broadband services. After launching 3G services 18 months ago, Vodafone was also the first operator to provide HSDPA – 3G broadband services on the Romanian market. "We are determined to continue to invest in extending our 3G and 3G broadband networks to an increasing number of cities in Romania," she adds.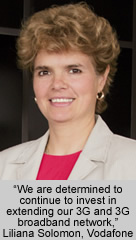 For mobile operator Zapp, which has always occupied a niche concerned with fast speed data transmission, the field is open as to which technology to opt for.
"We already offer high speed Internet connection and with the roll out of the 3G network we will launch more new services," says Zapp corporate affairs manager Carmen Lazar. "However, we also look at WiMAX, as it seems to be an interesting and innovative technology and with a good potential."
RCS & RDS last month launched Digi.Tel, its 3G mobile communication service, for which equipment supplier is Finnish giant Nokia. But as we went to press, RCS & RDS officials declined to comment on this issue. Filip Rommelaere, general manager for the Balkans Networks at Nokia, said the firm is "confident" that RCS & RDS will be able to make a strong entry to the Romanian 3G mobile market thanks to Nokia's technology and infrastructure. Deliveries have started from Finland to Romania.
But for Dinu Malacopol, business to business director of UPC Romania, WiMAX has been hyped-up for several years. "In the meantime, other technologies have appeared, which can compare to WiMAX in their speed of data transmission," he says. "This cannot change the market radically, because it is just another technology."
Meanwhile for the landline networks, there is still a future in 'integrated' packages that plug into the wall, because of the size and speed of the data transmitted through this vehicle is large.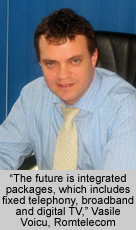 Vasile Voicu, infrastructure business director with Romtelecom, says the Broadband Fixed Wireless Access market will continue to grow for the next five years. "The future belongs to integrated packages, so more clients will use fixed telephony, broadband Internet and digital television," Voicu argues. "Worldwide, landline telephony is following a descendent trend. Romtelecom is facing a similar phenomenon, which is accelerated by the particularities of the local market – low penetration rate of fixed telephony and high penetration rates for mobile telephony and cable TV."
This means Romtelecom is also interested in picking up a WiMAX license.
"We expect the number of business clients to maintain the ascendant trend, especially if we integrate WiMAX as support for our portfolio of services," says Voicu. "That is why Romtelecom will concentrate on extending the ADSL broadband network by using WiMAX technology."
Selling communication to big business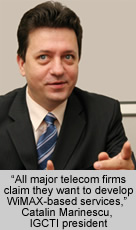 With the consumer market now reaching saturation point, operators are looking to different ways of earning money.
This could mean offering new services to their existing customers or attracting a customer away from another operator.
But one dependable revenue stream is the business-to-business approach: selling to a company its entire communication needs in one big branded bundle.
Flexibility and integration across voice and data seem to be the most important qualities companies looking for a telecom package demand today. All corporations are also interested in moving data from place to place at as fast a time as possible, while all the major operators offer tailored solutions to fit the needs of the company.
"The ideal corporate package will combine coverage, cost, customer support and flexibility." one IT manager at a leading Romanian company tells The Diplomat. "Long term commitment from the provider will also count. Companies will pay for an integrated package that brings value to the business - a complete solution like messaging or ERP. The technical details, such as PC support, network support and server support, should be transparent for the user."

UPC's Dinu Malacopol says price does not matter for corporates, but the ratio between the quality and the price. "It doesn't matter for a company how much it pays compared to how well the service is performing," he adds. "Corporates also have a bigger negotiation power than individual consumers."
Vodafone's Liliana Solomon has lately seen an increase in the demand for integrated telecommunication solutions, such as voice, data, fixed and mobile.
This will mean the market could see new competition.
"In high-speed data delivery, whether fixed or mobile, competition is going to increase," says Orange's Moat. "Voice will continue to dominate revenue generated in the market moving forward. The opportunity is to significantly grow the revenue generated from data. Ten per cent of our total revenue is from data and we want this to get to 13 per cent as a proportion of total revenue."
Carmen Lazar of Zapp also says increased competition will require operators to make efforts to improve their products and services. "What corporate clients are looking for are flexible voice and data services, better packages and very high quality services," she says. "So first the offers need to be customised to fit a company's specific requirements and needs, but attention should also be paid to client service, tariffs, coverage and handsets."
Customers need mobility and connectivity, access to their office resources any time, anywhere, high speeds for data transfer and Internet access, says Solomon. "The mobile phone is getting closer to the PC in terms of applications and services available," she adds.
Converging forces
Convergence between different forms of communication technology will come to Romania soon and maybe not that long after such a big bang hits western Europe. In the consumer market, quad-play defines the integrated offering of landline and mobile telephony, data and cable TV packages. Many operators are looking at this as a natural evolution for individual consumers and also for corporates, but minus the cable TV.
"More Romanians prefer to receive a unique bill each month for a package of products and services," says Cosmote Romania's CEO Nikolaos Tsolas. "Another strong incentive would be the discounts received for the services when sold as a package."
Triple play – voice, data and cable TV - is a functioning business model for the residential market, argues Malacopol.
"Quad-play is not a confirmed success yet," he adds, "because there are very few companies that do it at a worldwide level. Also, there is saturation approaching in mobile, but in landline the market is far from saturation, so it would be hard to believe that one could successfully bundle products together that are in different stages of development."
What's in store in five years' time?
Data and multimedia will dominate the future, argue experts, enabled by broadband and its inheritance. But new consumer demands mean new business models and, therefore, new companies.
The existing operators will have to diversify their services at a faster rate than before.
Higher competition in the market is also likely to mean a squeeze on profits in the sector.
"The average revenue per user is not going to grow and this is not good news for operators," says Malacopol.
This means it will be even harder to attract new customers, argues Vodafone's Liliana Solomon.
"Success depends on how each operator manages to attract new customers through unique and innovative services," she says, "but the number of customers is no longer the absolute indicator."
For Vodafone, cash generated from new services and the average revenue per user could become determining factors when discussing market leadership.
For Marinescu the market will be affected by the shorter lifespan of technologies.
"At times these will be even shorter that the marketing plan of that respective product," he says.
Although the main revenue driver continues to be voice services, operators expect significant revenue growth coming from data services and multimedia content solutions. Zapp's Lazar says voice will remain the main mass market service and therefore also the principal revenue generator for telecom firms in five years' time.
However, she argues that over time consumers will expect to have access and pay for bundled services, such as VOIP, voice, data and TV.
"In five years' time voice will continue to dominate as the main revenue driver, but data will be one of the main drivers," says Moat. "I can see more than 20 per cent revenues from data."
Pambuccian says voice will enjoy a great future.
"Except for Denmark, Romania has the best technological diversity in Europe," he adds.
"Romanians are consuming technology and this needs to be exploited. In five years it is important to have enough opportunities to attract as many companies as possible."
Telecom enters most competitive period ever
Romania's telecom market is reaching saturation point in the numbers of its users, especially in mobile telecom, and the competition between operators is strengthening.
At the end of 2006, the number of mobile telephone services users, based on subscriptions and prepaid cards, amounted to 17.4 million, 30 per cent more than the previous year, and the penetration rate of this type of services was 81 per cent. "I think simcard penetration will go to 90 per cent this year," predicts Orange's Richard Moat. Nikolaos Tsolas, CEO of Cosmote Romania, estimates penetration will reach 100 per cent in two years' time.
But this is not 81 per cent of the Romanian people. And in the most highly penetrated markets there is often a 120 per cent simcard penetration. This is due to users keeping more than one, and up to four or even more, simcards in action at once."There is a consensus about that there are 1.2 simcards for everyone who has a phone," says Moat.
Orange estimates that effective penetration in the market is 65 per cent."You will never get 100 per cent penetration," he adds. "But there are probably still 25 per cent of people who do not have a mobile phone."
Meanwhile, the number of Internet access connections amounted to 3.3 million, with an 80 per cent increase compared to December 2005, say officials from the National Regulatory Authority for Communication and Information Technology (ANRCTI). Among them, almost 1.8 million are broadband connections that registered an increase of 135 per cent over the end of 2005, while the broadband penetration rate has reached 8.8 per cent.
"This is a sector with a fantastic development and foreign investors are obviously interested in it," says ANRCTI president, Dan Georgescu.
In 2006, in Romania, the telecom sector has followed the European trend regarding the development of telephone and Internet access services, with big players from Europe and USA already present on the Romanian market, with major investments.
Preliminary results of a report by ANRCTI shows that the alternative providers' market share is 20 per cent of the landline market. The number of alternative providers of landline telephony networks on the retail market rose to 105, compared to 64 registered by mid-2006.
In its growth rate, Georgescu says the Romanian communications market easily overcomes markets such as the Hungary or Poland. "Although they rank among the first places in the European Union in terms of market value, the rhythm of growth has been slower," he argues.
Brush up on the terms
Telecommunications has many new abbreviations and acronyms. When people in the industry tell such terms to journalists or politicians, they are greeted with an idiotic nod of the head. To save embarrassment for some, we disclose explanations for this techie lingo.
3G
A wireless communications technology that provides higher bandwidth, allowing a faster download of data, voice, video and files either for pedestrians or those users in their cars.
ADSL
Asymmetric Digital Subscriber Line: a technology which transmits digital information at high bandwidths on existing phone lines. So, lots more information available than through a normal telephone line.
Bandwidth
The capacity of a transmission channel to move data from place to place: this also means the maximum transmission speed available to a user.
Broadband
This is generally taken to mean a high bandwidth, which means it can receive a large amount of data through a phone line, such as video and files, at a high speed.
GSM
Global System for Mobile Communications: is the mobile phone platform used in Europe and much of the rest of the world, though not in the mainstream USA. The second generation (2G form). Orange, Vodafone and Cosmote offer this in Romania.
HSDPA
High Speed Downlink Packet Access: a system which allows a very high data speed download through a 3G portal.
VOIP
This stands for Voice over Internet Protocol and means one person can talk to another through the Internet, as though it were a phone.
WiFi
An acronym for 'Wireless Fidelity': a wireless standard capable of exceeding the data transmission expectations of 3G.
WiMAX
A wireless technology that provides high-throughput broadband connections over long distances.
Corina Mica