Where have all the flowers gone?
In 1990, Moldovans and Romanians crowded to their border to offer floral tributes in a show of unity to the relatives they had not seen for over 40 years. This became a 'Bridge of Flowers' across the River Prut that divides the two nations. But now a political battle is forcing the two countries' leaderships further apart than ever before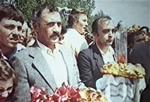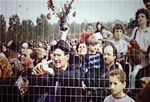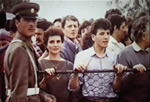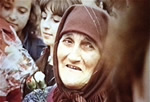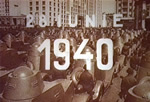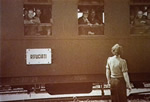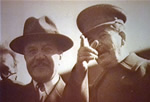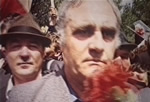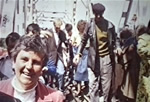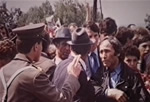 Frames from the 'Duminica Mare' documentary, with instances from the 1940s and 1990 in Moldova
The Republic of Moldova's decision to stop Romania opening two new consulates in the country has opened up a war of words over whether the two nations could one day unify.
The two consulates, at Balti and Cahul, were to assist the processing of hundreds of thousands of requests for visas which Romania's Embassy in Chisinau receives. There has been a visa regime in place for Moldovans travelling to Romania since that country joined the EU in January.
As we went to press, the Romanian Ministry of Foreign Affairs was still buying the buildings for these two new consulates.
Now there are thousands queuing outside the Embassy in Chisinau, which has issued only 13,070 visas between 6 January and 6 March 2006.
Moldovan President Vladimir Voronin initially agreed to open the two consulates, in a move welcomed by the European Commission.
However, since then, President Basescu has made bellicose statements about the possible unification of people of Romanian descent, arguing that up to 1.5 million Moldovans could request Romanian citizenship.
Currently it is almost impossible for Moldovans to gain Romanian citizenship and only 88 so far have managed to succeed this year.
"Starting 1 January 2007, the Prut
has become the new
iron curtain of Europe," Ana Tusca
But Basescu said he was initiating legal moves to make this easier for Moldovan citizens who fulfil the correct criteria.
In March, the Moldovan Government U-turned on its decision to open the consulates, increasing the bureaucratic pressure on Romania and frustrating many peoples' passage to the EU.
Moldovan Prime Minister Vasile Tarlev argued that Romania is carrying out a "duplicitous" policy towards Moldova which is undermining his country's national security.
Meanwhile, President Voronin told Reuters that Basescu is pursuing a "unionist" policy, which is part of a strategy against Moldova's statehood, people, history and language.
Many in Moldova attack the decision by their President to prevent the opening of the consulates as ideological and impractical.
"This shows ill will, even hate for everything connected to Romania and Europe," says Jurnal de Chisinau's editor in chief Rodica Mahu. "But at the same time it indicates some sort of contempt for the time and money poor Moldovans spend when they travel a long distance to Chisinau, instead of going to a consulate closer to where they live."
Some believe that this is pointless to try and stop an inevitable flood of people from Moldova with two 'cancelled' stamps on a planning permission document.
"Chisinau's Government feels frustrated by the fact that Moldovan citizens are abandoning the country in mass," says CAPTES - Center of Information and Education of Moldova's Dr Radu Gorincioi. "Politically, this huge emigration abroad and thousands of requests for Romanian, Bulgarian, Russian and Ukrainian citizenship means the defaulting of the Moldovan state."
Many Moldovans believe the frustrations involved in applying for a visa is part of a strategy to keep them in the country by closing off the western border. "Very many Moldovans feel that, after Romania got into the EU, they are suffocated in their own country," says 30-year old PR manager Ana Tusca. "Starting 1 January 2007, the Prut has become the new iron curtain of Europe."
Virgiliu Margineanu, a 37-year old film director, agrees: "We want freedom of movement, without having to be subject to humiliation," he says. "Under the USSR we were as 'closed' as we are now, in the sense that we were not exactly allowed to travel freely apart from in the former USSR."
While Romania is asking for visas to allow entry, Ukraine is not doing the same. Many Moldovans fear that if their eastern neighbours decide to carry out a similar policy, both borders could be closed off.
Right to be Romanian
While Romania has imposed a restrictive visa regime since 2007, the irony is that President Basescu is making attempts to facilitate Moldovans' applications for Romanian citizenship.
In recent history, before 1918 Moldova was part of the Russian Empire, following the 1812 Russo-Turkish War. Between 1918 and 1940 the area west of the Dniester river in Moldova was part of Romania.
When Marshall Ion Antonescu's regime joined Hitler's axis powers between 1941 and 1944, Romania also occupied the present-day territory of Transnistria. This changing of borders created a churn of population that means many Moldovans are of Romanian ancestry.
In 1947 the USSR took over the country as it appears today, creating the Moldovan Soviet Socialist Republic, which became an independent state in 1991.
"Romanian citizenship is not negotiable," says Dragomir Negrea, a 31 year-old marketing manager. "It should be given back to those that had it stolen in the 1940s."
Meanwhile, for Jurnal de Chisinau's Rodica Mahu, 47, the return of citizenship repairs a historic wrongdoing. "Although it comes so late for Moldovans, it is most welcome," she says.
But there is also an economic reason. Romanian citizenship opens up opportunities to travel freely within the Schengen space and work opportunities in the rest of the EU.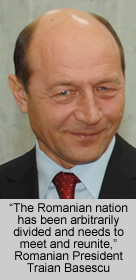 "It is because of economic reasons, not political, that Moldovan citizens are applying for Romanian citizenship," says Gorincioi.
Basescu argues that there is a labour shortage of around 200,000 in Romania. This could be eased, he argued in a Pro TV interview, by opening the Romanian market to the Moldovans.
"However citizenship requests [for Romania] stand at 800,000 and we will create big problems for the Europeans because, if we decide to immediately give citizenship to cover our labour shortage," he said, "we can only cover one quarter of the jobs for the citizens of the Republic of Moldova."
The current requirements for Romanian citizenship are that a Moldovan must have been resident in Romania for at least four years and have parents or grandparents who had Romanian nationality.
"We want freedom of movement, without having to
be subject to humiliation," Virgiliu Margineanu
However in practice this document is almost impossible to gain.
Over 800,000 Moldovans, about 20 per cent of the country's population, have applied for Romanian citizenship, said Romanian President Traian Basescu last month, based on requests handed in to the Romanian consular section in Chisinau. He believes that by the end of 2007 this number will reach 1.5 million, which is 40 per cent of the 3.8 million population.
Moldovan authorities believe Romania uses such big numbers to artificially inflate the perceived sentiment of Moldovans towards their neighbour. These are "games that undermine national security and principles of statehood for which the Moldovan citizens sacrificed themselves," Prime Minister Tarlev said in a statement.
But few of these requests have managed to get to Bucharest. The latest official figures from the Romanian Ministry of Justice, which processes the claims for citizenship, indicate that so far this year there have been 441 Moldovan applications for citizenship and only 88 have been issued.
There seems to be a massive disparity between those who request citizenship in Chisinau and the number who file for an application that reaches Bucharest.
From 2002 to 2007, the Ministry says there have been 31,000 applications and only 2,430 have been granted citizenship.
Moldovans argue that it was easier to gain citizenship in Romania before 2000. Many who applied in 2001 have still not heard back on the progress of their applications.
"At present, the proceedings to get Romanian citizenship are so long and difficult that it makes it almost impossible to get if you are a Moldovan," says Ana Tusca, a 30-year old Moldovan with double citizenship, living and working in Romania.
The Romanian state is coming up with a draft citizenship law to make its nationality easier to obtain. Moves to simplify the citizenship process are welcomed by the European Commission.
"I have asked the Government to simplify procedures to grant citizenship to ethnic Romanians who live outside the country," Basescu said, adding that 'complicated procedures' have caused a huge backlog.
The condition that most citizens fail to fulfil is giving proof of living for four years in Romania. If the Romanian Government chooses to remove this condition, speed up the processing of the applications, this could open the floodgates.
Backdoor exodus
Chisinau may be insinuating that Romania is trying to steal back its people by the back door by offering them nationality, but many Moldovans do not believe Bucharest's motives are so Machiavellian.
"The Chisinau Government fears that it will remain with no citizens to govern because they will become Romanians," says Tusca.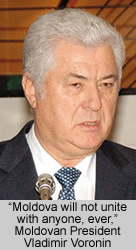 Hundreds of thousands of Moldovans now work abroad, especially in Russia and Romania. Unofficial figures point to one million expat Moldovans, while officially, around 600,000 are working outside the country. These voluntary exiles send home around 500 million Euro each year, which helps to prop up the gross domestic product of a poor nation. The country is arguably a client state of worker migration.
But with up to 25 per cent of the country abroad, compared to around ten per cent of Romania, this is a colossal haemorrhaging of labour.
If this is compounded by 1.5 million Moldovans of Romanian descent asking for Romanian citizenship, this could have a disastrous effect on the confidence and economy of the country. It could also trigger those of other ancestry, such as Russian, Bulgarian or Ukrainian, to lobby for the same freedom of citizenship.
Moldova would then, at best, become nothing more than a transit country for those of dual citizenship to stopover from where they worked – a status which some commentators argue it already has.
At worst, it would be the first nation to fall apart in Europe since Yugoslavia.
Endgame unification
On 6 May 1990 the borders opened between Romania and the Republic of Moldova. At this time a 'bridge of flowers' was created across the river Prut, where both sides offered floral gifts to the other, hoping to see relatives and land access which had been denied to them for so long. It was the first time since the 1940s that the Moldovans could enter freely into Romania and apply for citizenship. "Moldovans were always homesick about Romania," says 33-year old scriptwriter Leontina Vatamanu.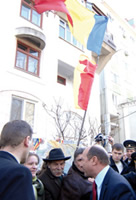 Banging a head against a brick wall: Getting a visa for Bucharest in Chisinau
"You can go mad trying to get a Romanian visa these days. First you have to schedule on-line, and that's not easy when a peasant in a remote village with no Internet access wants to come to Romania. And then, if you manage to go on-line to schedule for an appointment, you'll receive an appointment at a certain hour over one month later. Then you need money to buy the travel ticket and present it to the Consulate, even if you're not sure you'll get the visa. The crazy part starts when you get to the consulate and you witness a sea of people. Because, even if you have a clear date and hour to present yourself at the Consulate, that's no guarantee you'll get in.
"If you can't apply that specific day, you need to come back the second day and if you don't have relatives in Chisinau you need money for a hotel room. You finally apply and then you have to wait for at least a week to get a visa.
"What if you have an emergency and need to get to Romania as soon as possible? Thousands of Moldovans are affected by this, including students and pupils who study in Romania, people that need transit visas for other European countries, people that come to embassies located in Bucharest for audiences, businessmen that have meetings in Romania, but people that want to visit Romania as tourists as well. You cannot do all this unless other centres are opened. And, given all these, how can one common Moldovan understand the refusal of the Moldovan authorities to allow Romania to open two extra consulates?"
Ana Tusca
Although it was a hot subject at the time, Moldovans chose not to consider uniting with Romanians in 1994 when 95.4 per cent of the people voted in a national poll to remain independent. Romania was in a state of crisis and its economy and infrastructure had collapsed. Moldova still had a certain edge because of its stronger Soviet-built construction.
Since then, Romania has made a slow reform to the European Union, while the Republic of Moldova has become one of the poorest countries in Europe.
"Moldova now needs Romania more than Romania needs Moldova, but there should be political will from both sides to achieve a better cooperation between these countries," says Gorincioi.
Basescu has argued that it is within Romania's national interest for Moldova to head towards the west. But he often makes comments which indicate that the best vehicle for Moldova to become part of the EU would be through integrating inside a country that is already there. In February on Pro TV he said Romania was a "nation which has been arbitrary divided that needs to meet and reunite".
In reply, Voronin said: "Moldova will not unite with anyone, ever." The Moldovan President is therefore conscious of any political moves that could anticipate such an endgame.
"Public opinion is now in the making, it is slowly fermenting," says Rodica Mahu. "I believe that in the not so distant future – ten years at the most – the masses' perceptions will clarify and the ethnic, psychological and social energies will burst and lead to a common future of the Romanian nation."
But another problem is the big fat heavily-armoured elephant patrolled by 1,400 Russian troops in the shape of Transnistria, the self-proclaimed Soviet-style republic of 600,000 people that has just unanimously voted to back its president until 2011.
How do Moldovans and Romanians treat each other?
"Moldovans are treated pretty well considering the very big differences between the two nations, especially at a mental level. We have a different psychology: for Romania, Moldova has been prohibited as a theme of discussion for over 50 years, for Moldova, all that is Romania has been forbidden, treated as a taboo at times, and on top on this, we, as a people, have also had to deal with foreign occupations, the likes of Soviets, Russians or KGB. We still feel it very acutely."
Rodica Mahu, editor-in-chief, Jurnal de Chisinau
"The fact that so many Moldovans prefer to get Romanian citizenship and the fact that so many young people would like to remain there after they graduate makes me think that they prefer the social security and economic prosperity offered them by Romania, rather the poverty, criminality and the lack of perspectives in Moldova."
Dr Radu Gorincioi, CAPTES - Center of Information and Education of Moldova
"In the Republic of Moldova, Romanians are treated like Europeans, and I refer to hotels, restaurants and public spaces. Moldovans are very hospitable, it's just a pity that here, in Bucharest, they have to face humiliating situations."
Leontina Vatamanu, scriptwriter
"The majority of Romanians view Moldovans as mobsters, while the majority of Moldovans see Romanians as a very arrogant breed of people who come to our country just to show off."
Dragomir Negrea, marketing manager
Report by Corina Mica and
Michael Bird
Special thanks to the OWH TV Studio in Chisinau, who provided
frames from the 'Duminica Mare' documentary.
Some of the names in this report have been changed