Greek Investment Awards Gala 2007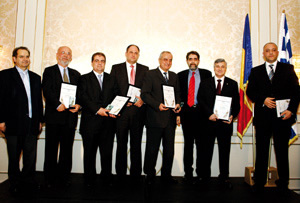 Celebrating the second edition of the Greek Investment Awards Gala, The Diplomat - Bucharest and the Greek Embassy gathered more than 100 of the most successful Greek businessmen in Romania to the JW Marriott Bucharest Grand Hotel.
Opening the gala, Counsellor for Economic and Trade Affairs at the Greek Embassy, Ioannis Paschalis, said all Greek businessmen present in Romania were winners.
"It is like competing at the Olympic Games," he said. "It is important to win but equally important to qualify and be present at the competition. Sooner or later the one who is persistent will win anyhow."
With the Embassy estimating that Greek investment in Romania exceeds three billion Euro, there are 3,600 Greek firms in Romania, and all are growing. Last year 400 more companies with Greek capital opened in Romania and since the date of accession, Paschalis expects stronger growth rates.

"Romania has started to show interest in investing in Greece and we expect Romanian investors in our country," Paschalis added.
Presenting the award for 'Commitment to Romania's economy' to glass manufacturer Stirom, Minister of Economy and Trade Varujan Vosganian recalled the strong legacy Greeks have left in Romania.
"More than 3,000 years ago we saw the first Greek investment in Romania, through the establishment of the Histria settlement on the Black Sea coast," he said.
"Histria has now been recognised in Brussels as part of the European patrimony. So I am grateful on behalf of the Romanian Government for this courtesy of starting foreign direct investment in Romania."
Presenting the award for 'Most impressive expansion' to mobile operator Cosmote Romania, president of the IT&C Commission in the Chamber of Deputies Varujan Pambuccian outlined the high potential and the strong roots the IT and telecommunication sector has in Romania.
"I am encouraging anyone coming to Romania for business mainly in the field of research in high technology," he said.
"We started in the early 1950s, are still going strong with a very good school and this is why the most of the companies who are doing real research are here."
The event was made possible with the support of gold partners Lexus and Piraeus Bank, and silver partners Alexandrion Grup Romania, Alpha Bank, Egnatia Bank, Egnatia Leasing, Emporiki Bank, DDB and Neoset.
Best Success Story:
Alpha Bank Romania
Predetermination seems to govern the activities on Alpha Bank in Romania. "Alpha is the first letter in the Greek alphabet and we were the first foreign bank to open in Romania [after 1989]," said executive president Sergiu Oprescu, accepting the award for the Best Success Story.
"We were the first to open the mortgage market and the first to make many innovations on the local banking market," Oprescu added. "But I promise we will still be the first to do lots more things in our line of business." This award recognises and rewards the exceptional accomplishments of a company that made a significant impact on the Romanian business environment.
If three years ago the bank could not brag about a large branch network, last year it saw results in its retail services. For 2010, the bank's objective is to have more than 300 branches open, a market share of ten per cent and enter the top five banks. To grow such a market share in such a short time-frame, Oprescu is focusing on organic growth. "The entire banking system in Romania is credit-driven, not deposit driven, and we forecast we will grow 30 to 40 per cent more than the market in 2007 in this segment, both for retail and corporate clients," he adds. Now the bank's retail clients account for 35 to 40 per cent of its customers.
In 2006 the bank had total assets of 2.11 billion Euro, up 59 per cent on 2005 and a gross profit of 30.16 million Euro, 1.3 per cent more than in 2005.
Most Impressive Expansion:
Cosmote Romania
Stepping into a market clearly dominated by telecom giants Orange and Vodafone, officials at Greek mobile operator Cosmote Romania were bracing up for a fierce battle back in 2005, when the Greek company relaunched the then defunct Cosmorom.
Almost one year and a half later, Cosmote saw a constant and rapid growth. By exploiting market niches with tailored services, the company managed to get a seven per cent market share in just one and a half years.
"We are a new company in Romania, we came in at the end of June and started operations at the end of the year and we had to face lots of problems because of the bad inheritance of Cosmorom," said CEO Nikolaos Tsolas. "We are dedicated, innovative, aggressive and we managed to succeed. In our first year of operations we accounted for 1.2 million customers and achieved a seven per cent market share, facing two giants and tough competition. We are optimistic and, if 2006 was a great year, 2007 will be much greater."
Employing 700 people, Cosmote posted revenues of 43.8 million Euro last year, with net losses standing at 65.7 million Euro. Out of the 1.2 million customers the company caters for, 80 per cent are prepaid customers.
Most Dynamic Greek Investor:
Global Finance
Romania still has plenty of room for expansion in the real estate market for investment fund Global Finance, which has invested more than 100 million Euro to date in Romania's real estate field.
Global Finance also has a track record of doing business in Romania, having invested in companies such as Axxon, Chipita, Delta, La Fourmi, Neoset, Orange, Sicomed, Titan/Moara Loulis and TotalSoft. Accepting the award on behalf of Global Finance, Costel Postolache said: "Global Finance will continue its commitment to sustain companies with a great potential in a market with such an immense promise." Global Finance manages several investment funds with a big chunk of money dedicated to Romania, including Global Emerging Property Fund, which initially raised a total capital of 150 million Euro in June 2005. It also launched South-Eastern Europe Fund (SEEF) in February 2006 and raised 197 million Euro at its first closing. The fund plans to raise more than 300 million Euro in total with subsequent closings. SEEF will first consider investing a controlling stake in companies which, according to Global Finance country manager Stefan Bucataru, have unused potential and regional expansion opportunities, targeting dynamic and extrovert companies, with regional development strategies.
Best Regional Development:
Piraeus Bank Romania
For companies expanding from Greece, the most obvious place to spread out was in the Balkans and, as one of the largest markets in the region, Romania was an obvious target. Piraeus Bank Romania has sped up its branch openings all over the country and diversified into brokerage, with real estate funds also on the agenda.
"Many of Piraeus Bank's Greek corporate customers expanded their operations in Romania and they needed a bank they knew well and whom they trusted to serve them in the region," said CEO Stavros Lekkakos. "Piraeus Bank is indeed one of the most dynamic and active financial institutions in Greece and the Balkan region, where it has recorded an exceptional growth during the last decade."
Piraeus now operates 54 branches, more than double the previous year and 25 more are under construction, bringing the total number to 80 by the end of June, with a plan to operate 100 by end-2007. Total investments for 2007 stand at between 30 and 40 million Euro. The bank aims for a five to six per cent market share by 2010.
Piraeus Bank has an active presence in this market since 2000. Total loans by the bank increased by 90 per cent in 2006 to 693 million Euro and total assets by 92 per cent on the previous year. "In the majority of segments we are active in, we enlarged our market share, while we maintained a high quality of customer service, and improved the quality of the loan portfolio," said Lekkakos.
Moreover, the group has proceeded to establish and develop a leasing, real estate, securities and brokerage companies.
The group also plans to employ a further 3,500 staff to its current 3,000.
Commitment to Romania's Economy:
Stirom
Taking over a Romanian state-owned company and keeping it profitable was a real challenge for the Greek investors in glass manufacturer Stirom. In four years, the firm has seen heavy investment and now has a market share of 50 per cent in Romania. The Greek investors came to Romania at the end of 1999 and, in 2003, bought Stirom. Since then the firm invested 25 million Euro.
The investment plan for 2007 to 2008 is another 25 million Euro, including in coloured glass manufacture.
"We have raised a lot of local suppliers because we think we have to help the economy," said Nikolaos Barlagiannis, general manager of Stirom. "We prefer to work with them even though sometimes this means higher costs. I believe in this country, the business environment is very stable, potential is very good and I think we will be here for many years to come." Stirom plans a market share of 85 per cent by 2008.
Greek Businessman of the Year:
Nawaf Salameh, Alexandrion Group
Responsible for the development of mixed interest firm Alexandrion Grup in Romania Nawaf Salameh was awarded 'Businessman of the year' for his personal contribution to the development of a successful business venture in Romania.
As his company grew in size, he considered it was only fair that a part of its profits should go back to the community so he established a foundation which offers every year support to those less fortunate. "This award is dedicated to all my friends and colleagues from Alexandrion who worked with commitment for the success and quality of our brand," said Salameh.
"But I especially want to dedicate this to my late friend with whom I started this pursuit for success: to Emanuelis Strategis, I am sure he would be glad for this recognition of our merits."
The leading local cognac producer, Alexandrion Grup is active in a number of sectors from agriculture and beverage to real estate, construction, recycling and recently automotive by representing the Great Wall Motors, Chinese car brand in Romania.
On 14 March Alexandrion Grup signed a contract worth 80 million Euro with the biggest Chinese bus company, King Long, to import buses to south-eastern Europe.
---
For more photos please visit http:\\events.thediplomat.ro\event4.htm