Pop Baroque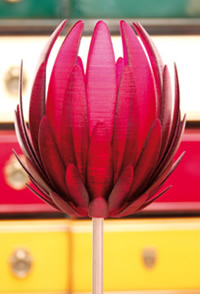 Abstract rocking horses, Rastafarian lamps, rubber radios and Louis XIV-style furniture gather in the eclectic realm of La Strada Deco.
Despite the 'deco' tag, there are few stepped forms and sinuous curves from the 1920s period in this eclectic luxury household goods store, on the corner of Jean-Louis Calderon.
Instead, there are bright and weird accessories designed to allow the whole family to kit out their flat in a mixture of the loud and the sublime, but this does not come at a cheap cost.
With a downstairs store and upstairs showroom, La Strada Deco imports many of its products from the EU, mostly from Germany and France.
This includes the efficient fun of German designer Elmar Flototto, such as a two metre-tall 700 Euro red propeller in the shape of a cartoon prop. There are also abstract rocking horses for 522 Euro, pink rubber radios resembling giant pencil erasers, as well as lamps bunched with springy white tubes in the style of dreadlocks or the shape of an artichoke.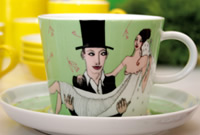 But the store also offers a touch of the baroque, such as chests of drawers taking influence from Louis XIV furniture and traditional French heraldry, imported from Pyrenean cabinet-makers Meubles de Navarre, which sets back a customer 3,000 Euro.
From Romania, a student at art school Nicolae Tonitza, Cristina Simona Marian, has painted idealised pastoral scenes on wood. Her pictures of big-headed birds, smiling owls, children holding hands and flying kites set a child's allowance back a hefty 250 Euro.
The store also houses a next door cafe, Comoco, with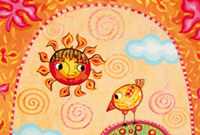 design literature and a show space for local painters. Here customers can wolf down three-Euro smoked salmon rolls while deciding on whether to buy a pop art propeller or Pyrenean cabinet, thus resolving the great bourgeois dilemma of whether to lead a classical or modernist path in life.

Michael Bird
La Strada Deco
Shop and showroom, Bucharest
Str Batistei 23
Also has a store on Str Republicii on Brasov