Taking advantage of the momentum
Romania is firing on all cylinders at present and Radu Enache, president of AmCham in Romania, is witnessing great interest from US firms in the IT, real estate and services sectors. Interview by Corina Mica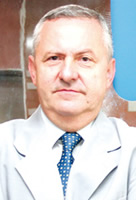 Transparency.
For the new head of the American Chamber of Commerce in Romania, (AmCham), Radu Enache this is the most important factor to encourage in the Romanian business community.
The 58-year-old manager says the Government's fight to limit corruption is clearly going ahead, and that it has an openness towards both foreign and local companies.
"Lots of good things have happened in this department and we want to see them continuing," says Enache, who also heads up the local operations of IT giant Hewlett Packard.
This is a time of great opportunity for American firms, who, in relation to eastern European countries, such as Poland and the Czech Republic, have been slow to invest in Romania.
"I am looking at one year of increased responsibility, not just at the privilege of being elected at the helm of AmCham in Romania," says Enache "But it is rewarding because the business community is strong. We share the same US and EU values and all in all benefit from a very good business environment."
With Romania now in a new post-accession development era which should bring, theoretically, less risk and greater stability, American companies are taking a closer look at the country. Sectors in which they are showing interest include real estate, IT&C and outsourcing services, such as human resources and finance. "But we see a low interest in the manufacturing side, as production costs in Romania are not that small any more and investors may decide to move further east," says Enache.

Who is Radu Enache?
■ Age: 58
■ President of AmCham Romania
Education:
■ 1972-1980: Ph.D. in High Voltages Technique, Power Faculty, Polytechnic University of Bucharest
■ 1966-1971: Polytechnic University of Bucharest, Power Faculty, Electrical Engineering
Professional history
■ 1971-1980: Professor Assistant with Electrical Power Chair, Power Faculty, Polytechnic University of Bucharest.
■ 1992-1997: Commercial Channel Manager, S&T Romania (the only authorised HP distributor at that time) and Associate Professor with Electrical Engineering Chair, Electrical Engineering Faculty, Polytechnic University of Bucharest
■ 1997-2001: General manager, Hewlett Packard Romania
■ 2002 - present: Country manager Hewlett-Packard Romania (after HP & Compaq Computer merger)
Regarding the manufacture of hardware in Romania, Enache says that from the suppliers' point of view, this would not be the best option. "At this point in time Asia is cheaper in terms of labour costs, and having such a production capacity in Romania would not add value to this country," he says.
Research haven
But he believes there is a huge potential in the research and development field, especially in software. Romania's anti-virus software companies, such as GeCad and Softwin, which owns the BitDefender anti-virus software, have already proven themselves world-class at making such products.
Romania's Government still supports tax incentives for software developers and Enache says this has had a positive impact on preventing talented Romanian IT experts moving abroad.
The question on everyone's lips these days is what impact would a move by car giants such as Ford or General Motors would have on the Romanian market. Both firms are now bidding to take over the former Daewoo factory, Automobile Craiova.
"Should either Ford or GM take over the Craiova factory, this would place Romania on the top tier of Europe's automotive manufacturing industry," says Enache. "Apart from this investment, there also is a possibility for more car components manufacturers to become subcontractors for the car plant, thus strengthening the local industry."
Romania is living through a great momentum, argues Enache, quoting a large chunk of foreign investors with whom he has come into contact. For him, the Government's decision to introduce the flat tax of 16 per cent on incomes and profits at the beginning of 2005 managed to bring in investors and also keep some of the best business minds in the country.
Experts needed
However, there are problems in regards to the willingness of people to study hard for important qualifications.
"There are more and more opportunities for young people nowadays, and at the same time one can notice a decrease in their interest to study in a thorough way," he adds. For Enache there must be a 'stimulation' at the level of higher education. He praises Prime Minister Tariceanu, who has encouraged US companies to offer internships to talented Romanian students. This, Tariceanu hopes, will help limit the brain drain.
But there is a change in mentality in Romania regarding the people's attitude to their own nation. "If right after 1990 many wanted to get out of this country, now we all witness a move that leads those people back to Romania, which rebalances the environment," he adds.
AmCham Romania:
A networking organisation and a lobbying group for Government, as well as a forum for the business community, the American Chamber of Commerce in Romania (AmCham) is a non-profit and non-political organisation which promotes the commercial and economic interests of the US business community in Romania and those firms with an American business mentality. Established in 1993 by American investors in the country, it is now one of the 98 international AmChams in 86 countries affiliated to the US Chamber of Commerce, based in Washington DC, and a member of the European Council of the American Chambers of Commerce. Currently, AmCham Romania has around 260 members, consisting of major US, foreign and local enterprises doing business in Romania, as well as SMEs and business executives in the country. The association is entirely autonomous, with no subsidy from any government body, and relies on income from membership dues and other activities.