First Transylvanian Highway section could be ready by 2008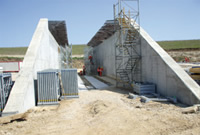 Contractor Bechtel aims to finish the first section of the Autostrada Transilvania motorway by the end of 2008, ahead of schedule of the 2010 target.
"The Turda to Gilau section, in Cluj county, will be first open for use," says Bechtel Romania corporate affairs director Bogdan Sgarcitu. "We will try to do this by the end of 2008."
The company will aim to open the section from Cluj-Napoca up to the border in Bors by the end of 2010.
The last section to be ready will be between Targu Mures and Brasov and the whole motorway should be active by the end of 2013. The Government is yet to decide whether it will become a toll motorway or free for use, but Prime Minister Tariceanu has voiced favour for a payment system.
---
Saudi constructors buy up
locomotive producer
Saudi Arabian general contractor Al-Arrab Consulting Compnay has bought out transformer and locomotive producer Electroputere Craiova.
The Privatisation Authority (AVAS) will sell 62.82 per cent of Romanian company Electroputere Craiova, following the negotiation of contractual clauses.
According to AVAS, Al Arrab Contracting Company is experienced in railway construction, industrial machines production, and construction works operations.
The company said its main fields are construction, design, building and equipment in the real estate sector.
Four other firms showed interest in the privatisation of the Craiova-based company: A5 Invest Caransebes and Grup Feroviar Roman from Romania, Vienna International Holding from Austria and Peeker Atomic Energy System, USA.
---
McKinsey opens office in Bucharest
Management consultancy giant McKinsey and Company is in the process of opening an office in Bucharest.
This will be headed up by office manager and partner Andrei Caramitru, who is relocating from the firm's office in Geneva.
"We believe we can make a distinctive, substantial and lasting contribution to the economic development taking place across central and eastern Europe," said a spokesman for McKinsey and Company.
The firm already advises some large institutions locally and has an office open in Sofia.
---
Petrom to generate energy in Ploiesti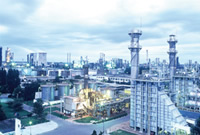 With an investment of 500 million Euro, oil and gas giant Petrom will enter the power generation market.
Petrom will establish a gas fired power plant on the premises of its Petrobrazi refinery in Ploiesti, Prahova county, with a capacity of 860 MW.
"The power market will be subject to major structural changes, especially in countries where aged capacities are to be replaced by new, cleaner less carbon intense technologies," says Werner Schinhan, deputy CEO of Petrom. "Considering this environment, to enter the power market is an excellent opportunity for Petrom." The power plant will be supplied with natural gas through a pipeline by Romanian gas transmission company, Transgaz.
About 20 per cent of the power plant capacity will be used to supply Petrom's own consumption and the firm will distribute the rest to the national gas network.
Construction is planned to begin in 2008 and full production capacity of the plant is likely to be delivered by the end of 2010.
---
Romania's 20 billion Euro EU structural funds approved by Brussels
European Commission has approved Romania's National Strategic Reference Plan (CSNR), which means 19.67 billion Euro will come to Romania in the 2007-2013 period, in structural funds.
CSNR aims at using structural instruments to reduce economic discrepancies between Romania and EU member states by generating a GDP growth of 15 to 20 per cent by 2015.
Priorities include developing basic infrastructure to reach European standards, increasing competitiveness, developing Romania's human capital, consolidating an effective administrative capacity and promoting a balanced regional development.
Romania is now negotiating operational programmes to implement these objectives with the EC, the first of which expected approval by the end of this month.
---
Cadbury-Schweppes bites into Romanian sweets
UK-US giant Cadbury Schweppes has bought 93.32 per cent of Romanian firm Kandia-Excelent.
The assets of Kandia-Excelent at the end of 2006 were about 47 million Euro. Market estimates put the price for the company at between 90 and 100 million Euro, but the sweet multinational would not confirm this figure.
Cadbury Schweppes' brands include chocolate bars, tonic water, flat squash drink Snapple, menthol sweets Halls and Dr Pepper.
Asked whether the global group will produce its international products in Romania, a spokesman told The Diplomat: "It is too soon to say about Cadbury products, we're focused on the Kandia-Excelent business today." The group said it also focusing on 'integrating' the two companies, rather than looking at further new production facilities or takeovers.
Kandia-Excelent's brand include Rom, Kandia, Laura and Magura.
---
Short News
Meinl to earmark 700 million Euro for shopping centres
Real estate investment fund Meinl European Land will build nine shopping centres in Romania. The first will be a 70 million Euro project in downtown Arad, which will be ready in 2009 with 60,000 sqm lettable space. The company is in talks for eight more commercial centres and retail parks in second tier cities in Romania with an investment programme of 700 million Euro.
UK investors snap up Baneasa office block
British-based investment fund Fabian Romania Property has acquired the Baneasa Business Center office building from Immoconsult for 23.9 million Euro, in a deal brokered by Eurisko. Baneasa Business Center has rentable area of over 9,600 sqm and 132 parking spaces.
Telecom firm updates network
UPC Romania will invest 40 million Euro this year in modernising its communication network and introducing a new national billing system, says CEO Richard Anderson. "Modernising the network will allow us to supply cable TV services, landline telephone and Internet access in all medium and large towns of Romania where we are present, by the end of 2007," he adds. The firm is also pouring about two million Euro in a re-branding campaign, aimed for completion by the end of 2008.
State helicopter firm gains more time for sale to French
Romania's Privatisation Authority (AVAS) has decided to extend the time for offers submitted for the privatisation of helicopter producer IAR Ghimbav. The sole bidder for IAR Ghimbav is French-based Eurocopter, part of EADS, so AVAS decided to extend the deadline until 23 July. Eurocopter appealed a previous decision which disqualified it from taking over the Romanian plant, but won the appeal.
Renault launches engineering division
Renault said it plans to invest 100 million Euro over the next two years in Renault Technologies Romania (RTR), a new engineering division that will develop vehicles and equipment to be produced or sold in central and eastern Europe. RTR will operate across three sites in Romania: a design office in Bucharest; the Pitesti production plant and a future test centre to be launched in the second half of 2009.
First syndicated loan for residential project
Alpha Bank Romania and Raiffeisen Bank Romania approved a syndicated loan worth 40 million Euro to finance the Ibiza Sol residential project in Pipera, Bucharest. This is the first syndicated financing for a residential project in Romania, officials said. The 40 million Euro will help build the project valued at 57 million Euro.
Bulgarian car battery maker tackles Romania
Monbat, Bulgaria's biggest producer of car batteries, will provide 2.5 million Euro in financing to its subsidiary in Romania. Monbat plans to have the plant up and running by June 2008. They will supply lead and polypropylene for the company's northwest Bulgarian operations.
European Investment Bank releases local currency bond
The European Investment Bank (EIB) has released a bond in Romanian currency on the Bucharest Stock Exchange, worth 300 million RON (80 million Euro). The bond has a seven year maturity and aims to help develop the local capital markets and support the local currency, according to Matthias Kollatz-Ahnen, vice president of the EIB. The bank has lent five billion Euro to Romania in the last 14 years. It expects to lend a further one billion Euro this year and in 2008, with most of the money targeting infrastructure projects.
Wizz Air to fly London-Transylvania
Budget Hungarian-Polish low-cost airline Wizz Air will launch a new flight from London Luton airport to the mid-Transylvanian city of Targu Mures, starting October. There will be three flights a week, compared to the eight weekly routes now between London and Bucharest. From Targu Mures, Wizz Air currently operates flights to Rome, Barcelona and Budapest.
UK low cost flight firm to flyMilan-Bucharest
British-based low-cost flight operator easyJet has launched a local service in Romania. The first flights easyJet will fly from Bucharest are for the Milan route, and the first flight is scheduled to take place this September, to Milan Malpensa airport.
Czech tram deal for Romania
Czech engineering company Skoda Electric will supply 50 trolleybuses worth over 17.5 million Euro to Timisoara, Romania, according to Czech Business Weekly. Skoda Electric, one of Europe's three largest trolleybus makers, will send the first wheelchair-accessible model to the city's public transport company RATT this year. Skoda Electric beat Romania's Astrabus and Poland's Solaris in a tender.
DIY chain Hornbach for Bucharest
DYI retailer Hornbach will open ten stores in Romania's big cities by 2015, in a total investment effort of over 200 million Euro, said group president Albrecht Hornbach, quoted by Business Standard. The firm's first store will open in Bucharest on the location of the former shopping centre Prisma, 20-kilometres north of the capital city and another is set for West Park on the Bucharest-Pitesti motorway.
Chinese open new cigarette factory
Friendly & Joy (F&J) owned Sinoroma Industry has opened a cigarette factory in Parscov, Buzau county, following a 36 million Euro investment. F&J already produces in Romania low-cost cigarette brands such as Golden Monkey and Dubliss in Parscov, but the new production facility is constructed in partnership with China Tobacco. F&J is also active in Romania in the wood processing, home appliances and food and textiles industries.
German car parts firm upgrades national plants
German-based car components manufacturer Draxlmaier said it will invest this year 30 million Euro in its production facilities in Romania, officials said, quoted by Business Standard. From this, 17 million Euro will go into upgrading technical facilities while the rest will be invested in developing plots of land, buildings, equipments and employee training. The German firm owns production facilities in Codlea in Brasov county, Satu Mare, Timisoara, Hunedoara and Pitesti, Arges county, employing almost 19,000 people.