A very British coup
Transylvania and Bucharest are targets for the British, as UK investors make an unassuming entry into Romania's property market. Report by Michael Bird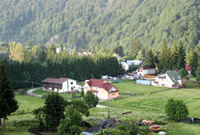 In the last 30 years, the British have transferred their failed colonial spirit into the purchase of holiday cottages in foreign countries.
Suffering from living on a crowded and wet island full of football hooligans, fat children and drunk teenage girls, they have moved abroad to create expat communities in Marbella in Spain, Tuscany and Umbria in Italy, Provence in France and the sunny beaches of Bulgaria.
A few are now moving to Romania: some are coming for the quiet life, some to make a quick buck in re-sale, while others are realising an entrepreneurial zeal.
There is evidence that the Brits are going to the seaside in places such as Olimp and Costinesti on the Black Sea coast, but the two destinations that seem to be growing for purchase and buy-to-let are south and west Transylvania and Bucharest.
But this is not yet a wave. Romanians are still safe from having to listen, wherever they go, to English voices complaining about the quality of local toilets and their endless talk of house prices.
"No place is turning into a miniature Tuscany," says Ray Breden, former chairman of the branch advisory board of the British Romanian Chamber of Commerce. "There is no evidence at the moment. But there is no doubt that Transylvania is underdeveloped and has massive potential for holiday homes and British enclaves because its scenery is second to none."
"Brasov is identified as the place in Romania offering the best potential return on investment," Damien Thiery, Romanian Properties Ltd
BRASOV BOOM
The Brasov county and its surroundings are the most attractive zone for foreigners buying up holiday cottages. This includes the area up to Sighisoara and the Saxon villages and fortresses down to Sibiu.
"Brasov is identified as the place in Romania offering the best potential return on investment," says Damien Thiery, managing director of Romanian Properties Ltd.
The buyers, according to Thiery, are investors and holiday-makers, such as skiers and hikers. His firm only took a few weeks to sell 11 apartments in an apart-hotel in old Brasov. All the flats went to Brits.
Like Switzerland and Austria, the district has the benefit of tourism in winter for skiing and summer for hiking. In Campulung Muscel, around 50 km from Brasov, Essex-born Rodger Mead runs an English-style guest house 'Casa Anglia'. He sees mainly foreigners buying up property in the area – including the British, Italians, Germans and Austrians.
Some are opening hotels and facilities for tourists, while a ski resort is under construction six kilometres from the town. "Almost any type of tourist business would work here," says Mead. "Western style bistros, bars and clubs will be required when the town attracts winter tourists to the ski resort."
There are some speculators buying the land because of its anticipated hike in price. This trend, Mead says, is becoming "silly".
"Locals here have been asking 35 Euro per sqm and getting it," he argues. "The real price should be 20 to 25, but even at the higher price it will show great returns in the not too distant future."
Bulgaria has been a disaster for investors in the UK and Irish
markets. Prices have not grown and rental yields are low,"
David Cosgrave, Romania Off-Plan
CAPITAL MARKET
Bulgaria is over, argues David Cosgrave, who runs Romania Off-Plan, a real estate firm selling properties in Bucharest, which includes residential blocks on Blvd Basarabia and Splaiul Independentei.
"Bulgaria has been a disaster for investors in the UK and Irish markets," he says. "Prices have not grown and rental yields are low. There are a lot of empty apartments in winter resorts that have a very short season. We believe agents have massively oversold Bulgaria."
But he argues that Romania remains attractive because the demand is outstripping the supply. There is availability of mortgages for first-time buyers and the prices are still low. He predicts five more years of capital growth for properties.
"Bucharest is wide open," Cosgrave adds. "There is so little development when compared to other cities in Europe." Many UK speculators are buying up Romanian land or apartments off-plan and then selling them on, before the project has finished construction, sometimes to another speculator. But Cosgrave is not recommending his investors to sell on the property to a third party, but to hire out the properties in Bucharest, because there is a massive deficit in flats for rent.
In Bucharest, Thiery says the British are looking for new-built apartments, mainly one-bedroom, and villas in central Bucharest and the northern Baneasa area. He says they target an annual capital growth of 20 per cent with at least seven per cent gross rental yield.
Romania Off-Plan's customers are all individuals. Many of these part-time speculators are sitting on a home computer in, say, Saffron Walden or Chipping Norton, and have never been to Romania. These are 'virtual foreign investors'."We have supplied a Google Earth interactive map with a full video animation of the project," says Cosgrave. "We also supply investors with a full fact-file on the city. I would say 90 per cent of the investors purchase as a result of the reports we supply them."
Many of the British individuals
investing in Romania have never been to the country
WALK ON THE WILD SIDE

Meanwhile, Michael Beckerman, director of Romtrade Consult, assists foreigners in buying property abroad. He is based in Odorheiu Secuiesc, one of the cities in the majority Hungarian-speaking county of Harghita. This is deep in the heart of the Transylvanian forest – which is still roamed by bears and wolves. German and American tourists love the area because of its lax rules on hunting.
"It's pretty wild around here," says Beckerman.
In Harghita's wilderness, Austrian, German and British investors are buying up holiday cottages. The buyers tend to be middle classes in professional jobs such as ex-lawyers. Many have family contacts with Romania and some are looking to settle.
The attraction is the notion of escape. Unlike Bulgaria, where holiday villages have pubs that serve pints of Carling and all-day-breakfasts airlifted from Heathrow, this area offers a retreat from modern trappings. The hope is that this is The Good Life made real, with chickens on the front porch, pigs in the outside toilet and cows in the garage.
There are houses inaccessible by road and virtually no supermarkets in the area. Farmers still barter goods and selling prices for fresh cheese and meat are low.
"They don't understand what you mean when you ask for organic food here," says Beckerman, "because everything is organic."
Plus it's still cheap. A house in a village in Harghita county can cost between 30,000 and 50,000 Euro.
Many of the new expat investors, says Beckerman, re-mortgage their house in the UK or downsize to a smaller house after their kids leave home. They use the released capital to pick up a small property in Harghita county. Some UK investors buy up land and then sell six months later without making the journey to Romania, but have doubled their investment. But Beckerman argues that investors must be careful who owns the land. A document from the land registry detailing who owns the land is essential.
At present, there are 150,000 pending cases of litigation over disputed properties in Romania.
Advice for the small-time entrepreneur
Nothing is simple in Romania. Rodger Mead runs an English-style guest house in Campulung Muscel, in Arges county, which includes motorbike tours. From his experience, he offers advice for a budding enterprise:
1. When setting up a business here, it is vital that any activity you wish to carry out is listed on your documents. Additional activities that you either decide you need or were not listed will cost more money at a later stage.
2. Trusted interpreters and lawyers are essential. I recommend double-checking with trusted expats on this issue.
3. When you have the articles drawn up, ensure that the laws to which your activities refer actually cover what you need. If you are not sure, just keep asking and probe the lawyer as to what you can do.
4. Ensure that your foreign qualifications are accepted by the authorities so you can function in your chosen path. Find out which Romanian qualifications may be required.
5. You will need to appoint a fluent speaking Romanian as your company administrator, as all documents are in Romanian.
6. Allow about six weeks for the company to be formed, and ignore any promises that it will be ready in two weeks.
7. Allow plenty of time, for any permits to be granted. Not allowing sufficient time could mean a 'problem', and this may lead to you feeling that an 'incentive' [to the authorities] may help. Don't go down that path. Ever.
---
Property of the month: Hanul Solacolu
Classic period piece plays home to squatters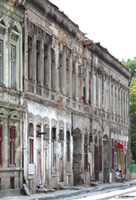 CALEA MOSILOR Currently occupied by 30 families of illegal squatters, this early 19th century property at the edge of the Historical Centre is on sale from real estate agency Pyf Imobiliare for ten million Euro.
Known as the Hanul Solacolu, the former inn was first owned by the Solacolu brothers, in one of the first paved streets of that area and the first in Bucharest to have tram in 1872.
The property served as Romania's first factory of pasta and was the official supplier of pasta to the Royal Court until 1928. But at the same time it functioned as an inn, because of merchants using the location as a sleep over when they came to buy flour.
The Solacolu family transformed the building into an inn for rich merchants in 1859. But, with the Communists taking over, the property was nationalised in 1948 and in 1950 a printing house started its activity there.
Built in the "popular-orasenesque" [addressing the mass market, with no special architecture] architectural style with neo-gothic influences, the property has a total built area of 2,168 sqm comprising 20 rooms and has one main building and three wings, which make it look like a comb.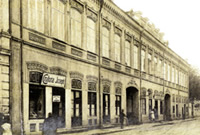 The facade is registered in the National Patrimony and features a wall made of glass, unique in Bucharest.
In the 1990s squatters occupied the building and now 30 families live there, but without running water or electricity. The interiors and exteriors now suffer serious damage, but the facade has traces of its original features, although the original inner courtyard and stairs have been demolished.
The heirs of the Solacolu family have obtained a right to purchase the building and, following the sale, there is a rehabilitation plan to rebuild the facade, inner court and create four apartments that could be used by cultural institutions. According to the real estate agent, the Romanian Architects Union has shown interest in using the building.
The project for rebuilding Hanul Solacolu and the Historical Centre is only possible by a private-public partnership between the owners and private or state investors who need to evacuate the building and keep it secure until the entire process is over.
The infrastructure modernisation on the centre is now undergoing, while Bucharest's Sector 3 administration had promised to expel the illegal squatters from the Historical Centre by July 2005 and re-house them on the outskirts of the city. Over two years later, this has not happened.
This listed building is now a suspected brothel.
For more information call:
George Dimitriu
Pyf Imobiliare
0729.155.231
---
Irish and Romanian venture set for 800 million Euro projects in capital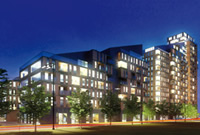 BUCHAREST RI investment Group will allocate 800 million Euro coming from Romanian and Irish funds for three real estate projects in the capital, according to Ziarul Financiar.
In partnership with Irish investment fund in eastern Europe, Caelum Development, the company will develop a mixed use project in Titan, east Bucharest, that will include a 140,000 sqm commercial and leisure area and two blocks of flats delivering 1,200 apartments. The project will require investments of 450 million Euro plus another 52 million Euro for the 82,200 sqm land. Another project starting in November will deliver a four star hotel of 24 floors and a 14 floor block of flats of 1,240 apartments. The compound will be developed on Splaiul Independentei near Sema Park on 18,000 sqm land and will require 250 million Euro.
Another project is an investment of 120 million Euro for a residence block of 848 apartments on Blvd Basarabia in east Bucharest, that will be completed at the beginning of 2009.
---
High class block in undeveloped Parliament south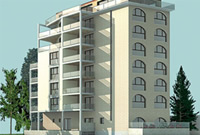 PALATUL PARLAMENTULUI Edil Domus is investing ten million Euro in a new residential block in the undeveloped area south of the Palatul Parlamentului.With Italian design, Sabine Building includes an underground, ground floor and six levels and is scheduled for completion in November 2008 with 18 apartments of two, three and four rooms. The flat areas are between 75 and 333 sqm and prices of 1,400 Euro per sqm without VAT.


---
Outlet shopping store for motorway mall
BUCHAREST-PITESTI MOTORWAY
Belgian developer Liebrecht&Wood is investing 120 million Euro in a 250,000 sqm shopping centre on the Bucharest-Pitesti highway at kilometre 13, with a focus on outlet stores.
West Park will be opened on 15 October and will include tenants like DIY store Hornbach.
Also opened will be outlet store Fashion House will require an investment of 38 million Euro and will open in the second part of 2008, showcasing brands such as Nike, Levis, Puma, Adidas and Timberland, with offers of discounts between 30 to 70 per cent.
Along with Austrian interior design store Kika and electrowares store Technomarket.
---
Property: Bucharest
STRADA AVRIG Developer Obor Tower, owned by a private Israeli businessman, will invest ten million Euro in a residential project on Strada Avrig in Sector 2 of Bucharest. This residential block will comprise two buildings of 11 and 16 storeys, including 20 one-room, 61 two room and 40 three room apartments as well as four room apartments with prices of 1,400 Euro per square metres plus VAT. Works will start this summer and are scheduled for completion in 2009. The same businessman will also build three blocks of flats with three-room apartments on Str Clucerului, Sector 1, to be completed in Summer 2008.
PANTELIMON Austrian investment fund Immoeast and British investment fund European Future Group have acquired 105,000 square metres of floor space in the Astra Industrial Park between A2 and A3 motorways. Here the two firms will develop the 35 million Euro Pantelimon Warehouse logistics centre with more than 50,000 square metres of usable space. The first building phase of 18,000 square metres will be completed this year. Together, both real estate funds intend to invest 300 million Euro in ten logistic centres in Romania. This will total a rentable area of between 400,000 and 500,000 square metres.
STR IANCU NICOLAE American developer Adama has sold Evo Center One office building to UK investment fund Fabian Romanian Property for 4.9 million Euro. The 3,000 square metres office building is located on Strada Iancu Nicolae in Baneasa and will be leased back by Adama to create its new international headquarters, Adama Center.
BLVD GHENCEA Spanish developer Hercesa in a join venture with British investment fund Bluehouse Capital will invest 300 milion Euro in a residential project on Blvd Ghencea, west Bucharest, delivering 3,000 apartments. The works for the project will start at the beginning of 2008 and will be completed in phases over seven years.
Property: Romania
PITESTI Austrian investment fund Immoeast has bought Euromall Shopping Centre Pitesti for 87 million Euro from Union Investitii, a French-Israeli group that built up a network of branded Euromalls in Romania. The project, completed in May 2007, has a total usable space of 32,000 square metres and is fully let. Immoeast has 44 retail properties and projects with usable space totalling 894,000 square metres in Romania.
GALATI Spanish construction company GTM and Romanian company Brico Group will build Centrul de Afaceri Galati business centre by the beginning of 2009. The project was won following an auction organised by the EU with PHARE funds worth 6.3 milion Euro. The business centre will have an area of 7,500 square metres and will be based on a four-storey building that requires upgrading. GTM is looking to invest 120 million Euro by 2010 in Romania and its first target is to acquire land.
PIATRA CRAIULUI At a height of 1,200 metres, a 1.5 million Euro villa complex is under construction in Magura de Moeciu, in Piatra Craiului National Park, Brasov county. The 'Shepherd' village will deliver ten villas of 123 square metres of built area and prices of 155,000 Euro per unit. The complex will also include playgrounds and sports grounds, sauna, jacuzzi, open-air mini pool, stables and facilities for motocross, ATV and snowmobile.
CONSTANTA
Romanian developer Five Holding is investing 20 million Euro in a residential complex between Constanta and Mamaia seaside resorts, scheduled for completion in the autumn 2008, according to
Ziarul Financiar.
Spectrum Residence will deliver 120 apartments on a 24,400 square metres built area comprising five blocks of flats, each with 12 floors. The apartments will have two, three and five rooms with areas ranging between 90 and 339 square metres and duplexes of 327 square metres and prices of 1,650 Euro plus VAT.