Young could make difference
Youth may be the engine of change in Romania, argues Ambassador of Switzerland to Bucharest, Jean Claude Richard, as he talks to Ana Maria Nitoi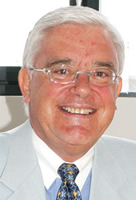 For a quicker and a more visible progress to take place in Romania, the country's leaders and citizens need a change of mentality, argues Swiss Ambassador Jean Claude Richard.
"The mentality and evolution of mentality are very important to make a political system function," he says. "Changing the mentality takes at least one generation, so be patient!"
Richard has faith in the younger generation, because only through them can the negative practices inherited from the Communist period disappear and be replaced by new rules of democracy. "The younger generation of politicians is different from the older one," he says. "It is better."
As balanced as the diplomatic representative of one of the most neutral country in the world can be, the Swiss Ambassador admits that Romania's current political instability, including a long feud between the President and Prime Minister, is altering Romania's image abroad. The most immediate influence of such a situation is that foreign businessmen will think twice before investing in Romania.
Among these, the Swiss are well-known for seeking out risk-free situations.
"You need a certain stability to put your money in a country," says Richard. "From our point of view perhaps it is not best for Romania to have this struggle for power."
But Richard says Swiss employers are content with the quality and dedication of Romanian employees – and their investments over the last 15 years have seen some substantial players stick it out in the country – namely Nestle, Holcim and Energy Holding.
One reason for which the Swiss banks are not present in Romania is the fact that they specialise more in wealth management. Romania still lacks the critical mass of rich citizens seen in some Asian countries, the Middle East and the USA, where Swiss banks do have branches. And if you have wealth, you can transport it to anyplace you like in the world. "You don't need to be present in a country to manage people's fortune," the Ambassador says.
The latest Swiss investor in Romania is Sefar, a leader in manufacturing filtration systems. Recently, the firm opened a factory in Sighisoara, Mures county, and targets to invest 25 million Euro this year.
The Ambassador is not aware of any Romanian investments in Switzerland, while the Romanians working in the country of the best clocks, chocolate and banks in the world are mostly engineers. Without a visa, Romanians can only stay in the country for less than three months.
But Switzerland is not a target country for Romanian workers, which is why only 1,000 people received visas in 2006.
Holcim: continuing to modernise grey cement factory in Arges
Swiss cement producer Holcim is investing 85 million Euro this year in projects such as the modernisation of the grey cement production in Campulung Muscel, Arges county, which will be completed in 2008.
Due to the growth in demand last year, Holcim increased its annual production in 2006 by 300,000 tonnes compared to 2005, but the production satisfies only the local market.
"The main factors which determine the volume increase of the construction materials market are the infrastructure development projects and the increase of real estate projects," says Markus Wirth president and CEO of Holcim Romania. "As a result of the good weather conditions, including the mild winter seasons in the past few years, the demand for construction materials has lost its seasonality and Holcim Romania delivers cement almost all year long, except for the compulsory maintenance period."
In the past three years the cement market has constantly grown by 15 to 20 per cent per year according to Wirth, who also anticipates similar growth rates for the years to come.
Holcim Romania
Cement producer
2006 turnover: 220 million Euro - a 28 per cent increase versus 2005
Estimates the same growth for 2007
Employees: 1,300
Syngenta: farmer subsidies will transform crops market
Romania is one of the largest agri-markets in the EU with huge potential to increase both the areas for crops and the yield through agricultural technologies, according to Paul Claxton, general manager of seed manufacturer Syngenta in Romania. But the lack of finances available to farmers could slow down the reform of the sector. This year farmers will only receive 25 per cent of funds from the EU's Common Agricultural Policy, before the full amount in 2008.
"Once subsidy payments begin to flow into the farmers' pockets, they will be able to invest in new machinery and in the latest cropping technology, both for seeds and private-public partnerships," he says.
"This should help improve crop yields and quality and generate better grain prices. We are, of course, also subject to the weather conditions and droughts, as we are suffering now."
In Romania the average amount of hectares per farmer is between one and two – and these farms may find it necessary to merge their land together. "The consolidation of farms will increase their competitiveness on regional and international markets, in relation to the adoption of modern and sustainable agricultural practices," says Claxton.
This year Syngenta launched new herbicides for maize for the treatment of cereal seeds and a new insecticide for vegetables and fruits and a new sunflower hybrid. For maize, Syngenta is aiming products at different market segments including the 'low value' segment represented by farmers who cultivate lower quality maize hybrids.
On the oilseed rape market, Beat Siffert, business territory head Syngenta Seeds, says the firm intends to launch five varieties and two hybrids with high productivity and frost-hardiness, with the purpose of increasing the number of fields sown with Syngenta seeds from 10,000 to 30,000 hectares.
Syngenta
Agricultural seed manufacturer
2006 turnover: 26 million Euro
Employees: 54
Nestle: boost in sales after EU accession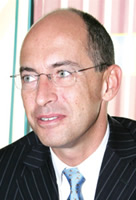 In the first quarter of 2007 Nestle saw a sales increase of 40 per cent, partly due to promotions.
But Paul Nuber, general manager of Nestle Romania, sees a smaller increase in the second quarter.
He believes quality and brand awareness is becoming more important for Romanian consumers.
This means that brand positioning will be a crucial factor in the future success of products.
"You can bring in big volume products as you can bring in small volume products, you just have to place them in the right place or else you are wasting time and money," he adds.
After entering the ice cream business by purchasing Greek-owned Delta, which had a factory in Bucharest, at the end of 2005, the brand Delta-Nestle will go through a gradual process until the Delta name will become obsolete.
Also Nestle Romania, in partnership with Greek Elmec Group, recently introduced a performance nutrition product called Powerbar. The product will be imported by Elmec from Germany and then distributed in Romania.
"It is not mass distribution, it's specialised, so it's better to work with somebody who has the know how than do it ourselves because the market is not enormous but there are a lot of consumers who know the brand," says
Nestle is investing in increasing its production capacity at Timisoara, where it makes local wafer brand Joe.
Nestle
Food and beverage producer
2006 turnover: 120 million Euro
Employees: 600
Roche: investing in research and development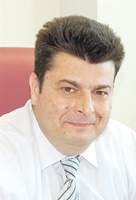 Roche Romania is not planning any standalone factories in the country at present, but sees potential in the nation for research and development.
The firm has local production collaborations with Terapia Ranbaxy and Actavis for its products in Central Nervous System diseases and therapies. "But as our main global policy is to develop new innovative products, the focus will be on innovation at any price," says general manager Dan Zamonea.
The Swiss pharma giant sold its OTC division to Bayer in 2004, and has also disposed of its vitamins, additives and food supplements, fine chemicals and industrial perfumes divisions, keeping the pharma and diagnostic divisions.
"We decided not to manufacture generic drugs any more and invest in research and development," adds Zamonea.
The R&D internal budget last year stood at 19 per cent of the global turnover and this area may be the next step for Roche in Romania, argues Zamonea. "We have launched several R&D centres affiliated to large university centres or university hospitals," he says. "But the main problem in Romania is the lack of funds."
Another area is biotechnology, where Roche has a strong presence.
"We may invest in a local centre should we identify potential locations in Romania," he adds.
With a strong foothold in developing oncology drugs as well as post-transplant medications, Roche will launch a new molecule able to treat lung cancer and for pancreatic cancer.
Roche Romania
Pharmaceutical producer
Rank in Romania: second
2006 turnover: 84 million Euro
2007 forecast: increase of 15 per cent
Employees: 150
Franke: opening new storage depot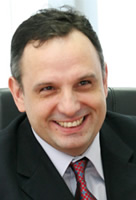 Swiss kitchen systems retailer Franke Romania will open a new one-million Euro storage depot on its location on the outskirts on Bucharest this Autumn.
"The new storage capacity will cover 1,700 sqm and we estimate that it will be large enough for the coming years, considering the activities we run in Romania: kitchen systems distribution and gas stove assembly," says general manager Valeriu Cobaschi.
Franke has operated locally for nine years and has 25 showrooms in 23 Romanian cities. The existing showrooms cover towns with more than 100,000 inhabitants.
The manager takes pride in managing to convince consumers of the firm's concept of 'kitchen system equipment', and says sales figures show Romanians have embraced the idea.
"Consumers appreciated our variety and reliability and year on year our portfolio of products is enriched by ten to 15 per cent more new products," he says.
Franke Romania
Kitchen systems manufacturer and retailer
Established in Romania: 1998
2006 turnover: over 11 million Euro
2007 forecast: increase of minimum ten per cent in sales and up to 40 employees
Helvetansa: seeing one third increase at top end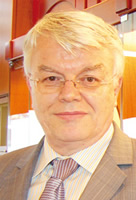 The highest end of the luxury market sells in Romania, where a small proportion of the very rich have no fear to spend.
Swiss watch importer Helvetansa saw an increase in sales in its top range of products by 30 per cent in 2006 on the year before in watches priced over 10,000 Euro and in the 1,000 to 5,000 Euro range.
"We have a bigger demand at the top end of the pyramid," says Adrian Stoican, general manager of Helvetansa in Romania.
Most of Helvetansa customers in Romania are connoisseurs, argues the general manager.
"The young customers who are now looking to build an image consider the watch as a way to express themselves," he says. "They are interested in sports watches while our mature clients are looking for more sophisticated watches."
This Autumn the company will introduce two new watch brands Daniel Roth and Gerald Genta with prices over 10,000 Euro. The most expensive watch in the company's portfolio is a Vacheron Constantin made from pink gold worth 130,000 Euro, but the priciest item Helvetansa has sold in Romania was for 80,000 Euro last year.
The firm also sells accessories such as Montegrappa and Cartier pens in Romania and intends to expand its portfolio of jewellery, now represented by five brands.
Helvetansa
Swiss watch importer
2006 turnover: four million Euro
Shops: two
Employees: 20
Swiss: airline sees ten per cent upswing
Swiss International Airlines saw a ten per cent increase in traffic compared to the same period last year.
Meanwhile the occupancy rate witnessed a slight increase up to 88 per cent on its 15 flights per week between Zurich and Bucharest.
Around 60 per cent of the company's flights are for business purposes, according to Andrea Brezean, sales manager for Romania and the Republic of Moldova at Swiss International Airlines.
The airline has also integrated in the Star Alliance Group and is part of the German Lufthansa group. This means it can participate in the German group's fidelity programme, which Brezean argues brings "more possibilities for flights and costs savings for passengers".
Swiss International Airlines
15 weekly flights between Bucharest and Zurich
Occupancy rate: 88 per cent
2006 turnover: four million Euro
ABB: targeting automation business in post-privatisation firms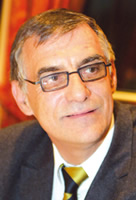 Already possessing a solid base in the substations market in Romania, Swiss-Swedish power and automation company ABB is looking at strengthening its position in Romania's automation industry.
"We still grow in the market of substations for energy companies like Electrica and Transelectrica," says Peter Simon, country manager for ABB.
Starting in 1 January 2007, Simon also has Bulgaria in his jurisdiction, where ABB has production facilities, and the Republic of Moldova.
"We are still market leaders in the substations market in Romania and want to build up the service in the field," adds Simon.
"At the same time we look more and more at the automation industry, as worldwide this is bigger than power as an industry."
The country manager said ABB will look at large enterprises that have begun investment programmes, once the post-privatisation restructuring has been completed.
"For example, a company like Alro Slatina is now investing in its automation processes," he adds. "We are looking at clients like Arcelor Mittal or Petrom, but will also look closely at automation processes for food companies."
ABB Romania
Power and automation
technologies company
2006 business volume: 111.5 million Euro
Employees: 75 in Romania and the Republic of Moldova, 440 in Bulgaria
Energy Holding: focusing on delta clean-up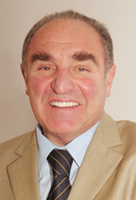 Energy trader and producer Energy Holding this year is sponsoring a project to clean up the Danube Delta.
"Starting this month we begin the cleaning project and we want to do something more than just pick up the trash, we want to bring awareness to such projects," says senior vice president Roy Maybud.
At the end of the clean-up, the volunteers will create a giant sculpture possibly made of rubbish dubbed 'The Danube Monster'.
Last year the firm was showing interest in investing in a wind energy project in Romania in cooperation with Rompetrol, as well as taking a closer look at hydro power plants privatisations, but Maybud says all projects are now on the shelf.
"We are now in the consolidation phase," he says. "We want to consolidate our Sofia and Athens offices before beginning any other project."
Energy Holding
Energy trader and producer
Offices in Romania, Bulgaria and Greece
Business interviews by
Mihai Alexandrescu
and Corina Mica