Romania still threatened with sanctions for justice failures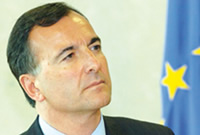 European Commission (EC) has attacked Romania for failing to meet EU requirements over improving its Justice system and fighting against corruption and organised crime.
The EC recommended, in a monitoring report published in late June, that it will not trigger a safeguard clause yet, where the EU would not recognise any rulings by the Romanian justice system and could hold back cash to reinvigorate the fight against corruption.
European institutions will monitor the progress of Romanian justice reform and will threaten Romania with this humiliating gesture for a further year.
European officials showed their concern over the fact that no corruption cases of high level politicians or public figures have resulted in convictions.
The report criticised court rulings in cases of corruption, which were deemed not harsh enough to discourage future offences. Magistrates must also clarify their decisions to suspend sentences, because this undermines all the progress reported in anti-corruption probes.
"More solid results are necessary, people who break the law should be brought in front of justice and dissuasive sentences should be given," said Franco Frattini, European Commissioner for Justice.
Under attack from many commentators has been Prime Minister Tariceanu's decision to sack Minister of Justice, Monica Macovei, seen in Brussels as a key figure against corruption.
Also criticised, indirectly, was new Minister of Justice Tudor Chiauriu's attempt to oust one of the leaders in the DNA, Dorin Tulus, who was investigating key figures such as ex-Prime Minister Nastase.
Another monitoring report will be issued by the middle of 2008.
---
Romanian ex-Prime Minister sent to court over mystery cash
Former Prime Minister Adrian Nastase has been indicted by the anti-corruption prosecutors for allegedly giving a bribe to a state official to cover up a potential money laundering operation.
He is accused of giving bribe to Ioan Melinescu, former president of the National Office for Preventing and Combating Money Laundering (ONPCSB).
In 2000, Melinescu allegedly found that 400,000 USD had been deposited in the account of the Prime Minister's wife, Dana Nastase. This money could not be covered by the earnings of the Prime Minister or his wife.
Nastase claimed this was due to his wife's 91 year old aunt Tamara Cernasov's failure to have a bank account of her own. He claimed that Ms Cernasov deposited the 400,000 USD in his wife's account, stating she earned the money from selling 18th century English parchments, luxury furniture, Daum Nancy and Lalique vases and 600 grammes of gold jewellery.
In addition Nastase argued that the old woman, now dead, generated the cash from the sale of 11 paintings, including works by artists such as Tonitza, Baba, Bancila, Baraschi, Vermont and Rousseau.
In 2000, Melinescu, then an employee of the ONPCSB, did not send this information to the General Prosecutor's Office for further investigation and suggested to Adrian Nastase that, through one of the Prime Minister's counsellors, Ristea Priboi, he could make the file disappear, prosecutors allege.
Melinescu's price was his own promotion. A few months later, the Prime Minister appointed Ioan Melinescu as the new head of the ONPCSB. Melinescu has also been sent to court for taking a bribe, revealing classified information and faking official documents.
Controversial businessman Genica Boerica informed the Anti-corruption National Department of the affair in 2006. Last year Boerica was condemned to eight years in prison for tax evasion, but has since been set free on early release in return for information.
---
Moldovan-Romanian political prisoners released and then beaten-up in Transnistria
Breakaway republic Transnistria has released two political prisoners of dual Romanian-Moldovan citizenship, after 15 years of incarceration.
But, following the release, the police beat up one of the prisoners for his refusal to leave the soil of the self-proclaimed country.
Since 2004 Transnistria had failed to implement the decision by the European Court for Human Rights to release the political detainees.
Tudor Petrov Popa and Andrei Ivantoc, along with three other Romanians, were imprisoned by Transnistrian authorities for alleged terrorist accusations during the armed conflict between the Republic of Moldova and the breakaway Moldovan province of Transnistria.
The two are members of the so-called 'Ilascu group' which lobbies for the reuniting of the Republic of Moldova, including Transnistria, with Romania. The group is named after their leader, Ilie Ilascu, who is now a member of parliament for the Greater Romania Party (PRM) in Bucharest.
On the day of his release, on 2 June, Ivantoc was released and then, after refusing to leave Transnistrian soil, was beaten up by the local police in front of 18 Romanian journalists and members of the OSCE.
From the other members of the Ilascu Group, Petru Godiac spent two years in prison, Ilascu himself was released in 2001, after he was initially sentenced to death, while Alexandru Lesco finished his 12-year sentence in 2004.
---
Two right-wing slates could emerge in European elections
Historical parties the National Liberals (PNL) and the National Christian Democratic Peasants (PNTCD), along with Popular Action (AP) have formed a right wing slate to fight in the European elections this Autumn and local and general elections in 2008.
Only PNL is in the Parliament, but the three parties share co-operated inside the Romanian Democratic Convention (CDR), the coalition that governed the country between 1996 and 2000 and then disbanded.
Meanwhile the Democratic Party (PD) also announced its desire to create, along with the Liberal Democratic Party, a right wing slate. The Democrats have invited the New Generation Party (PNG), headed by Gigi Becali, the owner of Steaua Football Club and the Social Christian Popular Union (UPSC), founded by the former secret service head Ioan Talpes. They are still in a discussion phase.
AP was established in 2003 by former President Emil Constantinescu to gather up all the right wing parties, while the PNTCD has one significant representative in local administration, mayor of Timisoara, Gheorghe Ciuhandu.
Ideologically, the two parties differ in that the PNTCD is allied to the European People's Party (EPP-ED), while the PNL is allied with the Alliance of Liberals and Democrats for Europe (ALDE). The PNTCD and AP still fail to gain close to the five per cent needed for election, while the PNL has 11 per cent, according to June 2007 BCS opinion poll. The National Initiative Party (PIN) headed by political gadfly Cozmin Gusa may also join PNL's project.
---
Romania starts to have a clue about Europe
Six months after it joined the European Union (EU), Romania has completed its first draught of the nation's post-EU accession Strategy.
The failure by Romania to define its bipartisan policies in the EU has come under strong criticism at home and abroad.
European officials have argued that Romanian politicians have taken a backseat approach to EU policy-making since joining the 27 member bloc.
The new accession state has seemed to agree with everything the European Commission and the EU's German Presidency, in the first half of 2007, has stated, argued one EU official.
The Department for European Affairs (DAE), accountable directly to the Prime Minister, is the responsible body for running the negotiations with the relevant representatives of parties, unions, employers' associations and institutions involved in drawing up the document of post-EU objectives up to 2020.
After this first draught of the strategy will be made public, it will be submitted to negotiations with the political parties. According to the head of DAE, Adrian Ciocanea, this will take at least a month.
Then the Government will adopt the document and it will represent Romanian officials' mandate at its negotiations in Brussels.
But Ciocanea has expressed discontent over the lack of interest by Romanian politicians concerning EU-wide interests.
"You don't see European issues discussed by politicians in Romania, which is very serious and bad," he said.
When the strategy will be ready depends on how long negotiations between the parties will take.
---
Romania fails comply with anti-human traffic standards
Romania's Government fails to fully comply with the minimum standards for the elimination of human trafficking, argues the annual US Department of State 'Trafficking in Persons' report.
Romania's number of investigations and convictions of human traffickers fell in 2006 compared to 2005. In 2006, police conducted 61 investigations, down from 231 in 2005. During the reporting period, 780 persons were prosecuted, resulting in the conviction of 187 traffickers. This was also down from 235 convictions in 2005.
Romania is still a source and transit country for men and women from the Republic of Moldova, Ukraine, and Russia.
Criminals traffic these people to Italy, Spain, Germany and other European states for commercial sexual exploitation and forced labour.
There are also fears that as Romania's economy improves, it could become a destination for human traffic. Romanian children are trafficked within their own country for sexual exploitation and forced begging, while Rroma women and girls are highly vulnerable to trafficking.
But the US Department of State recognised the "significant efforts" in combating trafficking in persons made by the Romanian authorities. This includes the introduction of victim-witness coordination programmes, the creation of a national database to assist victim identification and referral efforts and establishment of regional victim assistance centres.
---
Putin and Basescu relationship remains frosty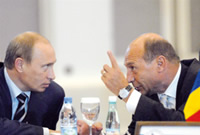 Russian President Vladimir Putin has ignored Romania in his plans of co-operation in the energy field with the European Union.
Putin had bilateral meetings with all the other heads of state at a high-level eastern European summit on energy organised in Croatia, except for President Traian Basescu.
The two heads of state also exchanged few words at the conference.
In Zagreb, Putin expressed Russia's willingness into having a long co-operation with the European Union. The Russian leader pointed out to the fact that Bulgaria will be from now on the link between Kremlin and Brussels.
The Kremlin leader also emphasised Russia's interest in the Balkans and the Black Sea region.
However Basescu countered that the region should seek to reduce its dependence on Russian energy.
"We will never accept the idea of using energy as an instrument of political pressure," Basescu said.
---
Short News
Romania's most wanted man mocks justice from hideout
Syrian businessman, Omar Hayssam, accused of kidnapping three Romanian journalists in Iraq in 2005 has been sentenced, in absentia, to 20 years in prison for terrorism. But the Syrian fled the country last spring and he says is now residing in Lebanon, but he is believed to be hiding in Syria. The Interpol office in Romania already asked its counterpart in Beirut to try and locate the convicted terrorist. Following his conviction, Hayssam said in a phone conversation to a Romanian TV station that he would not come to Romania to be made "a scapegoat" by the Romanian justice system and that the real culprits were living freely in Romania. One of the three kidnapped journalists, Ovidiu Ohanesian, said the truth about the kidnapping was not fully exposed. "The masterminds are still in hiding," he said. He also claimed President Basescu was "covering" for individuals involved in the case.
Romania u-turns on Iraqi troop withdrawal
Minister of Defence, Teodor Melescanu, said Romania will not withdraw troops from Iraq and Afghanistan. He added a withdrawal plan from Iraq can only be initiated through consultations with Romania's NATO allies. "The issue of a possible timetable for withdrawal, starting from next year, can be an object of discussions and negotiation with the allies," the Minister said. This is an apparent u-turn on the previous decision as, for almost a year, Prime Minister Tariceanu has argued with President Basescu and the US allies to withdraw the 600 soldiers from Iraq. Tariceanu gave Christmas 2007 as a deadline for withdrawal.
Hungary and Romania in diplomatic skirmish over suspended minister
Tensions between Hungary and Romania reached a high level, as President Traian Basescu suspended Minister of Communications and Information Technology, Zsolt Nagy, a member of the Democratic Union of Hungarians in Romania (UDMR). Nagy is under criminal investigation by the General Prosecutor's Office for disclosing secret information to a criminal group. The UDMR Minister called the decision politically-motivated. The Hungarian Ministry of Foreign Affairs also issued a statement that said this "could be understood that it targets the party of the Hungarian minority in Romania." The Romanian Ministry of Foreign Affairs replied that "such remarks are not customary to diplomatic practice." In reply, the spokesperson of the Ministry of Foreign Affairs in Budapest said that Hungary "did not intend to interfere in Romania's domestic affairs."
Political battle over top diplomatic posts
      President Basescu and the Liberal Government are fighting over who to appoint as ambassadors to London and Washington DC, which have lacked the positions for almost a year. Earlier this year Basescu nominated writer Traian Ungureanu for London and former consul in Chicago, Sever Voinescu, for Washington DC. Ungureanu was rejected by Prime Minister Tariceanu because he had no diplomatic experience, while Parliament considered Voinescu too close to the President. Now the Liberal Minister of Foreign Affairs, Adrian Cioroianu, who also has no diplomatic experience, has appointed former Ambassador to Germany, Adrian Vierita, for London and former Ambassador to Holland, Iulian Buga, for Washington DC. Rome also has an opening for the job that cannot be filled. President Basescu withdrew Ambassador Cristian Colteanu from Rome for acting without Government approval. Along with five other NATO ambassadors in Rome, he asked the Italian authorities to keep troops in Afghanistan.