Mean machine
Looking to upgrade to a BMW? Mihai Alexandrescu says the new X5 will inspire the same envy, fear and hate that fellow drivers show towards the Bimmer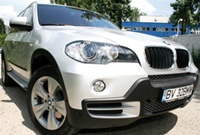 I was examining a menu in an outdoor cafe in Bucharest's exclusive Dorobanti neighbourhood. A sandwich was more expensive than the clothes I was wearing. I did not know if I should stay or run away and buy a pie from the underground patisserie.
But the waitress had a certain je ne sais quoi and was, amazingly, polite to me. I ordered what tends to be the cheapest item on any menu, plain water.
But I was wrong. She brought me a bottle of Vittel, marked up at a price that would make a Frenchman choke on his croque monsieur. My head started to hurt. At the end I left her all the money in my pockets. Maybe we'll meet each other again, one day on the bus.
Her impression at my status as a man of riches may have been gathered from the car I had parked in front of the cafe.
This was the new BMW X5.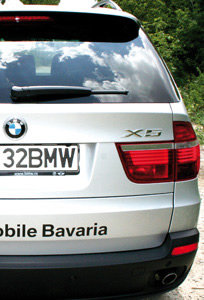 BMW drivers have a reputation to live up to. They believe they own the road, they change lanes as they wish and make all kinds of manoeuvres without indicating. Often they do not stop at red lights and park wherever they like. They are the traffic outlaws, who attract equal helpings of fear and envy from the common rump.
Bigger, faster, more powerful
But BMW also has a reputation for listening to its customers. If a BMW driver comes complaining to the brand managers that he has lost a drag race to an Audi or a Mercedes, BMW takes this problem seriously and promises to make a faster and more powerful car in the future. This competitive attitude has brought BMW the 'Engine of the Year' award five years in a row. And this is why the engine in this second generation of X5 SAV was so good.
Bimmers are known for their handling, throttle response, sharp steering and their ability to drift. So, an improved engine is at the heart of every new design. This three-litre diesel is no exception. Normally, a turbo diesel engine has turbo lag. The engine's response to throttle comes later as the revs grow and the turbo charger comes into action, as it remembers that the engine has more power. In this X5 there was almost no turbo lag, giving the driver all the benefits of a turbo engine without any drawbacks. This is like being married to a Miss World who, when she talks about world peace, looks as though she could persuade North Korea to curb its plans for nuclear development and coax Moqtadr Al Sadr and Osama bin Laden to open up a Baghdad franchise of Taco Bell together, yet still have time to pick up the kids from the local kindergarten.
As one would expect, BMW gave this engine two more horsepower than the rival in its range, the Audi Q7. That might not sound like much, but the main point is to be more powerful, no matter how less significant this may seem in practice.
Changing times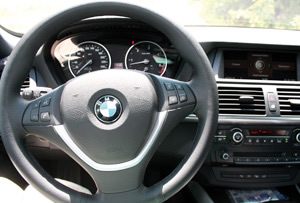 Car companies have good years and bad years and lately BMW has received many complaints ever since it hired an American, Chris Bangle, to head up its Bavarian design team. Like all recent BMW designed by Bangle, the new X5 is a bit less attractive than its previous incarnation, but some may say beauty is in the eye of the beholder.
BMW insists on calling the X5 a Sports Activity Vehicle and, to resemble a sports car, they have equipped the machine with fat tyres for better handling, aggressive headlamps and massive exhausts.
But this is not a dramatic change from the old model and maybe Bangle has decided to make only subtle differences with this version.
Inside the attention to details and quality of finishing are not very pleasing for a premium car. The dashboard is quite banal, the leather lacks a luxury touch and the display seems a more expensive version of that seen in the Dacia Logan. But the gear leaver is pretty cool. It is quite futuristic and ergonomic and feels as though the driver is holding a joystick from a WiFi console.
If you are not a BMW fan, the reason to buy this new X5 would be the way it feels to drive. You will love the engine, the six-speed Steptronic gearbox and the way it handles the road. The drawbacks will be that Audi Q7 drivers, many of them probably ex-X5 owners, will look down on you. And you will become a BMW driver, which inspires its own style of hatred on the road.
However, if you are a BMW fan, you will know that other drivers harbour a secret envy because of the badge of sophisticated success that the blue-and-white quarters always bring.
Vital statistics:
Engine: 3-litre diesel, 235 horsepower, 520 Nm of torque
Gearbox: six speed Steptronic
Acceleration: zero to 100 km/h in 8.3 seconds
Consumption: 8.7 mixed consumption, as claimed by the manufacturer
Price: 45,000 Euro without VAT