Checking out the neighbours
Hungarian wine culture does not stop moving and here is a brief snapshot of the state of play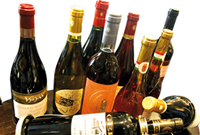 I became an admirer of great wines a good number of years ago. In this elite area, a wine's provenance counts more for anecdotal purposes, as quality ranks above pedigree.
Almost 20 years have passed since it has been finally understood that one can find a great wine in southern Italy, that Chilean wines deserve a better place than on the bottom shelf and that New Zealand can fight among the champions. Argentina is more than an exotic and eccentric pick, while Portugal can boast the most melodious and nimble wines, such as Vinho Verde, against the accepted belief that this was the country of a hard and fortified viticulture. And when it comes to Hungary, this country's heritage does not only mean sweet varieties. Romania had this reputation too, remember?
Therefore, I was not astounded to hear that Hungarian wines are looking for their spot among the champions. I was lucky to visit Gyula in Hungary this Summer where, owing to the passion of some professionals, I had the chance to taste some of the country's best wines and, because of their high level of quality, I can now tell you these can muscle in on the international scene.
Beyond the sweet
The rigour of this tasting's promoter – Fery Gal – meant that the entire palate has been touched upon: from white dry wines, to rose, classic reds, reds in traditional cuvees up to the illustrious sweet Tokays.
I am in a hurry to present these wines because some of them were the stars of trials from which they emerged in a more than honourable way.
In blind tastings, wines such as Kopar or those of Gere Attila came out as victors along with the great chateaux. Despite the fact that in Hungary I was not part of a tasting that involved comparisons, I can say I was profoundly impressed by Hungarian wines.
The selection made by my Hungarian colleagues targeted non-industrial, limited edition wines, such as DaVino or River Route Limited Edition from Carl Reh in Romania. I hope they will soon be found on the website devoted to wine sales in Romania www.evinoteca.ro and in specialised stores.
As far as I am concerned, my recommendation would be based on a wine's quality and scope and I would absolutely not try to promote a specific ethnic market. But, from Hungary, St Andrea Orokke is a white cuvee from the essence of the valuable Montrachet. It has vegetable freshness mixed with mineral nuances. Adaptability doubled by small butter slices, specific to well-done Chardonnays. It is a fine gastronomic wine with a long and distinct finale.
For those appreciating the Austrian manner, which has a slightly perceptible residual sugar, I found the result of a joint venture between Gere and Austria's Weninger, a 2003 red cuvee.
Gere also proposes one of the most spectacular red wines I tasted in the past years: Gere Villany Cabernet Sauvignon Barrique 2004. Fabulous. Probably one of those wines that has demolished the podium on which stands whatever Premier Grand Cru Classe.
I can't write that much about Kopar right now. We will probably save some special place for a special presentation, because at this moment in time this is at the vanguard of Hungarian wines and enjoys a much-heralded reputation. Such a wine could have not appeared as an exception and I don't believe it would be credible without its elegant, well brought up 'brethren' - wines produced by the new generation of Hungarian wine-makers. One does not risk anything ordering St Andrea Aldas Egri Bikaver or Merengo (a bull's blood as well) or the Vylyan (Villany) Pinot Noir without knowing them. Aha! One risk does exist, and it is pretty important: after polishing off one bottle, one would have to order another and damn any pre-arranged schedule!
I believe the moment when any of these wines will enter the Romanian market will be a happy one for connoisseurs, hopefully marking 2007 as a time which is, as Humphrey Bogart once said to Claude Rains, the beginning of a beautiful friendship.
Catalin Paduraru (FIJEV)
www.evinoteca.ro