World of difference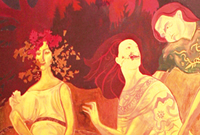 People fear the toilet in the Bucharest lounge bar Rooms.
In the gentlemen's convenience there is a urinal placed next to an open door. Behind this is a glass wall. At first glance it looks as though, when a user unzips his trousers to answer nature's call, there is an open space where the whole bar can view the event.
But, as long as the door, opposite the ladies' toilet, is closed, the visitor finds himself safe inside an optical trick.
Therefore clients of this location are guaranteed all the personal secrecy an average toilet-goer expects.
This is part of the inventive interior in this eclectic revamp of an early 20th century villa, close to Piata Romana.
Set up by three Romanian partners working in marketing industries who rented the building and splashed out 400,000 Euro redeveloping the interiors, the space, which can also be hired out, has a capacity of around 350.
Formerly a residence and then the HQ for a state institution, Rooms is aiming for all-day occupancy offering a downstairs coffee shop, brasserie with reasonably-priced snacks and fusion cooking and an upstairs night club.
Different spaces offer diverse concepts, re-imagined by local architect Dragos Epure. There is a white room with free Internet, WiFi and magazines for the mobile IT crowd. While next door is a dark interior with a mirrorball and linear sketches of naked women showing their backsides by Romanian artist Setran, targeted at the boho set.
Then there is a red room, where posh teenagers meet under a mural of Botticelli's 'Spring', watching Fashion TV. Meanwhile, the upstairs space boasts violet-padded 18th century-style furniture and a giant erotic mural – a popular brainstorming den for advertising firms.
Most impressive is a no-smoking room with white leather-padded walls and a bed opposite a wall-size mirror. Although this feels like a cell for a mental patient prone to self-harm, the institutional effect has been mitigated by the appearance of plush meerkats emerging from the wall fittings. However this colourful addition manages to increase, rather than diminish, the atmosphere of insanity.
Rooms Lounge and Bar
Strada Mendeleev 28 – 30
Tel. 0730 076 667