Staying one jump ahead
Luxury residences with the services of a hotel have allowed Centre Ville ApartHotels to register close to full capacity in Bucharest. Now general manager Yaron Ashkenazi talks about the firm's next ventures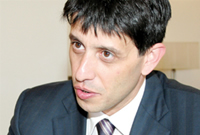 I want to be a hotel general manager by the age of 34."
This was what Yaron Ashkenazi told his colleagues at the age of 18, when he was working as a security guard for a hotel in Israel.
His fellow workers may not have believed their ambitious young friend. But Ashkenazi worked his way to the top, ful-filling his mid-term ambition two weeks before his 34th birthday, when he landed the post of general manager at the Park Plaza Hotel in Jerusalem.
Eight years on and Ashkenazi has taken an aparthotel complex in Romania, Centre Ville ApartHotels on Calea Victoriei, from zero to a near-100 per cent occupancy.
Ashkenazi's grandfather, a humble cook who became a senior chef in a hotel, concentrated his entire energy into this field and was one of the key influences on the future hotelier. "He told me that the most important people in every organisation are the employees in the front line," says the general manager. "If you understand their needs, and they influence the clients in a positive way, you can achieve success."

Yaron Ashkenazi
General manager, Centre Ville
Age: 42
Born: Jerusalem, Israel
Education:
■ Hotel administration,
The Technion Haifa
■ Bachelor in Middle East and General Studies, Hebrew University,
Jerusalem
Previews Jobs:
■ 2001 - 2003 Hotel manager, Bucuresti Park Plaza Hotel
■ 2000 - 2001 General manager, Yamit Park Plaza Hotel, Tel-Aviv
■ 1998 - 2000 General manager, Park Plaza Hotel, Jerusalem
■ 1997 - 1998 General manager assistant and head of the food and beverage department, Dan Accadia Hotel, Herzelia
■ 1996 - 1997 Human resources manager, Dan Accadia Hotel, Herzelia
■ 1992 - 1996 Networking training department manager, Dan Hotels Company (5 star group of ten hotels)
Owned by Elbit Medical Imaging Israeli group, the Centre Ville ApartHotels aim to offer the best aspects of an apartment – a home-from-home, comfort, security and privacy, with the conveniences of a hotel – 24 hour services, laundry, cleaning and shopping, plus a central location and restaurant.
Now the complex, which rents space to VIPs, upper market individuals and multinationals, has an annual average occupancy rate of 92 per cent. Few can rival such a capacity – and competitors looking for a niche should take note of a huge demand for this kind of temporary residence.
"Other big hotels in Bucharest are very good and they offer strong competition, but I think we are different and this is one of the reasons customers keep coming back and new customers keep coming in," says Ashkenazi.
Under construction next door to Centre Ville is the Radisson SAS, a 424-room five star hotel which the Israeli company also owns, with the Swedish Rezidor Group managing. There is also a giant casino, the Platinum, at the base of the hotel and a shopping parade which includes men's fashion store Ermenegildo Zegna.
Radio on
Elbit Medical Imaging is one of the biggest shopping mall developers in Europe and plans to develop projects in another ten locations in Romania in the next five years. The most impressive of these is the one-billion Euro Casa Radio project. This is a private-public project that will develop a wasteland and a semi-built Communist era office on the banks of the Dambovita River near Eroilor Metro station. The building – a classical concrete giant in the style of the Parthenon – was originally intended to house the national radio station.
The location, at a junction of two main roads and close to the centre and the main railway station, is cited by most developers as perhaps the best remaining large space in the city. Any type of project on the site should bring in cash and Elbit Medical Imaging is transforming the zone into a mixed use office, mall and hotel complex. "Casa Radio will be the only shopping mall developed by the group in Bucharest, but it will also be the biggest and the most representative," says Ashkenazi.
Due to the huge demand for more accommodation, the Centre Ville Hospitality Complex will open 120 luxury apartments in the project, plus a rooftop swimming pool.
However, with so many new developments in the pipeline for Bucharest, many investors are looking outside of the city for yields of over ten per cent on property.
"Bucharest has so many entrepreneurs and this makes it a great location, but we are doing a lot of market studies looking for opportunities in other cities with good infrastructure and business traffic," Ashkenazi says.
In Bucharest, Ashkenazi sees smaller profit margins for developers but a growing middle class, which should make the sector attractive for investors. "The profit margins range now between 15 to 40 per cent but the middle class, especially those between 30 to 40 years old, have bigger incomes and bank loans making them work harder for higher living standards," he says.
Full service
The biggest challenge for a hotelier, according to Ashkenazi, is maintaining the balance between family and job – both of which require one to be on 24-hour call.
"Being a hotelier is a way of life, you are spending most of the time at work, you are travelling a lot and you need a good back-up from your family," he says.
As a general manager, Ashkenazi has to run the entire complex, including the aparthotel, planning the Radisson SAS Hotel Bucuresti development, staying in charge of the budget, while also keeping an eye on the Platinum Casino and nearby shops.
"I have a very active day, but I am not alone," says Ashkenazi. "I am surrounded by people, by professional staff, but in the end I have to take the best decision and take all the responsibility."
Details tend to be what makes a hotel successful, especially if they offer a personal touch. Unique services from Centre Ville include supermarket shopping offered by the staff at reasonable rates. There is also a 'mother's recipe' service from the complex's restaurant, Le Bistro, which offers residents the chance to immortalise their mother on a Bucharest menu.
"If you feel homesick and you are in the mood for your mother's dish, you can give the recipe to our chef and he will cook it for you," says Ashkenazi. "If the recipe is good we will include it in the menu and name it after your mother's name. One example is Spaghetti Sally named after the mother of one of our clients from London."
BUSINESS TALK
Israeli-based Elbit Medical Imaging is involved in the research and development of products in the image-guided focused ultrasound treatment field. But in Romania, this does not constitute the bulk of the firm's activities. The firm is involved in the ownership, operation, leasing, management, acquisition, expansion and development of commercial and entertainment shopping malls in central and eastern Europe. In Romania, the group operates through its wholly-owned subsidiary.
In Bucharest the company is developing a one billion Euro Casa Radio project opposite Eroilor Metro, and the 424-room Radisson SAS on Calea Victoriei, due to open this Autumn. Its aparthotels company based in Romania, Centre Ville Hospitality Complex, on Calea Victoriei, will open 120 rooms in the Casa Radio project and also has ambitions to move outside of Romania.
Mihai Alexandrescu