Rallying for Europe
With the EU Constitution still suffering a blow, Belgian Ambassador to Romania Philippe Roland talks up a new treaty to Ana Maria Nitoi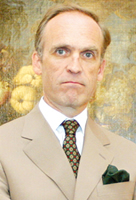 Despite a bruised Constitution and a new fear of further enlargement, the EU has two enthusiastic supporters who have joined at either end of its 50-year history: Belgium and Romania.
"Traditionally, we have been among the most pro-integrationist countries," says Belgian Ambassador to Bucharest, Philippe Roland.
International polls show two thirds of Romanians trust everything a European official says or decides – a rate that scares even the most ardent European Federalist.
Roland says this is not surprising, because it is among the newest member states."I have no doubt that Romania will play its European card to the best of its interests," he adds.
Romania was also one of the 18 countries which drafted the European Constitution. Despite support from most new member states, except the Czech Republic and Poland, this integrationist document was rejected in referendums in France and the Netherlands – and probably would have met the same fate had a vote been called in the UK. For two years this has put a shadow over the bold European project.
But this year's European Council under the German presidency continued to push a modified treaty, a role which pro-EU Portugal has now taken on. "Most of the achievements of the European Convention [the group of experts that drafted the document in 2003] have been saved," argues Roland.
The latest negotiations say the number of the European Commissioners will be reduced to two thirds by 2014. In formulating policy on Justice and Home Affairs, another compromise is to increase the number of areas in which the EU can decide by qualified majority, rather than by unanimity.
But the qualified majority will not come into force until 2009 and there is a risk that nothing will happen until 2014, if Poland continues to consider this a threat to its national interests. At the latest European Council, the Kaczynski twins who rule Poland as President and Prime Minister, revealed their fears when they said that the treaty benefits a 'hegemonic' Germany. The new treaty aims to replace EU's decision making powers from unanimity to a qualified majority of 55 per cent of the 27 member states, representing 62 per cent of EU's 475 million people.
The new Constitutional Treaty will have a Charter of Fundamental Rights, not included in the text as it was initially drafted, but attached to the document on the insistence of Great Britain.
The new treaty will also stipulate the fact that "the Union will follow and replace the Community" which means the EU will have juridical personality and will be able to represent all EU member states in international engagements. At the moment this is not possible.
Another compromise was not to have a Minister of Foreign Affairs in name, but continue to have a high representative, who will assume ministerial responsibilities.
Romania, a country which lacks a dissenting voice in EU politicking, has agreed this time to the bold solution presented by the German Presidency, which tried to keep all the sensitive aspects of the 2003 Constitution. "These negotiations have wiped away the symbolic nature of a European Constitution, but the essence remains and that is what is important," Roland explains.
Romania still lags behind in terms of justice reform and the fight against corruption, says the Ambassador. He says the European Commission has the right to keep putting pressure on Romanian authorities to not only adopt, but also implement the legislation in this regard. The state of Romanian justice will remain for at least another year under EU monitoring.
"Reforming the justice system and fighting against corruption is a part of an efficient market economy," says Roland. "This is why other member states and the Commission have the right, not so much to interfere in internal politics, but to say what we think."
Steady increase
In three years, Roland has seen a "steady increase" in the Belgian economic presence.
Giant Belgian firms such as beer manufacturers InBev and chemical and mixed interest group Solvay are established in the country. Most Belgian investments are small and medium-sized enterprises, of between four and 25 million Euro, in fields such as printing, textiles, services, metallic constructions and concrete structures.
Belgian banks, such as KBC, Dexia and Fortis, have seen success in countries such as the Czech Republic and Poland, but have not shown interest in a universal bank presence in Romania. Instead they are targeting other financial services. KBC financial group has bought leasing, insurance brokers and venture firms, while Fortis has bought out Global Leasing.
Roland says the Belgian banks' strategy is to settle in a country and gradually grow, not to pay a ridiculously high price for a product and be unsure if the investment can be recovered in a decade.
Mega Image: aiming at steady growth through Bucharest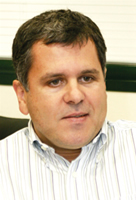 Belgian retail chain Mega Image is planning to open at the rate of five to six shops per year as it fills the gap in the market for urban chain supermarkets – but at the present time is concentrating on the capital.
The company opened a new shop in Giulesti, north-west Bucharest, in July and two more stores in Berceni, south of the capital. This district is not, on the surface, a traditionally high class area for the likes of the international chain.
"Three or four years ago we would have probably said no to a shop in Berceni but things are changing in Bucharest," says John Kyritsis, general manager at Mega Image Romania. "More residential areas are being built and people have more money to spend."
The company will open another one near the town centre, with each shop requiring an investment of around one million Euro.
"After joining the EU it is much easier to bring products inside and cheaper because there are no more customs, so the prices are also reduced," says Kyritsis.
The company focuses mainly on Bucharest because of the people's larger purchasing power. Mega Image has 20 shops in Romania and plans to open five to six shops per year. In 2008 the company will start the construction of a logistics centre on the outskirts of Bucharest.
Mega Image
Supermarket chain
2006 turnover: 75 million Euro
Employees: 1,200
Stores: 20
KBC: no plans to go universal
in Romania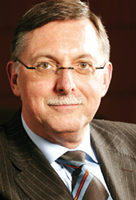 Banking giant with a strong grip in eastern Europe, KBC, does not plan to start greenfield banking operations or open branches in Romania.
Instead, the group focuses on building a strong position in Poland, the Czech Republic, Slovakia, Hungary and Slovenia.
But the finance group has identified the second-wave accession countries as the single most important driver for securing a leading position in its extended home market – central and eastern Europe.
"From its own banking, insurance and leasing experience in these markets, KBC expects these countries to demonstrate above average growth, reinforced by the effects of joining the EU," says KBC Group CEO Andre Bergen.
Romania's size, growth potential and trade relations have convinced KBC that the country could become one of the most important financial markets in the region.
This will increase the demand for more sophisticated products from the corporate sector – and while KBC may not be opening a branch in a local high street, it will be playing a role in where a customer can put their money.
"KBC's ambition is to play a leading role in the various segments of the Romanian financial market," says Bergen.
Part of the KBC Group, KBC Lease earlier this year completed the acquisition of 99.34 per cent of Romstal Leasing, the largest independent leasing company in Romania.
At the same time, KBC Securities has received official approval from the Romanian Securities Commission to acquire full control of Swiss Capital, which has changed its name to KBC Securities Romania.
Swiss Capital is the second biggest shareholder in the Bucharest Stock Exchange, with a stake of 1.8 per cent.
KBC
Financial group
Acquired Romstal Leasing,
INK Insurance Broker and Swiss Capital earlier this year for a total of 70 million Euro
Solvay Chimie: seeing one fifth growth since EU accession
Growth in the car industry and new property developments has meant more opportunities for industrial chemical producers.
In 2007, chemical producer Solvay Chimie looks to an increase of at least 20 per cent on last year's operations, says general manager for Romania, Teodor Stoica.
So far this year the sales between Solvay Chimie and its Romanian partners active in construction materials, detergents, paint and the car industry have shown such a growth.
"We are confident this increase will be at least the same at the end of the year," says Stoica.
In the construction materials field the companies Solvay Chimie works with include producers of roof-top tiles and emulsified paint.
The firm has a history in Romania, having invested in a calcinated soda plant in Ocna Muresului, Alba county, in 1894, which the group owned until World War II.
Subsequently, the group re-entered Romania in 1997 with two of its companies: Solvay Chimie and Solvay Pharma. "Since then the market has changed," says Stoica. "[Between businesses] There is more transparency in communication and in payment history."
The Solvay group has two production units active in Romania: Pipelife, which is a 50-50 joint venture with Austria's Wienerberger, and Inergy, a joint venture with French-based Plastic Omnium, a supplier of complete plastic fuel systems and fuel storage technologies for petrol, diesel and bio-fuels.
Solvay Chimie
Chemicals producer
2006 turnover: 12 million Euro
2007 forecast: 20 per cent increase
Pipelife: huge growth potential for another decade
Huge infrastructure developments and a construction boom are aiding material manufacturers such as Pipelife Romania.
"This market has a huge growth potential, for at least ten more years," says commercial manager Petru Avram.
He says that in western Europe the majority of work is in modernisation, which means a growth of between two and three per cent per year.
"In Romania this growth stands at 20-25 per cent per year, and will remain like this for at least ten years," adds Avram.
The pipe maker took over one production facility in Miercurea Ciuc in 1997, producing polyethylene and polyvinyl chloride (PVC) pipes for gas and water (adduction and sewage). To date it has invested about eight million Euro in the plant.
Up to one third of Romanians in the countryside still lack running water. The EU has a plan for all Romanians to benefit from water supply and sewage services, which means there will be huge structural projects until 2015-2018. Pipelife sees potential in supplying materials to contractors who win auctions.
Pipelife Romania
Pipe producer, venture between Solvay Group and Wienerberger
Plant in Miercurea Ciuc, warehouses in Cluj-Napoca and Bucharest
2006 turnover: 9.5 million Euro
2007 forecast: 12 million Euro
Employees: 80
Reynaers: to expand office network in 2008
Next year aluminium systems provider Reynaers Aluminium is looking to expand in three new locations in Iasi, Cluj-Napoca and Timisoara, where it will open local offices.
The company, which provides aluminium windows and doors, conservatories, curtain walls and sliding systems, plans to operate a logistic centre to improve the local supply of its products.
"Usually the transport time for our projects to come from Belgium takes seven to ten days and a deposit will help reducing this period if we have them on stock," says Daniel Popa, country manager of Reynaers Aluminium. "We don't know yet if we will build this or rent it."
The company is currently working with Porsche dealer Midocar, to develop more showrooms and services in Romania and is also involved in a residential project in Baneasa, two office projects in Bucharest and one office in Craiova.
The firm is also under negotiations to develop systems for a mall in Craiova.
Reynaers Aluminium
Aluminium system provider
Employees: three, ten in 2008
Clients include: Porsche dealer
Midocar, residential, office and retail projects
GDM: production go-ahead in Arges
With a ten million Euro investment, Belgian-based printed circuit boards producer GDM Electronics has started production in a newly-built facility in Baiculesti, Arges county, says general manager Guido Pauwels.
The company has bought 32,000 sqm of land on the site, where it has almost finished a building of 15,000 sqm, including offices and production for electronic assembly and metal parts production from metal sheets.
Set up as a private enterprise back in 1997, the firm now operates two production facilities in Slovakia and Romania respectively in eastern Europe.
"We took the final decision to invest in Romania as it still is a low wage country, with a good Electronics University in Bucharest, a lot of experienced unemployed workers; specially in the region of Curtea de Arges," says Pauwels.
GDM Electronics
Printed circuit boards producer
Operates a production facility in Bailcuelsti, Arges county
Employees: 30, 350 more planned
Warehouses de Pauw: banking on Romania as eastern access port
Real estate investment fund Warehouses de Pauw has purchased five sites at three locations in Bucharest, on the roads to Constanta, Pitesti and Ploiesti, with a total area of almost 950,000 sqm for 16.5 million Euro.
The Romanian subsidiary, WDP Development RO, will construct semi-industrial premises this Autumn, in two of the five sites with an area of 5,000 sqm to 10,000 sqm, to be ready by 2008.
The company believes the investment value for the five sites could grow to 150 million Euro.
"With its geographical location, bordering the Black Sea, Romania is the new logistics access port to Europe," says Tony de Pow, CEO of WDP.
"Studies indicate a demand for 200,000 sqm of new warehouses space per year, certainly for the next five years."
WDP has set up WDP Development RO in a joint venture with the constructor and real estate specialist Jeroen Biermans, who owns a 49 per cent stake in the company.
Warehouses de Pauw
Real estate developer
Purchases: Five sites outside
Bucharest over 950,000 sqm for 16.5 million Euro
Business interviews
by Corina Mica
and Mihai Alexandrescu