Eastern passage
Romania is becoming the ideal choice for South Koreans to invest in the EU, but more incentives are needed for enterprises to make the great leap west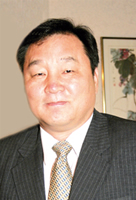 Post-1989, South Korean enterprises turned on to the budding east European EU candidate countries and began investing in Poland, Czech Republic, Slovakia and Hungary.
"This region is already saturated with investment," says Ambassador of South Korea to Bucharest, Choi Ihl-song. "That is why they are looking for alternatives and Romania is emerging as the best alternative to invest in the European area." Korean businesses want to view Romania as a place to set up their manufacturing base to sell their products on the European markets - without paying any customs tax. Samsung's operations in Germany and Kia's in Slovakia are success stories in this regard. Now, on paper, Romania is probably the cheapest member state in the EU to manufacture products.
But one of the major problems is the lack of incentives available to foreign investors from central Government. Early interest in the country was also hit by bad luck. One of the largest foreign investors in Romania in mid-1990s, Daewoo, produced car brands such as Cielo and Matiz at its car plant in Craiova. But when the industrial complex of Daewoo collapsed in 2000 and General Motors bought out the car division, the US giant decided against buying the Romanian factory.
This Summer, GM's big rival, Ford, looks ready to snap up the plant.
South Korean heavy industry is still showing interest in Romania. Major firms include shipbuilders Daewoo Mangalia Heavy Industries and stainless steel products manufacturer for Samsung, Otelinox in Targoviste. South Korean foreign direct investments totalled around 70 million Euro in 2006, mainly due to the purchase by Doosan Heavy Industries of IMGB, a heavy machinery builder in southern Bucharest, which the Koreans aim to transform into a world leader in supplying forgings and castings for hydro power plants, steam turbines and ships.
Also, two other Korean companies producing electronic parts - DongYang E&P and Hanil Electronics - have invested in the last 12 months in Oradea, west Romania.
Personnel crisis
Although the growth of the business environment manages to satisfy Koreans – there is one massive drawback on the market – not enough personnel to recruit.
"Electronics companies such as Samsung and LG say they are offering bigger salaries to maintain job security, but workers are still leaving these companies and it is difficult to hire qualified employees," says the Ambassador.
Another such example is the Daewoo shipyard in Mangalia, which has sent some workers to South Korea for training. But, after returning to Romania, the staff left the company to look for another job or emigrated to other countries like the USA or western European countries, taking their newly-learned skills with them.
"Koreans are used to working in the same factory until they retire but here, if the Romanians are offered better conditions, they just leave very easily," says Ihl-song.
In the last 12 months, only 89 South Korean citizens have received visas for Romania while 550 Romanians made the trip to South Korea. The 500 Romanians currently living in South Korea are mostly working in shipyards, electronics engineering or as entertainers in theme parks.
But the number of South Koreans in Romania is increasing every year. Now there are around 350, 100 more than in 2005. Most are business people, although there are a few protestant missionaries.
To further develop the relationship between the two nations, the Ambassador targets enhanced cultural relations. Both countries have recently enjoyed a renaissance in film-making – with Korea seeing international hits such as Chan-wook Park's 'Oldboy', while Romania makes an annual sweep of awards at Cannes film festival, with movies such as 'The Death of Mr Lazarescu' and '4 months, 3 weeks and 2 days'.
"I would like to introduce the Korean films to Romanians because I believe that Romanians find them very interesting," says the Ambassador. "In return, I intend to bring the Romanian music and dance to South Korea. Romania has a high quality of musical performance."
Total imbalance
Trade favours South Korea by a ratio of 19 to one. In 2006, the imports to South Korea were about 552 million Euro and exports stood at 29 million Euro. For 2007 this trend is set to continue.
The main product ranges bought and sold between the two industry-heavy nations include machines, electric equipment and metal parts. These are the sectors that Korean businessmen continue to show interest in, according to South Korean economic attache, Hong Kee-won, especially small and medium-sized enterprises from the Far East. Some Korean banks also want to enter but, according to Kee-won, cannot find an appropriate bank to buy.
Problems South Korean investors encounter in Romania include the absence of a governmental strategy focused on attracting foreign investments. "It takes too long to travel around the country to prospect the market and 'time is money'," says the economic attache.
Hong Kee-won calls on the Government to offer certain incentives to companies wanting to put their money in Romania.
"The central government, just like the local governments, are very eager to attract investments," he says, "but they have not provided any real proposals."
Ana Maria Nitoi
Daewoo Mangalia outstrips targets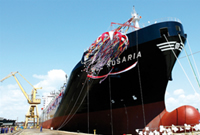 Daewoo Mangalia Heavy Industries (DMHI) now has a half a billion dollars of orders annually, outstripping its sales targets.
In ten years of activity in Romania DMHI has delivered about 120 projects of new builds, from pontoons to floating docks and barges to container carriers.
"Capitalising on all these, our plan at the end of 2004 was for a turnover of half a billion dollars [by 2009] and become one of the best shipyards in Europe," says president and CEO Jae Bong Lee. "With the current situation, we may do that two years earlier than planned."
The president adds that at the end of last April, the shipyard – a joint venture between Daewoo Shipbuilding & Marine Engineering (DSME) in Korea and 2 Mai Mangalia Shipyard in Romania – had a total order portfolio of over one billion USD.
After the initial investment of 53 million USD from DSME in corporate funds for DMHI in 1997, the company had subsequently poured in 76.7 million USD more until the end of last year and in 2007 plans to invest 13.4 million Euro more.
In January 2007 DMHI signed a contract to deliver five container carriers of 4,710 TEU with the port of Hamburg Sud for the end of August 2007 until the half of July 2010.
Daewoo Mangalia Heavy Industries Shipyard
■ Joint venture between Daewoo Shipbuilding & Marine Engineering (DSME) in Korea and 2 Mai Mangalia Shipyard in Romania, established in 1997
■ 2006 total incomes: around 181.5 million Euro
■ 2007 forecast: around 366 million Euro
■ Employees: 5,860
LG: End to trade barriers sees 60 per cent sales hike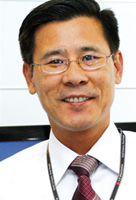 Owing to EU accession, the removal of custom duties on products from South Korea to Romania has seen a slashing in the prices of many LG goods and an increase in sales.
Since 1 January 2007, the electronic goods market has seen an average increase of 20 per cent in 2007, according to Han Khyu, general manager of LG Electronics in Romania.
"The unit price of electronic goods has been reduced by around 30 to 40 per cent depending on the product," he adds.
The company had a 60 per cent increase in sales in the first half of 2007 compared to last year.
Best selling products from LG in Romania are air conditioners and LCD screens and the recent launch of the Shine mobile phone.
Targeting customers from the higher sector, Khyu is upbeat about the future opportunities for sales.
"After joining the EU, the average income level of the people has increased and the middle and the high income class has expanded," he says.
LG Electronics
■ 2006 turnover: 75 million Euro
■ 2007 forecast: 100 to 120 million Euro
■ Employees: 45
Kia: hatchbacks capture local market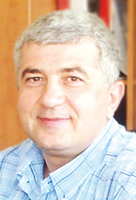 Hatchbacks for under 10,000 Euro with all the accessories a small car can handle, has allowed Kia to stamp its brand on the Romanian market.
The recently launched KIA C'eed, in the hatchback category, has registered a huge success on the Romanian market and now represents 60 per cent of dealership Kia Romauto's annual sales.
"Our plan was to sell 400 units in Romania, but we had to renegotiate with the Kia factory in Zilina, Slovakia, for 2,200 units," says Dan Chitaru, general manager at Kia Romauto. "In June we had orders for 327 units and in July we had another 330, so I think we could exceed our target."
Kia Romauto managed to negotiate a base price for under 10,000 Euro for the C'eed, which has six airbags and air conditioning, ABS, iPod coupling, electric windows, side mirrors and multifunctional steering wheel with audio controls.
"After it was launched, we received over 2,000 e-mails from Romanians in Germany, Spain, Austria and Italy saying the prices there are 20-25 per cent higher and some of them actually forwarded us orders for the car," says Chitaru. By the end of the year the C'eed will be available as an estate and, starting with August, it will receive more powerful diesel and petrol engines.
In 2008 the convertible version will also enter the market.
Compared to 2006, Chitaru argues that the car market is more dynamic.
"Romanian consumers are very responsive to media stimulus in a rather short period of time," he says. "When the advertising campaigns stop, customer interest also drops by more then 50 per cent."
Kia Romania has 22 sales points in all the major cities of Romania and targets another six openings by the end of 2008. Currently, the company is working to implement a standard for each dealer that in a time frame of one and half years will become dealerships with shop and service.
KIA Romauto
■ 2007 sold units target: 3,500
■ Dealers in Romania: 22
■ 2006 turnover: 34 million Euro
■ 2007 forecast: over 50 million Euro
■ Employees: 120
Hyundai: market leader
in the utility market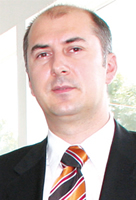 Still the leader in the Romanian SUV market with over 2,000 units sold in the first half of this year, Hyundai Romania intends to increase its sales due to a new customs tax policy removing barriers against non-EU cars.
Since 1 January 2007 customs taxes for motors imported from the Far East dropped to ten per cent from 30 per cent.
"On the SUV market we target 5,000 sold units by the end of the year but, if we stop the sales now, I am sure no one could take the leadership from us in this segment," says Narcis Ghita, general manager of Hyundai Auto.
Last year the total market of SUVs sold in Romania was 10,000.
In Romania the best selling Hyundai car is the Accent sedan, followed by the Santa Fe SUV.
Starting October, Hyundai will introduce a new model designed for Europe, the i30 hatchback, that will compete with the VW Golf and Ford Focus. Next year it will bring the small size Athos priced at around 8,000 Euro.
Hyundai Auto also intends to encourage more of its customers to pay up front.
"Last year 99 per cent of our customers chose leasing, but now we are trying to spread the sales 50-50 [cash and leasing]," says Ghita.
A punitive tax on Romanians registering foreign second hand cars in Romania, introduced in 2007, has had a positive effect on local new car dealers, especially those selling low cost brands at around 10,000 Euro. "This is because a new car from Hyundai like the Accent will rival with the ones dominating the second hand market, such as the VW Passat or the the Ford Mondeo," says Ghita.
Hyundai Romania
■ 2007 sold units target: 12 to 13,000
■ 2007 forecast turnover: 185 to 200 million Euro
■ Dealer network: 33 dealers, 57 showrooms, 23 services (targets 30 by the end of 2007)
Otelinox: sales up by 85 per cent
Last year, manufacturer of stainless steel products based in Targoviste Otelinox, achieved the best results since 1990 with a turnover of over 70 million Euro in 2006, an increase of 85 per cent on 2005. For 2007 the company targets over 73 million Euro in sales.
Owned by Samsung, Otelinox operates a production capacity for stainless steel strips and sheets of 60,000 tonnes per year and a capacity for smaller profile and wire rod of 100,000 tonnes per year.
After completing last year's 2.7 million investment in the plant, the company now manufactures steel-welded pipes in a brand new workshop that produces around 3,000 tonnes per year.
Otelinox claims to be the only producer of stainless steel products in the former Communist countries in Europe and 95 per cent of the annual production is exported.
The main targets are Europe, but also Asia and North America.
The small profile, wire-rod, welded mesh and stainless steel pipes are distributed only on the domestic market.
"Our company strategy for 2007 is focused on the continuous improvement of our products' quality," says Adrian Glavan, general manager of Otelinox.
Samsung Otelinox
■ Stainless steel products manufacturer
■ 2006 turnover: over 70 million Euro
■ 2007 forecast : 73 million Euro
■ Employees: 837
Business interviews by
Mihai Alexandrescu
and Corina Mica