Food for thought
Zen-inspired fusion cooking stirs up the capital, finds Michael Bird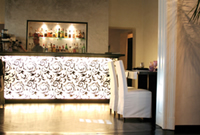 It is hard to find an international restaurant that does not offer an inedible copy of foreign cuisine in Bucharest. Local versions of Chinese, Indonesian and Thai restaurants have all failed to capture the essence of their original tastes, with their dishes offering a crude mix of Asian and Romanian elements that violate the national culture to such a degree that it borders on race hatred.
But six months after opening, Asian and French restaurant Mju has wowed Bucharest with its eastern and Gallic mix of cuisine, which adds trendy and lean details to international dishes, such as Dim Sum, Sushi and Tom ka Ghai, for a price range of nine to 30 Euro.
The name Mju, pronounced muh-jew, means 'something positive' in Zen practices, according to the manager and owner Andreea Szekely. She has channelled a decade of expertise in the local restaurant industry into an enterprise that could sit comfortably in Paris or Soho, with fresh meat and fish imported from Spain, Greece and Italy. Describing Bucharest's restaurant industry as "virgin territory", she wants to continue revamping her menu with a selection of Vietnamese and Singapore dishes, as well as opening new eateries.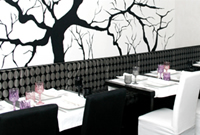 Bankers, CEOs, VIPs and staff from nearby embassies have started to frequent Mju, which is building up a steady lunchtime trade for its tasty and light cuisine. Located in a 1940s villa, the restaurant is heavy on the minimalism - greys, black and whites dominate - with a few baroque flourishes, such as Italian mosaics in the toilet and chandeliers in plastic tubes from ubercool Dutch designers Moooi.
In-house entertainment is supplied by the dessert menu. Honey, almond, raisins and banana are stirred in a wok and then served up with a cinnamon mouse and drizzle of brandy, which is set alight when brought to the table. It is the perfect birthday treat for a bicycle-riding Buddhist ad executive. Mju, 29 Vasile Lascar