Property of the month
Poet's home looks for modern inspiration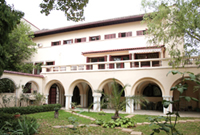 PIATA LAHOVARI Built for the poet Octavian Goga, this former ambassadorial residence on a quiet cul-de-sac in the city centre is available to buy from real estate firm DTZ Echinox for between 6.5 and seven million Euro.
Previously home to bosses of the Romanian Delegation to the European Commission, Jonathan Scheele and Donato Chiarini, the classical house was built between 1936 and 1938. Goga's wife Veturia commissioned the three-storey villa to inter-war architect Horia Creanga, a nephew of Moldavian storyteller Ion Creanga. Following the death of her husband in 1948, Veturia lost the house to the Communist regime. In 2004, the 1,200 sqm home was restituted to a nephew of Goga.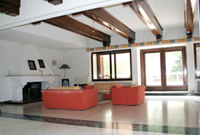 The building has more than 25 rooms, three floors, a basement and a high-timbered attic suitable to transform into a bar. Most impressive is the cloistered exterior with marble Romanesque columns and suspended iron lamps opening to a 54 sqm garden. Stained glass windows, pink marble floors, iron handles and frames and walnut doors have been preserved in perfect shape for 70 years.
Downstairs is the servants' quarters, with smaller rooms, cracked windows and a shabby wooden floor that needs refurbishing. This area also has a secret spiral staircase between all five levels.
The living room on the first floor opens to a large balcony. Here there are two bedrooms, a large dressing, dining room and office. The second floor includes a large kitchen, bedroom and breakfast room. The house is equipped with air conditioning, gas heating,
video surveillance and burglar alarms and there is a garage and four outside parking spaces. The villa is suitable for a residence, office or guest house.
Inside facts
• Price: 6.5 - 7 million Euro
• Built: 1938
• Built area: 1,200 sqm
• Floors: basement, ground floor, two floors, attic.
For more information call
George Ivan at DTZ Echinox on 0751 229 922
---
Warm beer on tap in 150 million Euro English fantasy village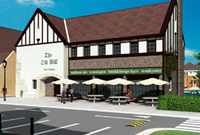 CLINCENI, ILFOV Bucharest's suburbs will witness a 150 million Euro facsimile of an English village including a mock Tudor pub called 'The Old Mill' with real ale, pub lunches, a wooden fireplace and functioning water-mill.
UK-backed Helios Development's project aims to recreate a fantasy of British village lifestyle in a gated community south-west of the Romanian capital. No current English village exists on the site, so the developers will build from scratch 710 living units over 24 hectares by 2012.
Services will include a library, restaurant, house-sitting and someone employed to walk resident's dogs, while prices for properties start at around 118,000 Euro minus VAT.
While English bitter will be on sale in the pub, the project managers say they will use British materials, details and finishings as much as possible in the construction and design. The first phase, including ten detached villas, 30 semi-detached and 70 apartments will be finished in February 2009.
---
Revival for classic Fin de Siecle park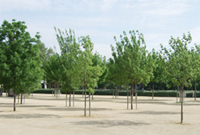 STR ARTHUR VERONA Dating back to the 19th Century, central park Gradina Icoanei is due for a face-lift to recreate the spirit of the Belle Epoque.
On the junction of Strada Jean Louis Calderon and Strada Arthur Verona, landscape gardeners and engineers are redecorating the 11,350 sqm area, where pathways and lawns have collapsed after 15 years of degradation. "We will build a water complex using a fountain, stream and pond. A stream, Bucurestioara, used to once spring from Balta Icoanei (Icoanei Pond)," says French landscape engineer Nicolas Tribois, who is working on the project.
The new public space will highlight the geometry of the original design and trees such as the Ginkgo and shrubs Japanese Yellow Rose and Forsythia will make an appearance. Added to this is a rare sight in the city– large numbers of streetlamps! Turned on during the night!
---
Property: Bucharest
MILITARI Seven Hills, the Romanian subsidiary of Beny Steinmetz Group (BSG), famed for its diamond business, aims to pour a total of one billion Euro in residential, office and commercial projects by 2009. Based in Militari, Bucharest, the 120 million Euro West Park Residential is the Swiss-owned company's first project in Romania. This includes 1,400 apartments streching over 130,000 sqm. Construction works started in 2006 and the 200 apartments in the first phase will be delivered by August 2008.
STRADA POPASULUI Romanian real estate developer Alf has started the construction on a 152-apartment complex in Pipera, on Strada Popasului. The 11.5 million Euro Pipera City Lights project includes four blocks of flats to be delivered between December 2008 and December 2009. Prices range between 60,340 Euro for a studio apartment and 220,490 Euro for a four-room apartment, minus VAT.
PARCUL CISMIGIU Israeli real estate developer Perlea Residence has started the construction work on a 15 million Euro block of flats, Lotus, in the centre of Bucharest near Cismigiu Park. The building will comprise 22 luxury apartments over seven floors, with areas between 86 and 200 sqm and will be delivered in December 2008. Prices range between 2,100 and 3,000 Euro per sqm, said Mihaela Alexandroiu, representative of real estate agency Real Bastion.
TINERETULUI Israeli-based New York Trust and commercial contractor Bonei Binian are developing an 18.7 million Euro residential complex in Tineretului, south Bucharest. 'Oxygen Homes and Gardens' includes three blocks of flats with 82 apartments stretching over 14,000 sqm built area. Prices start from 1,550 Euro per sqm. Construction works are due to finish in 2010.
BLVD CAMIL RESSU An eight million Euro residential will be delivered in August 2008 on Blvd Camil Ressu, funded by a private source. Blue Residence includes 56 apartments at prices starting from 1,280 Euro per sqm. With a total built area of 6,500 sqm, construction works will start this month.
Property: Romania
CONSTANTA Norwegian developer Westhouse Group is planning to invest over 1.5 billion Euro on the local market by 2014, by starting with ambitious projects for the Romanian seaside. Owned by the Oslo-listed RomReal, the company already owns 900,000 square metres of land in Romania and is investing 50 million Euro in three residential projects in Constanta county. Oasis Residence includes 414 apartments targeting middle class customers. Central Apartments with 89 flats is located near a shopping centre under construction, while Corallia Residence contains 34 apartments in Mamaia. Westhouse Group is also preparing 16 projects for projects that include Bucharest with a target to produce 4,500 living units by 2012.
NATIONWIDE Italian Cefin Holding and British fund Teesland have set up a joint venture, Champ, to develop logistic parks between six to ten hectares in Ploiesti, Prahova county, Brasov, Suceava and Targu Mures. The investment in each park stands at 15 million Euro and constructions will start next year.
CLUJ-NAPOCA CITY HALL Romanian developer Nisco Invest is investing 30 million Euro in a mixed use complex near Piata Lucian Blaga, Cluj-Napoca for delivery in 2009. The Akademia Centre has a built area of 41,000 sqm and will include retail, services, offices, restaurants and gamezone, according to Dan Nistor, general manager, Nisco Invest.
SINAIA
Romanian-based real estate developer Alfarom and Sinaia City Hall are developing a six million Euro residential neighbourhood in Sinaia. The 52 vacation apartments complex, called 'Colina Florilor' stretches over 4,200 sqm and targets middle class customers. One seven-storey apartment block has been delivered in January 2007 and two more due for delivery this Autumn. Areas range between 42 sqm for one room apartments and 87 sqm for three room apartments. Purchase price stands at 800 Euro per sqm. Alfarom is part of Alfa Group.