Counting the cost of the boom
One-bedroom flats the prices of German villas, rents to rival central London: who will pay for the high price of Bucharest property? Michael Bird asks Radu Lucianu, partner at real estate consultancy Eurisko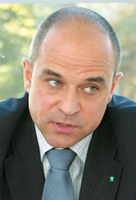 Speculators on the Bucharest real estate market have been spoilt in the last three years.
"Up till now it was a promised land," says partner at Eurisko, Radu Lucianu. "Everyone who started a project sold it before it was finished."
The Romanian market is still accelerating and has not driven into the pits yet. Lucianu, a former engineer and partner at the largest domestic real estate firm, Eurisko, still sees demand in retail, office and residential and huge opportunities in logistics centres.
But in two years' time Lucianu says some prices may fall.
"We have not seen any prices dropping in the last couple of years because there was an over-demand," he says. "Demand comes from new people coming to Bucharest to work and from investors who have no other possibility to save money but in real estate. With the stock exchange, they don't know what to do. With enterprises, they don't know what to start. But an apartment is an apartment. It will always be there."
Prices have boomed because some foreigners and Romanians are happy to pay top dollar. For example, for one million Euro you can now buy a flat in Parcul Herestrau in Bucharest's north.
Who is Radu Lucianu?
Following his graduation in metalwork from the Polytechnic Institute of Bucharest in 1993, Lucianu designed metal parts and products for Romanian manufacturing company Romprim. The firm gave him a gap in a big machine he needed to fill and told him to come up with the design for a part to fit the function. "We had to imagine and create something from nothing," says Lucianu. Despite the creative element of engineering, Lucianu wasn't satisfied. He was not using his computer or language skills. "I was feeling that I was losing myself," he says, "and always it's about the money." A stranger to the potential of real estate when he joined Eurisko in 1999, the 39 year-old is now a shareholder in a self-generated multi-million Euro company.
"If you try to say to a German, would you like to buy an apartment in Herestrau? He would reply: 'Are you nuts? For the same amount I could buy a villa in the outskirts of Frankfurt'," says Lucianu. "We have lost the sense of how much something should cost."
The time of easy money will end, predicts Lucianu. "Such a price is not sustainable," he says. "One million Euro for a flat in Herestrau is too much."
Many prices are based on the buyers' anticipation to rent the properties at high rates. At the present time rental costs for a basic studio flat in a less than attractive area of the capital can rival Paris or London. "These prices have been calculated for rental," says Lucianu. "If I can rent it out for 5,000 Euro per month, this means in ten years' time I can get my money back and then the apartment is mine."
But Lucianu believes the future will see a surge in properties to rent. This will lead to a drop in price, forcing speculators to sell, but not at the amounts they first envisaged. "Many of these apartments will be back on the market at the same price as they were bought," he says. "The [owners] will want to get rid of them because they are not earning money."
This will lead to some bankruptcies among developers and investors. "We will see a lot of [building] projects stuck on the first or second floor," says Lucianu, "because they cannot find the buyer or the tenant to continue the works. But not now - in three or four years we will see people shooting themselves or jumping from the 15th floor."
Although prices for Communist flats have been booming over the last three years – in some cases from 20,000 to 100,000 Euro, Lucianu is not upbeat about the long-term prospects for such an investment, depending on location and building quality.
"Communist flat prices will drop, once there is an oversupply [of residential properties]," he says. "This will also happen for new constructions that are not well-built. A lousy construction will sell at a lousy price."
Profit drop
Lucianu has no patience for a recent complaint among Bucharest's property developers - that they are seeing falling profits. "They are hypocrites," he says. "Back in 2000 we were saying - come to Romania! We were not that advanced from the political and economic point of view and they were saying later, later." The Israeli investors were among the first to take the risk on large scale development in the capital. Some of the more enterprising saw profits of 500 per cent. "Clever guys," says Lucianu. "Sometimes they are just cleverer than others. Now if some investors are saying that profits are decreasing, they are hypocrites, because a profit of 20 or 50 per cent is good. Investors in west Europe are happy with 15 per cent, not like 50 or 100 per cent [that people have got used to] here."
Some developers have complained that average profits are falling below ten per cent – But Lucianu believes this is not the case. "Maybe in ten years from now," he says.
Tall stories
One reason Romania is faced with high prices is because the country has been playing catch-up with the EU's east European wing. Costs have been undervalued for so long that in the last three years they have sky-rocketed and are now acting under their own momentum.
Another reason for the high price of land in Bucharest is the flexibility of the City Hall's urban plan of Bucharest, argues Lucianu. The City Hall has a General Urban Plan (PUG) determining what can be built and to what height and dimensions. The PUG specifies that a building on a site can be, for example, only 15 metres in height using up 35 per cent of the space. On the same site investors who want to develop the land organise for themselves an Urban Zoning Plan (PUZ), which could show, for example, a building with a height of 40 metres, using up 70 per cent of the space. The land becomes more valuable because more of the space above is usable. But the urban plan of the city is torn up.
"The City Hall allows these changes. It attracts investors who want to develop the area," says Lucianu. "Sometimes an area becomes overloaded and overheated because it's space enough to build only five floors, not 13. But because there are greedy investors and developers they push, push and push. The PUG is only a guideline. It is like you are allowed to come to the office with a tie or without a tie, with jeans or without jeans." For an ideal investment location, Lucianu believes one cannot go wrong with the city centre. "The north will always be developed because it is the access to the rest of the country," he says. "I believe in locations in the city, even if it's more expensive."
Asked where is now the best place to invest in after Bucharest and Lucianu throws his hands up in the air. "The whole country! Big cities, small cities, cities with 30,000 people are interesting cities to invest in. But the old villages full of turkeys and chickens walking on the street will be forgotten."
What is Eurisko?
In Greek, Evrisko means 'I find' or 'I discover' with the 'v' replaced with a 'u' to aid the non-Hellenic in their pronunciation. In 1997, the start-up found apartments for ex-pats working for Ericsson and mobile phone brand Connex. With 121 people, Eurisko is the largest Romanian real estate firm and the second biggest after Colliers Romania. Last year its turnover was 5.7 million Euro and partner Radu Lucianu says this year the figure may eclipse 12 million Euro. Such promising growth has not gone unnoticed. "We have been hunted by international funds, banks and investment companies to join an international team or as a franchise," says Lucianu. "Right now we haven't taken a decision yet, but who knows?"