Looking for a vision
"On 1 January 2007 we joined the EU, but what are our objectives for the next seven years? This is what our colleagues in Brussels are asking," Minister of Development, Public Works and Housing, Laszlo Borbely, tells Ana Maria Nitoi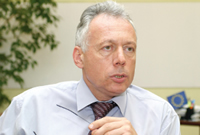 Romania is supposed to be absorbing European funds to become a strong country with a political system that nurtures a successful market economy and a fair society.
But critics argue that, in ten months of membership, Romania has failed to take advantage of its new status. Evidence of this is that the country, possibly the one with the greatest needs of any EU member state, has become a net contributor to the European budget, due to its inability to absorb sufficient EU funds.
But Minister of Development, Public Works and Housing Laszlo Borbely says more cash is coming over the border than leaving. "Whoever says that Romania has not absorbed any funds and that we are in big trouble does not know the truth," he tells The Diplomat.
Romania, he argues, has received almost 1.9 billion Euro in 2007. The majority of this is from pre-accession funds, still overseen by the European Commission. During the same period, Romania's contribution to the European budget was 1.1 billion Euro. This is a balance of 800,000 Euro.
But the Minister adds that it is not enough to have a framework for action, the country needs a vision for its aims and to know the steps to achieve them. "In the morning of 1 January 2007 we joined the EU, but what did we want to do that afternoon and what are our objectives for the next seven years? This is what our colleagues in Brussels are asking," Borbely says.
For the Minister, bureaucracy inherited from Communism is a major obstacle to speeding up the country's development. Public officials lack the initiative to solve problems or the flexibility to create an efficient working environment. "This mentality needs to change," says Borbely.
"The decision-maker, such as myself, is often swamped in bureaucracy and the greatest challenge is to defeat the bureaucracy between the decision and the implementation. I tell my colleagues that they have to comply with the style I impose and not wait for months to implement one of my decisions."
Romanian business and local and central public authorities can receive European money for projects through Borbely's Ministry. An area like Bucharest's historic centre can be revived with projects worth up to 95 million Euro to rebuild sewerage, streets, green areas and buildings. The Ministry can also give money to help social and health infrastructure.
For example SMURD, a Targu Mures-based accident and emergency team, has received 100 million Euro to extend its activity nationwide.
County and village roads, bridges and waste dumps can also be constructed or revived with European cash from the Ministry of Public Works. Even a hotel which wants to build a swimming pool or fitness centre can dip into the Ministry's pockets.
Public authorities which have a solid history of using European funds have been first to exploit the new EU cash. "But the rich counties and regions, such as Timis, have become richer, while the poorer counties, such as Vaslui, have accessed even fewer funds," says Borbely. "This is why the Government wants to bring some balance and help the poor regions to start the great battle for EU funding."
The Minister also oversees building council houses for the young and low income earners through the National Housing Agency (ANL). But the demand here is huge. Some estimate that Romania falls short of supplying around 500,000 homes for people. For state-funded public housing, there are now around 173,000 requests. But only 30,000 apartments were built in the last 18 years. Now, around 3,500 housing units are constructed annually. While local authorities provide land and utilities, the Ministry pays for the expenditure.
Young people under 36 years-old, who cannot afford to buy or rent, can become a tenant for a low price through ANL and, after five years, they can buy the apartment. This could be a cash generator for further housing. "If only 1,500 young people that have started paying the rent in 2001 decide to buy the apartment, we already have 40 million Euro - money which we can reinvest into building more houses," Borbely says.
The Government is also paying people to build their own lodgings. For Romanians who take out a loan to construct their own home can receive 20 per cent of the house's value, up to 10,000 Euro, from Borbely's Ministry.