SHOOTING THE PAST
Sky-high views of Romania and the Middle East offer a new perspective on history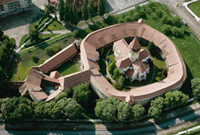 How humans carve up, dig up and rearrange nature, the bizarre plans for their villages and towns and the extraordinary constructions they build to defend their small patches of territory are seen through the lens of Georg Gerster's aerial photography, on display at the Romanian National Museum of History.
Now almost 80 years of age, Swiss aerial photographer Georg Gerster continues to dangle outside a helicopter and snap the interface between humanity and nature. His pictures of Romania date mostly from the early 1990s and focus on town centres and fortified monasteries. Here one can see themes repeated throughout Romanian architecture – such as the sparse imperialism of a 1970s replica of a triumphal Trajan dome in Adamclisi reflected in the bare classicism of the People's Palace and its ersatz fountains.
As a transit country, Romania has seen most of its historical remains flattened by invading armies marching through the Carpathians and stopping only to sack a village or burn down a fort. This has left outlines of historical buildings with few structures intact. So, the air is the best way to approach the wide Greek remains at Histria, Dacian and Roman settlements at Sarmizegetusa Regia and Ulpia Traiana or the star-shaped battlements of Alba Iulia and Arad.
Gerster focuses on the effect that man-made sacred sites have on the landscape and the dialogue between nature and construction over time. On show in Bucharest are also some dazzling shots of Iran, Iraq, Syria and Ethiopia. In these countries, where civilisation began, Gerster's pictures show how wars continue to crush many relics of the past while, in the Middle East, the desert lays constant siege to keeping history alive.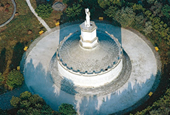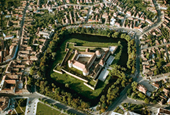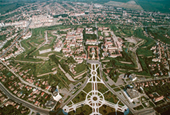 George Gerster
'Zbor in trecut'
Flight into the Past
Romanian National Museum of History (MNIR)
12 Calea Victoriei
Until 18 November