Ford deal hangs in balance due to European investigation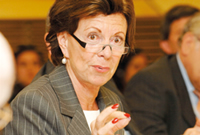 European Commission (EC) is investigating whether the Government granted state aid when allowing Ford to buy the car plant at Automobile Craiova, in Dolj county.
Romania's conditions for the sale included a minimum production level of 200,000 cars by 2011, the continuation of the plant's current activity, making car parts, for four years and the maintenance of all former employees of the former Daewoo factory.
The EC has to verify whether, due to these conditions, Ford received a lower sales price than if the privatisation had been unconditional.
This means the privatisation could involve elements of state aid.
Romania may also have changed the terms of the privatisation at a later stage of the process that could involve elements of state aid.
"In this particular case, I have concerns that the state aid rules might have been breached," says EU Competition Commissioner Neelie Kroes.
Analysts have also found it bizarre that the Government failed to inform the European Commission prior to the deal in order to clear any potential breach of state aid regulations.
The Commission has also required Romania to suspend the granting of any unlawful aid until it takes a decision.
---
Nuclear reactors win six suitors
Romania's nuclear power company Nuclearelectrica has received six binding offers for the planned simultaneous construction of reactors Units III and IV of the nuclear power plant at Cernavoda, Constanta county.
Once built these two reactors could transform Romania's dependence on nuclear energy to over 40 per cent.
Of the 37 companies which have expressed interest, Belgium-based Electrabel, Enel of Italy, Iberdola of Spain, CEZ of the Czech Republic, Arcelor Mittal and German-based RWE submitted offers.
Unit II of Romania's only nuclear power plant at Cernavoda, Constanta county, started commercial operation last month after Nuclearelectrica, the power plant's operator, took over the management of the reactor from a group of Italian, Canadian and Romanian experts responsible for the unit's construction.
Romania's second reactor was built by a joint venture of Atomic Energy of Canada and Italy's Ansaldo – neither of whom have submitted binding offers for units III and IV. The power plant's second reactor, which has a capacity of 700 MW, was connected to the national grid in early August. The reactor boosted Nuclearelecrica's electricity production to 18 per cent of Romania's total.
---
Mega-hotel to open over 1,400 rooms by Spring 2008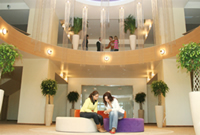 With a scope not witnessed in Europe outside Moscow, the Rin Grand Hotel will open all its 1,420 rooms to customers next March.
Last month the four-star hotel made 620 rooms and 26 apartments available to guests and in Spring 2008 will showcase the remaining 800, making the complex the largest hotel in Romania and among the biggest in Europe.
Owned by Pro Hotels, part of Romanian Pro Confort Group, the 60 million Euro Rin Grand Hotel is located on Soseaua Vitan-Barzesti, in southeastern Bucharest.
The residence, with prices between 99 and 125 Euro for a room, is running at an 80 per cent occupancy rate from Romanian and foreign tourists, according to a hotel spokesperson.
The hotel's Mediterranean restaurant, La Boema, is now serving, while a Chinese restaurant is due to open at the end of the year. This month the hotel will launch a 600-seater international restaurant.
The Rin Grand Hotel also includes 36 conference rooms, fitness centre, swimming pool, casino and shopping centre. Pro Hotels also owns three star hotels Hotel Confort, near Henri Coanda Airport in Otopeni and Confort Traian Hotel on Strada Traian.
---
Carrefour to storm into supermarket sector
Carrefour has upped its stake in the supermarket sector with the acquisition of retail chain Artima, in a transaction worth 55 million Euro. Artima owns 21 supermarkets in the west of Romania with a total sales area of 21,000 sqm. The Artima Retail Investment company was set up in 2001 by Romanian businessman Florentin Banu and was acquired in 2005 by private equity investor Polish Enterprise Fund V. This will be a new format store for Carrefour, which already has one supermarket-size unit located behind Piata Unirii in Bucharest. Carrefour will also open a new 20 million Euro hypermarket in Berceni due for 2009. This will include a shopping centre stretching over 67,000 sqm, of which Carrefour will cover 12,500 sqm. Carrefour Berceni will be located at the junction of Strada Turnu Magurele and Blvd Metalurgiei.
---
Credit risk firm downgrades
Romania rating
After upgrading Romania's rating to A4 for the first time ever at the beginning of 2006, credit risk management company Coface has placed the country under a negative outlook, by diminishing its rating to A4 minus.
The company slashed the rating because of the increased vulnerability to a possible crisis of trust in the national currency and a rise in foreign currency debts in the private sector, which can lead to a deterioration of companies' payment habits.
"The negative outlook of the A4 rating for Romania reflects Coface's concern about Romanian companies' difficulties in respecting their payment obligations," said Coface Romania managing director Cristian Ionescu.
Romania is strongly influenced by the financial crisis now seen in the USA, added Ionescu. The local currency, the RON, is also considered to be one of the weakest currencies in developing countries. Meanwhile Romania's current account deficit is estimated to stand at a high figure of 14 per cent of GDP for 2007.
---
Short News
Enel teams up for two billion Euro Galati thermal power station
A consortium comprising Enel, Global International 2000 and Romelectro will build a 2,000 MW thermal power station in Galati in a total two billion Euro investment, said Global International 2000 president Boris Golovin, quoted by Business Standard. Enel holds 85 per cent of a special company set up by the three firms, Global International 2000 will own ten per cent and Romelectro the remaining five per cent. Golovin added the plant will use imported coal and construction will last between three and five years.
Lukoil takes on power market
Russian-based oil and gas group Lukoil entered the local electric power market by launching a 25 MW production unit at its Petroltel refinery in Ploiesti in an investment of 16.8 million Euro. The Russian company also opened a command centre, which aims to improve the crude processing management system in an investment of 2.1 million Euro.
Romania's jobless higher than 2006
Romania's unemployment rate was steady at 6.5 per cent in the second quarter of this year, according to the National Statistics Institute. This rate is 0.5 per cent lower than the previous quarter, but 2.4 per cent higher than in the same period in 2006, officials said. Meanwhile the employed workforce stood at 6.2 million people with an unemployment figure of 660,000.
Russians buy up welding plant
Russian mining and metals company Mechel has bought the majority share package in welding firm Ductil Buzau in a 90 million Euro deal. Former owners, Air Liquide France's FRO SpA, gave up the entire 71.85 per cent share package, while Broadhurst Investment, which had a 10.88 per cent equity interest, and other shareholders, sold their shares, according to Business Standard.
Dynamic local insurer snapped up
French insurers Groupama has paid 90 million Euro for 90 per cent of local counterpart BT Asigurari from Banca Transilvania. The transaction is expected to be completed by the end of the year. The deal included the signature of an exclusive bancassurance agreement for non-life products with Banca Transilvania, the fifth largest bank in Romania.
Football club boss sells gas business
Businessman Cristi Borcea, executive director of Dinamo Bucharest football club, has reached an agreement with Dutch-based SHV group to sell his Liquid Petroleum Gas (LPG) business, the Crimbo Gas group, in a deal worth 40 to 50 million Euro, according to Ziarul Financiar. The deal is due for closure by the end of this year. SHV Gas is part of the Dutch-based SHV Group, which is involved in renewable energy and the exploration and production of petroleum and gas. This is the second-largest deal on the 320 million-Euro domestic LPG market, after Shell sold its LPG business to Petrom this year. The Competition Council is looking into the Petrom-Shell deal and will give an answer by the end of the year.
Spanish bank sets up shop
Spain's third largest bank and reportedly the largest savings bank in Europe, La Caixa, opened its first local subsidiary in Bucharest. Officials said the main aim is to offer support for clients operating abroad or for clients with commercial interests in the region.
Re/Max targets 200 branches
Real estate agents Re/Max want to open 200 branches by 2017 in Romania, according to chairman of Re/Max Europe Frank Polzler. The company plans to open four more offices in Romania by the end of 2007, including two in Bucharest, one in Botosani and one in Targoviste, Dambovita county. Re/Max has 16 offices across the country.
Luxury Carol Parc Hotel for sale
Plush residence for visiting VIPs Carol Parc Hotel is up for sale for 15 million Euro. The detached construction has undergone a radical revamp which includes a 15-metre Murano crystal chandelier. The fully furnished hotel, built in the early 20th century by the architect Suter, a friend of King Carol I, is being sold through West Invest Immobilien. It spreads over 1,200 sqm of land, with 18 rooms, the restaurant 'Poem', a small concert hall and bijou bar.
Arcelor Mittal ups Galati investment
World leading steel producer Arcelor Mittal announced it will invest over 140 million Euro in its Galati steel mill in the next three years, to increase thick plate production. The firm, owned by the Indian-born but London-based Mittal brothers, will invest over 70 million Euro next year alone. Thick plate production is set to increase from 1.6 million tonnes in 2006 to 2.5 million tonnes at the end of the investment programme.
Auchan goes to Pitesti
With a 40 million Euro investment, French retailer Auchan last month opened a new hypermarket in Pitesti. Besides the hypermarket, which was opened on a sales area of 10,000 sqm, the centre also includes a shopping gallery and a branch of the large format consumer electronics retailer Flanco World. The company plans to open one more hypermarket by the end of this year in Cluj-Napoca and three more in 2008 in Constanta, Timisoara and Suceava respectively, in addition to the existing two in Bucharest and Targu Mures.
Dairy unit doubles up in Alba
Dairy firm Albalact, producer of the Zuzu and Fulga brands, has opened a ten million Euro milk, yoghurt and Romanian cheese factory in Oiejdea, Alba county. The unit will almost double the firm's production capacity, to 250,000 litres of milk daily. Production will begin at the end of 2007, reports newspaper Business Standard.
Mercedes fleet drive for Bucharest
Bucharest's public transport utility RATB has signed a 105 million Euro contract with DaimlerChrysler to buy 500 more Mercedes-Benz Citaro buses, this time equipped with air conditioning. RATB officials said the first 50 buses will be delivered this December and the rest by the end of 2009.
Europe cash for malt producer
Malt producer Soufflet Malt Romania will open in September 2008 a new factory in Buzau, following a 20 million Euro loan granted by the European Bank for Reconstruction and Development (ERBD).
New plant for plastic pipes producer
Plastic pipes producer Valrom, part of the Romstal Group, will invest 30 million Euro to open a new plant in Topoloveni, Arges county, according to
Mediafax
. The production facility will be completely operational by 2012.