West and city outskirts in one billion Euro Seven Hills project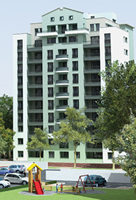 BUCHAREST WEST, ILFOV, PLOIESTI Real estate developer Seven Hills, part of the Beny Steinmetz Group, targets one billion Euro in investments in Romanian residential, office building and commercial projects by the end of the year 2009. So far, the company has spent around 600 million Euro in residential projects nationwide.
The company acquired 50 hectares in Saftica, Ilfov county to develop around 1,000 living units next year.
"We will build either villas or blocks of flats with a maximum two to three floors and between 1,000 and 1,200 apartments," Moshe Agavi, country manager at Seven Hills, tells The Diplomat. "We consider including facilities needed for the whole area such as a small church, kindergarten and maybe a school."
The developer plans to purchase another 108 hectares of agricultural land in Corbeanca, Ilfov. The land will be ready for construction in about two years.
On 3.5 hectares of land in Cotroceni, central Bucharest, Seven Hills will develop a luxury project. "We bought the land and will soon decide if we want to build a residential complex or a complex including living units and offices," says Agavi. "About 70 to 80 per cent of the green area will be preserved."
Seven Hills entered the domestic market two years ago and started the development of the 1,427-apartment West Park Residential project, located in Militari neighbourhood, near Lacul Morii.
"Militari is an area that we like very much and we have purchased recently a plot of land next to West Park Residential for the development of another 300 apartments," he adds.
Pantelimon is also targeted by the real estate developer. On the lake, the company will develop a 1,200 apartments project over 100,000 sqm starting next April and due for completion in 2010.
Ploiesti, Prahova county, is the first tier city where the company decided to start in March 2008 the construction works on a 250 apartments project over 11,000 sqm in the city centre.
---
Adama takes on west Capital with apartment project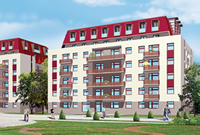 NATIONWIDE US real estate developer Adama has secured a 15,000 sqm land plot in west Bucharest on Str Stefan cel Mare and will begin in 2008 the construction of 500 apartments in an investment plan of 150 million Euro.
This is part of the company's ongoing 1.5 billion Euro investment in residential and office projects in Romania.
Adama is developing residential projects under Evocasa brand countrywide. In December, the company will launch a 45 million Euro residential project, Evocasa Viva, on Str Stejarului in Brasov, including 550 apartments.
In north Ploiesti, Prahova county, the developer is building Evocasa Orizont, residential complex including 1,000 villas and apartments with prices ranging between 84,000 and 150,000 Euro per living unit including VAT to be delivered in 2009. "We aim to deliver on the market apartments, which will remain modern and exclusive over the years," Uri Lancry, Sales and Marketing Manager, Adama, tells The Diplomat. "We try to make the living units as functional as possible through planning every sqm." The company set shop in Romania in 2004 aiming to develop dwellings for the middle class. But aligning to market's demand, the company is now building apartments for the upper-middle and high class – especially in mixed use projects.
"People are willing to pay more money for an apartment as long as they have all they need, including commercial and leisure areas, kindergarten, even offices in the same place," Lancry says.
Adama has bought land in second tier cities such as Arad, Oradea and Timisoara where it will start developing residential projects worth around 150 million Euro. In 2008 the company will deliver residential projects in Titan, Bucharest called Edenia, Evocasa Swiss Cottage and Evocasa Titanium.
---
Property of the month
Modern rustic style revives central villa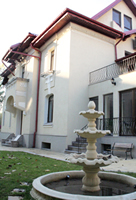 DOROBANTI This 1923 redeveloped villa uses an interesting motif of wooden panelling and framing to create a rustic atmosphere at the heart of Bucharest's most exclusive zone.
Belonging until recently to the state, this building is now available for rent from real estate agency Eurocasa Estate for 15,000 Euro per month for use either as an office or residence.
Refurbished in 2006, the villa preserves some of the elements of the original architecture, such as stained glass windows which echo the florid patterns of the arts and crafts movement.
The house is built over 800 sqm, on four floors with 14 rooms, seven bathrooms, four terraces and a balcony. The reception hall includes oak-covered walls, wooden beams and a marble fireplace.
The property also boasts an attic stretching over 140 sqm. This is the most attractive and modern room in the house with a simple design and functional division of space. The area also has enough windows to transform the interiors into a painter's studio. Leaseholders can furnish the large space as an apartment, separate from the rest of the villa due to access to a private bathroom and a small terrace.
The 600 sqm yard includes a large lawn and a small fountain. The house has gas heating, air conditioning, video surveillance and a burglar alarm.
For more information call
Adriana Ionescu at Eurocasa Estate on 0740 17 37 05
Inside facts
• Price: 15,000 Euro per month
• Built: 1923
• Built area: 800 sqm
• Floors: basement, ground floor, first floor, attic.
---
AFI Group snaps up two factory platforms for mixed-use
BUCURESTII NOI, COTROCENI, PLOIESTI, ARAD Israeli-based AFI Europe Group will develop two industrial sites in Ploiesti and Bucharest for major mixed-use developments taking their investments in Romania to around one billion Euro.
The company aims to build 3,000 residential units on the site of Laromet, Blvd Bucurestii Noi, in a 500 million Euro project. This will also include a 25,000 sqm shopping mall for delivery in 2010.
The site of the shopping complex will rival the Colosseum centre, a 450 million Euro leisure and retail project from UK-based Modus Properties, which is close by on Soseaua Chitila and due for delivery around the same time.
CEO AFI Europe Group (Africa-Israel) Reuven Havar says the Laromet factory will continue to work for two more years after construction begins, then it will move outside the city.
On the site of industrial products firm Flacara in central Ploiesti, AFI will build a 25,000 sqm shopping mall for delivery at the end of 2010.
The company is planning an office development of 16,000 sqm in Ploiesti and around 300 apartments on the factory site. Construction will begin towards the end of 2008.
AFI is also developing 16,000 sqm of offices and a mall in the centre of Arad, at the junction of Aurel Vlaicu and Blvd Vanatori. The Arad Palace mall will include a shopping centre with eight to ten screen cinema, a GLA of 35,000 sqm for a delivery target of the first quarter of 2010.
The ongoing project, Cotroceni Mall, is 80 per cent leased and targets an opening by December 2009.
Next to the mall the company will build 90,000 sqm of offices. Five buildings will follow in respective years, possibly beginning in 2009. "This depends on the market," says Havar. "If the market asks for more offices, we will accelerate development."
There is also the option of a hotel for this site. "But we have not yet taken a decision," says Havar.
---
Euromall moves into lakeside residences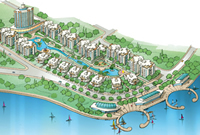 BANEASA-SISETI French-Israeli developers Euromall in partnership with Austrian property company Immoeast will create a 120 million Euro luxury residential and commercial complex in Baneasa Sisesti to de delivered by 2011.
General manager of Euromall Tomer Barhom told The Diplomat that construction will start on the 800 apartment lakeside complex on a 63,000 sqm of land in the summer of 2008.
---
Wheel turns for private-public project
EROILOR METRO Israeli real estate developer Plaza Centers will now invest 600 million Euro in the Dambovita Center, according to Ran Shtarkman, CEO of Plaza Centers.
The mixed use complex located the unfinished premises for the national radio station, Casa Radio covers 600,000 sqm.
The property includes two office towers, a building for the City Hall, a shopping centre of over 100,000 sqm, a five star hotel and an aparthotel with 115 apartments.
The centrepiece of the proposed design is a giant ferris wheel which Plaza Centers says is larger than the London Eye that oversees the Thames in the UK capital.
Plaza Centers is in talks with Bucharest City Hall for the construction permit, Valeriu Ispir, representative of Plaza Centers.
---
Property: Bucharest
LACUL TEI and SOS VIILOR Spanish developer Gea Prasa will launch next year a residential complex with 2,000 living units on the premises of the former Muntenia Oil Plant on Sos Viilor in south Bucharest. In the meantime Gea Prasa has debuted in Romania with a residential compound of 504 luxury dwellings with two, three and four rooms, shopping spaces and leisure areas, located on the edge of Lacul Tei. Laguna Residence spreads over an area of 53,500 sqm. The first phase of two is due for October 2009.
STRADA TOPAZ Romanian civil engineering company Soft Construct Consulting is branching out into real estate to develop a three million Euro apartment project in Drumul Taberei, at the junction of Str Margelelor and Str Topaz. Topaz Green Residence comprises 21 apartments with two, three and four rooms at prices starting from 1,100 Euro per sqm. The project will be delivered in December 2008, according to Daniel Nenut, a representative for the firm.
BUCHAREST ZOO Mixed Romanian-American developers are building a 58 million Euro villa complex in Baneasa, near Bucharest Zoo. Construction work at Solaria Residence will start next year and the developers will deliver the first 64 apartments of 264 in December 2008, according to Mihai Carstea, senior sales consultant at Eurometropola Estate. The average selling price per sqm is 1,400 Euro.
SOS BUCURESTI NORD and FLOREASCA Greek investment fund Global Finance, through real estate division Global Emerging Property Fund, is building a 200 million Euro mixed-use complex, Global City on Soseaua Bucuresti-Nord. Stretching over 60,000 sqm, the project includes 381 apartments and an A class business park, to be completed in total by 2010. Global Finance will also build residences, Global Gardens, near the American School and Global Plaza Floreasca, near Parcul Floreasca, that will include offices, shopping galleries and apartments.
Property: Romania
TARGOVISTE UK developers Westhill will construct a retail park with a shopping gallery on the outside of Targoviste, Dambovita county, on the exit to Sinaia. The mixed retail park, shopping centre and cinema will be close to the university residences and will include a DIY store and hypermarket. With a GLA of 35,000 sqm and 1,300 car parking spaces, the investment is around 40 to 50 million Euro, according to Andrei Panculescu, commercial director Romania for Westhill.
PLOIESTI Irish developer Irish Town Development is building a 20 million Euro residential complex in Ploiesti, on the county road DJ102 A between Ploiesti and Paulesti. Named Irish Park, this includes 170 houses to be delivered in two phases in August 2008 and 2010-end. The company is the developer of the nearby Irish Town complex in Ploiesti, due for completion at the end of this year.
CORBEANCA, ILFOV An eight million Euro apartment block complex in Corbeanca village, almost one km off the DN1 road between Bucharest and Ploiesti, will be constructed by December 2008 in an investment by a private Romanian individual. The complex, which has the Caribbean title of 'Antigua Residence', includes six blocks of flats and swimming pool.
CREVEDIA, DAMBOVITA A two million Euro residential villa project will be developed on 3,500 sqm in Crevedia village, Dambovita county, on the shore of Buftea Zmeu Lake. The 'Lake Village' project includes ten houses for prices of 1,111 Euro per sqm without VAT. Developed by a private individual, construction will start at the beginning of next year and is due for completion at the end of 2008.
ARAD Romanian developer Waterhouse will deliver in March 2008 a four-storey office building worth 3.5 million Euro, half a kilometre near the proposed Nadlac-Bucharest motorway between Arad Airport and the city centre. The development will include logistics, and a French restaurant.