Prudence demanded before election year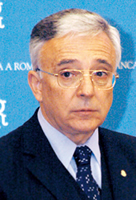 Romania's central bank is calling for prudence while Government public spending sky-rockets before an election year.
Last month the central bank raised interest rates to 7.5 per cent from seven per cent. In September inflation rose to 6.03 per cent. This is outside the 2007 target of four per cent and signals an end to four years of disinflation.
Consumption is also becoming unsustainable as the current account deficit for the country is now around 14 per cent of GDP.
Meanwhile Government spending this year has grown as the Liberal-led cabinet doubled the rate of pensions and raised public sector salaries by 20 per cent.
Public spending is expected to increase next year due to the local and general elections. This will increase consumption and put further pressure on the current account deficit and trade deficit.
September's inflation rise was due to an increase in food prices and the impact of the correction in the leu's exchange rate, argued the central bank.
This year's drought and a global rise in food costs have forced prices to increase.
"The interest rate rise was a necessary move," argues Juan Jose Fernandez-Ansola, senior regional resident representative IMF. "Inflation projections showed that inflation was expected to remain outside the band [of four per cent] for quite some time, and the central bank had to deal with this phenomenon early on."
"If it did not act as it did," added the IMF representative, "it would have to take much more drastic measures to increase interest rates in the future."
But this may not be enough to bring inflation down further in 2008
"Even with the changes made by the central bank, it will be difficult to get inflation within the band below five per cent in the second half of next year," added Fernandez.
Meanwhile due to Romania's ailing agricultural sector and its reduced outputs, growth is slowing. This is expected to decelerate from just above six per cent at the end of this year to just under six per cent in 2008.
The central bank is also concerned with the rise in incomes, which is not supported by higher productivity.
---
Canadian gold firm takes Ministry to court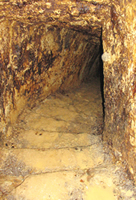 Management of Rosia Montana Gold Corporation (RMGC) will sue the Government for suspending the approval of a certificate that will allow the company to begin construction of a gold mine in Alba county.
Last September the Ministry of the Environment and Sustainable Development suspended the evaluation on the Environmental Impact Assessment (EIA) in a move which CEO of RMGC Alan Hill said "no basis in law".
Last month a court in Cluj also annulled an urban planning certificate which Alba county council granted to RMGC, a document necessary for the plan.
A Brasov court of appeal has also cancelled a certificate allowing the Canadian company to exploit the Carnic Massif hills, which contain traces of Roman mining remains.
Meanwhile RMGC has lost patience with the present Government of the National Liberal Party (PNL) and Union of Hungarians in Romania (UDMR).
Both the Hungarian Government and the UDMR oppose the project and the PNL does not see political gain in support for the 600 million Euro investment in the open-cast mine for gold and silver.
This is despite the Romanian state's 20 per cent stake in the project.
The mining company believes it is becoming likely that only a change in Government could help restart the process.
Romania's general elections occur at the end of 2008. Current polls put the Democratic Party (PD) ahead, although it is likely this party will need support from a coalition partner to secure a majority in Parliament.
Members of the PD have been supporters of the mining project in Alba county.
RMGC is likely to lay low for a year and restart its attempts to gain construction permits for the project if a PD-led Government continues its backing for the project.
This will probably halt any production of the mine until the end of 2009 at the earliest.
In the meantime the company's choice of weapon is the courts.
The Romanian Senate is also waiting to approve a bill which bans the use of cyanide in mining, a substance which RMGC regards as essential in its excavation process.
The law is understood to have been introduced to deliberately undermine the proposed activities of the Canadian investors.
Rosia Montana Gold Corporation is 80 per cent owned by Canadian group Gabriel Resources and 20 per cent by the Romanian state.
---
Aluminium producer constructs one
billion Euro thermopower plant
Romanian agricultural firm Interagro and aluminium investment group Vimetco, owner of aluminium producer Alro Slatina, will partner to build a 1,000 MW coal-fired power plant in Turnu Magurele, Teleorman county.
The plant will cost over one billion Euro and is expected to be operational by 2012. Part of the electricity generated will be used by Vimetco's aluminium plant Alro in Slatina, Olt county. Over 75 per cent of Alro's energy is supplied by local hydropower firm Hidroelectrica.
Vimetco, which is registered in the Netherlands and headquartered in Switzerland, took the decision to secure long-term electricity supply and energy independence for its aluminium producer.
---
Short News
Green light for tardy pharma
privatisation
Privatisation Authority (AVAS) will finally sell its majority share in generic pharma producer Antibiotice Iasi. The privatisation will be launched in January 2008, with AT Kearney as consultants. AVAS owns 53 per cent of Antibiotice, while SIF Oltenia and Citibank Romania are among the minority shareholders. Antibiotice has a share of 3.2 per cent of the Romanian pharma market.
State rail freight sale by March
Romania's Ministry of Transport will launch the privatisation of freight transport company CFR Marfa by March 2008. The consortium of consultancy company Deloitte Romania and law firm Bostina and Associates have won the auction for drawing up the privatisation strategy for the state-owned company. As we went to press, CFR Marfa still had to hire an evaluator to estimate the company's sale value. With 19,000 employees, CFR Marfa has 987 diesel, electric and hydraulic engines, 55,000 carriages, two ferry-boats, each with 12,000 deadweight tonnage (dwt).
S&P: thumbs down to Romania
Economic ratings agency Standard and Poor's has downgraded Romania' country rating from stable to negative, due to concern over the nation's massive increase in public spending, which is expected to continue in 2008. Romania's rise in Government spending has outpaced GDP growth by 7.4 per cent this year, compared to one per cent in Bulgaria and 1.4 per cent in Croatia.
Cost of cathedral doubles
Romania's Orthodox Church will build the Cathedral of Redemption at a cost of 400 million Euro - twice the original estimated cost predicted for the project in 2005. Construction will start in Spring 2008 and end in 2014 on a plot of green land in the grounds of the Parliament Palace between JW Marriott Hotel and the National Museum of Contemporary Arts.

Railway bridge to Bulgaria
auction for July 2008
An auction to select the constructor for the railway bridge between Calafat in Romania and Vidin in Bulgaria is slated for July 2008, according to the Romanian national railway company CFR. Earlier this year the road bridge contract was awarded by the Bulgarian Government to Spanish firm FCC for a target delivery of 2010. Romania will invest 51 million Euro in the railway bridge, which it estimates will cost 118 million Euro.
Gas network operator hits market
State-owned natural gas network operator Transgaz is selling ten per cent of its capital on the Bucharest Stock Exchange for 65.7 million Euro by 7 December 2007. The stock market is witnessing 1.17 million shares on the Bucharest stock exchange. From the minority stake, 60 per cent of the shares are allocated to investors with subscriptions of over 143,000 Euro, with the rest going to subscriptions between 574 and 143,000 Euro. Raiffeisen Capital & Investment is the broker for the offering.
Rompetrol Petrochemicals restarts polyethylene ops
Rompetrol Group's petrochemical division has restarted production of high-density polyethylene (HDPE) following an investment of around ten million Euro. The manufacturing will have a capacity of 60,000 tonnes per year for a European target market. Rompetrol is 75 per cent owned by Kazakhstan state oil and gas company KazMunaiGaz. The petrochemical division initially ended HDPE manufacture in 1996.
Four-star hotel due for Cluj
Romanian residential developer EuroTrend is branching out into the hotel industry, with a four star hotel in Cluj-Napoca due to open in the second half of 2008. Located on 43-35 Calea Turzii, the 7.5 million Euro Hotel Akantus includes 240 rooms on eight floors, a restaurant and Cognac bar, says manager Carmen Stanescu.
EBRD debates Nabucco financing
European Bank for Reconstruction and Development (EBRD) has voiced interest in financing the Nabucco pipeline to transport natural gas from the Caspian Sea through Turkey to Europe, according to the deputy manager of EBRD office in Romania, Serban Ghinescu. The bank waits for the Government's decision on whether to establish a national power company, incorporating state-owned producers and distributors, before making a final decision
Cost of 2008 NATO summit:
20 million Euro
Romania's Government will allot 20 million Euro from the state budget to
organise the NATO summit next April in Bucharest. Romania will provide facilities for the conferences and meetings and will organise receptions, while NATO will take care of security for its members during their stay in Romania. Bucharest is the third capital from the former Communist bloc, after Prague in 2002 and Riga in 2006, to host the summit.
Twelve new shopping centres
proposed by constructors
Romanian construction company Ambient will develop 12 shopping centers starting on May 2008 in an investment programme of 136 million Euro, including three logistic centres to serve the developed network. Construction works are due for delivery by the end of 2010, according to Dan Olteanu, marketing and communication manager at Ambient.
New Ramada slated for 2008 opening
Four-star Ramada Plaza Hotel plans to open by the beginning of 2008, after a 12 million Euro revamp of the two-star Turist Hotel, next to Best Western Parc Hotel in North Bucharest. The new building stretches over 14,000 sqm and includes 300 rooms, a 150-seat international restaurant, coffee shop and two conference rooms. Ramada's Romanian representation is Trend Hospitality, while the investor is Parc Hotels, which also administrates Best Western Parc Hotel and Casa Doina Restaurant.
First two thirds of year:
4.6 billion Euro FDI
Foreign investment in Romania will reach seven billion Euro this year, according to Economy and Finance Minister Varujan Vosganian. FDI over the first eight months stood at 4.6 billion Euro. Vosganian's optimistic prognosis is based on the assumption that more cash comes in during the last part of the year.
Ownership Fund picks new head
Ex-Privatisation Authority president Micrea Ursache has been appointed president of still non-functioning Ownership Fund (Fundul Proprietatea) for one month. The long-delayed Fund aims to give shares in state firms to Romanians who lost properties during Communism. Each supervisory commission member will take over the presidential position for one month until a fund administrator is selected, which was due in 2006. People who chose not to take shares through the fund can receive up to 142,00 Euro in cash for their ex-properties. The Government has begun to give back money to 50 people per day.