Controlling real estate growth
How private and public forces can best manage the chaotic boom in property development became the focus of a high-level seminar in Bucharest organised by The Diplomat - Bucharest, which brought together authorities and business to beat out some ideas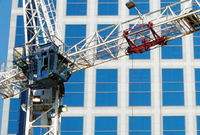 A country with huge development opportunities must not turn into a free-for-all for anyone with money to build what they want.
This was the debate at the heart of the Developing Romania conference at the Crowne Plaza Hotel, Bucharest.
Bringing together leading developers, related real estate industries and local authorities, the event was organised by The Diplomat - Bucharest with attorneys-at-law Norr Stiefenhofer Lutz and Credit Europe Leasing, and support from Fabian, Volksbank Romania, Inocsa, Crosspoint Finance and Regatta.
In Romania, current yields show an average of around 7.1 per cent profits on office developments, eight per cent on residential, ten per cent on industrial and 13.2 per cent for hotel developments. There is also a deficit in homes of between 700,000 and one million units.
But the country's development and the interest of foreign investors is expanding at a rate that means public authorities cannot keep up. Therefore, public infrastructure fails to satisfy the growing private needs, while authorities have little idea how to restrict or support private growth and its new demands.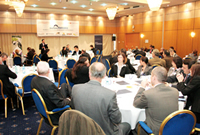 Points raised at the conference included:
■ Building in Bucharest needs greater coordination between six districts, Ilfov and City Hall. The city risks turning into Athens, which experienced over-development and under co-ordination.
■ There is a dilemma between allowing developers freedom to build what they wish, but also the need to retain some coherence and homogeneity in Bucharest.
■ There are needs to be more zoning of land for specific purposes in Bucharest – residential, office, logistics and industrial. However, the trend is to build residential and offices because returns are perceived as being higher. This may not prove suitable for the health of the city or long-term yields.
■ Many of the problems experienced in Bucharest – unrestricted growth, poor infrastructure, unclear rules and a lack of information – are also present in much of Romania.
Wild development:
Taming Bucharest's chaotic growth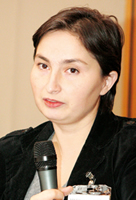 Bucharest needs to develop large-scale projects at a fast rate. But how can the city ensure that liberty for developers does not wreck the urban fabric of the city and its architectural heritage?
Anca Ginavar, deputy director, general territorial development, Ministry of Development, Public Works and Housing
"The current law on urban development and territorial development is not enough for the challenge of developing Bucharest. Proposals on our desk include housing of 20 towers and 30 floors in Bucharest. We need to think about what will happen to the city. We mustn't think about developers as just giving money, but also bringing quality to our Capital."

Stefan Dumitrascu, Chief architect of Sector 3, Bucharest, which includes 400,000 inhabitants including the Historic Centre around Lipscani
"Getting a real European and modern face on this old city is of high priority. We also have to take infinite care of our old city. But I am not on the side of keeping everything. Bucharest is a little town that has developed into a large town over 400 years in a very chaotic way. Now we are trying to make a capital which everyone is saying is booming out of control. All modern cities such as London and Athens boomed in the same uncontrollable way. We have to allow people to invest and bring in a new kind of development in Bucharest that we have lacked for 17 years."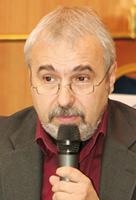 George Kolliopoulos, president, Athens Development Office
"Bucharest has had a very dynamic development and in a short time will see five million people here. If there is a plan, it should be put into action fast. On the metropolitan side, developers have to prevent what happened in Athens, where areas of high value ten years ago have become slums, because developers have created new areas close to the motorways."
Jorg Menzer, senior partner, Norr Stiefenhofer Lutz Romania
"Why do we have certain developments that we don't like? Investors want to take the maximum out of an investment. Money make things work in a certain way because maybe interests of the public are not taken into account. This is the responsibility of architects and the local council."
Adrian Cristescu, general manager, West Group Architecture
"We face a challenging discussion with investors because they think that once they get a piece of land, they can build a lot and very high. Investors should pay more attention to understand that buying land means buying a capacity of development and looking at the plan of the capital. Bucharest is seven towns - six districts and Ilfov. There is no coordination. We should receive a clear general urban plan (PUG), clear conditions for land development and a concept for traffic development for town. The paradox is we would be happier and would make more money."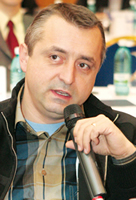 Stefan Dumitrascu
"Now we hear calls that we shouldn't build high and that we have to protect the core of our city. But this is a very confined area [in Lipscani close to Kilometre Zero] – which is under rehabilitation. There is hardly anything else to be found that is worth keeping. I believe that in a couple of years we will see the first blocks that will be demolished by the owners' associations who will want to build something else there instead."
Lucian Mateescu, general manager, constructor and developer Raptis Kavouras
"Why are we waiting for the support of the authorities considering that most developers, if they were allowed to build for 100 days without authorisation, would start very big projects to maximize their profits? Everybody tries to raise their profits as much as possible, everybody tries to influence the authorities and then we come with good intentions and say that we want to protect the green space. We, the developers, should try to change our mentality first of all and then expect the support of the authorities. But we must create a new general urban plan (PUG), otherwise the future will be very dark."
High demand:
price of building tall
Developers are trying to build high to maximise the costs of the land they have purchaised – but there is confusion over which parts of the city would be suitable for tall buildings.
Reuven Havar, CEO AFI Europe Management, developers of mall Cotroceni Park
"We cannot pay so much for land and be limited to such a low level. In the JW Marriott Hotel area there are a few factories where owners are trying to sell and they have not succeeded because the prices are very high. But it's not quite clear if the authorities would allow the deve-
lopers to build big capacity projects."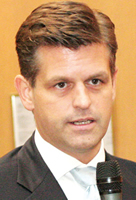 Jorg Menzer, Norr Stiefenhofer Lutz
"Not all European cities built high. In Bucharest, they knock down old hou-
ses in Dorobanti and Cotroceni to put up eight storey blocks. People get permission to do this and it destroys the heart of the city. It is comparable to Athens 30 years ago. I don't know why we make the same mistakes. We need political will."
Anca Ginavar, Ministry of Development, Public Works and Housing
"Brownfield sites need to be developed in the city. We need an urban policy to create the conditions for development and good transport policies to make the city function. In regard to high buildings, if the market wants to live in very high buildings – this is on their money, not on our money."
Stefan Dumitrascu, Bucharest Sector 3
"I don't think we should build high in well known and well established urban areas, such as the chaotic display of blocks of flats in recent Chinese sub-cities. We need the open minds of town planners and architects and public servants to understand the needs of investors and the needs of money flowing towards Romania and try and make room for it. Nobody is trying to put more pressure on the city as it already is – nobody is trying to develop a system to permit anything."
Keeping green: not at crisis point yet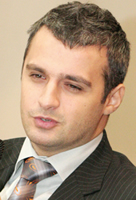 Everyone agrees to the importance of preserving the nature in the city. But as Bucharest looses much of its green space to new developments, there is an ongoing debate over whether this is inessential, unexploited land or necessary green.
Corneliu Popa, attorney-at-law, Norr Stiefenhofer Lutz
"We should discourage urban sprawl and preserve green areas. In the 1960s and 1970s we saw a LosAngelisation of cities where former agricultural land on the outskirts became urban land. What will the authorities do to preserve urban land and improve its density?"
Architect, Sector 3
"Compared to Athens and Madrid, Bucharest is a green town. It is maybe not as green as London, but we have a lot of green space in parks and border green."
Bridging the north-south divide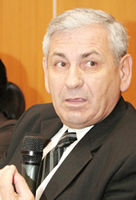 Bucharest is a top-heavy city. The north is developing office, retail and residential plots at a massive rate. But the road and public transport infrastructure has not kept up.
Traffic jams and the lack of a coherent public transport service have brought the sector to gridlock and are undermining the quality of life many people anticipate from a luxury area.
Reuven Havar, AFI Europe Management
"We took the decision not to go to north because of the transportation issue. There is a big problem and I do not see any solution in the next few years. We prefer the centre and will not try to move the centre to the north. We bought an old factory and bought two more factories in the centre and north."
Rudolf Kmiotek, country manager, developers Fadesa, who are building in Stefanesti, northeast of Bucharest
"In the north of Bucharest there is a new city. The city grows with developers who build outside. If everyone built in downtown on the site of factories, it would be crazy. It isn't possible. It's natural to go in the direction of development, which is to [the northern suburbs] Baneasa, Pipera and Stefanesti. In this situation the Government must be part of this development. I believe it is impossible that this area will collapse."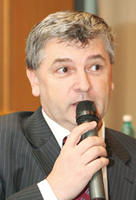 Dennis Selinas, Charlemagne Capital
"For offices we are a lot more interested in developments that are centrally located. In thenorth, it depends on which northern part. A lotof infrastructure work is being done, but the access issue is not being addressed. For a lot of workers who live in the south and southeast and work in north, it is impossible to get to work. This is unsustainable."
John Houghton, property director, Mivan Development
"We undertook residential development in Bucharest in the south because of the existing infrastructure. The land in the north is too expensive – it's almost unsustainable."
Lucian Mateescu, Raptis Kavouras
"I believe that the north of Bucharest is more crowded because every adult in the area owns a car, which does not happen in the south, where people use the bus and the metro more. When the south reaches a financial level similar to the north, we will face the same traffic problems in this area as well."
Road development:
slow and lacking support
One major obstacle in Romania's development over the last five years is the failure of the infrastructure to keep pace with the construction of private real estate projects. A new trend is municipalities expecting private developers to pay for roads – but this union of public and private duties cannot always end in a perfect marriage.
Georg Hellwig, architect, Hochtief Development
"Infrastructure in Bucharest and Romania is the country's biggest problem. Everyone talks – but nobody does anything. Between Otopeni and Bucharest 30,000 new working spaces for workers are under development, all of whom have to travel on the same street. The airport will collapse. Traffic will collapse. Development will collapse. I don't see a masterplan for developers. We have to develop by ourselves, but we don't see what's going on. In two years' time I don't see a change in the planning of infrastructure."
John Houghton, Mivan
"Romania needs development and infrastructure. The problem is who is going to pay for it – as developers we should expect to pay some of the infrastructure costs, but on a reasonable scale - we cannot shoulder all of the costs."
Financing: more instruments available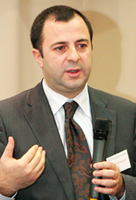 There is money available to developers from a myriad of different national and international financial institutions. But during the current real estate boom, the main problem is evaluating land or property. No one is sure what anything is worth in the long-term.
Kerem Sekizyarali, president, Credit Europe Leasing
"Real estate leasing now constitutes 28 per cent of our portfolio. In the last two years we have clocked up almost 50 million Euro in financing for real estate projects in construction, land and warehouse projects, including down-payments and loans. There is no minimum or maximum limit for our projects.
"But the main problem is evaluating real estate – if you want to lease any real estate land properties we need an evaluation report, which has to be prepared by a member of the National Association of Evaluators in Romanian (ANEVAR). But no one can explain to me how, if I bought a property in the north of Bucharest in Pipera for 100,000 dollars in 2000, now it is worth 1.5 million Euro. Everything has bubbled, only because someone is paying money."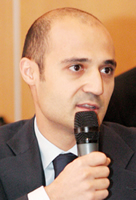 Simona Fatu, vice-president, Volksbank Romania
"When we see a boom in price in a certain area, we try to downgrade a little bit the market price in regard to our evaluation price. Usually, our investors are upset because of this – but we have to take all variables into account. If the value is too high, then it makes sense to bring more equity into the project. But I am optimistic about the future [of real estate in Romania] – what has been done in the past two years has been incredible compared to the previous years."
Catalin Munteanu, corporate finance manager, Cross Point Finance
"It's not so hard to find financing from financial institutions. Financial institutions are more willing to finance areas they know better, such as Bucharest – and attention in the future will go towards Cluj-Napoca, Timisoara, Brasov, Iasi and Constanta. But Bucharest will be main point of attraction for developers and financial institutions."
Leaving Bucharest: the next targets
Developers looking for a less competitive environment are heading outside of Bucharest. The most dynamic cities for development other than Bucharest, as rated by Capital magazine, are
Cluj-Napoca, Sibiu, Arad and Constanta. But many of the same problems present in Bucharest are also evident in the provinces – a boom in private development, a lack of control from local authorities and shoddy infrastructure.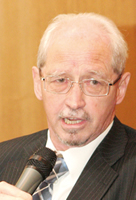 John Houghton, Mivan
"For our Tiago Mall brand we haven't targeted large cities such as Cluj-Napoca because every city has a capacity. So, we tended to target cities with 150,000 people or, preferably, 200,000. Geographically, cities are well-spaced in Romania and tend to operate as independent economic units so that shopping centres in those cities can be very viable. I think most of those cities can take one, two or maybe three shopping centres. We are rolling out ten projects – which could rise to 12. There is no good or bad city – throughout Romania all real incomes are rising, as well as undeclared incomes. We even see potential in cities below 100,000 people. The appetite in the rest of the country will be less than in Bucharest, because there is so much competition in the Capital."
Andrea Li Puma, manager, developers Marina D'or
"We are looking for sites and cities in Romania. The main problem in Bucharest is also in other cities - a lack of information. Cluj-Napoca is a very interesting city. There is a demand from students willing to buy apartments and I believe it will be one of the most important cities for development. But there is also a lack of infrastructure. In Cluj-Napoca, there is an area called Buna Ziua where villas are expanding fast. But they are building four or five floor-villas close to villas of two floors. There is a lack of thought behind the development."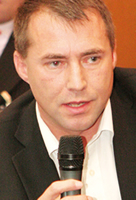 Mark Owen, director, developer and investor Fabian Capital (Romania)
"One year ago we looked at regional cities outside of Bucharest because the land value was getting too high for us. We've been quite disappointed in regional cities because of the lack of control and infrastructure. We see promises of roads being built, but when are they going to happen? No one can supply any guarantees. We want to purchase shopping centre developments, but it's difficult to assess which ones will be successful. It's usually the first one or two to be built, but will these be the ghettos of the future? Developers are leading the way, but there is no control coming from the municipalities.
"Land values are also becoming more expensive and agents are driving the market really hard – how many times do we see a site for sale which says suitable for retail residential, office, leisure, petrol station?
"It's driven by landowners who have excessive expectations. In one of the regional cities I saw a plot of land with a sign which read: 'Suitable for residential Ground floor + 35'. It's outrageous."
Logistics: much in demand
Logistics is an area with a massive growth potential, but which is hampered by obstacles such as a mediocre road and rail transport system and high land prices for a sector where horizontal volume is a necessity.
Valentin Stanciulescu, commerce manager, Belgian warehouse group Warehouses de Pauw
"We bought over one million sqm close to Bucharest and to the Black Sea. We are also looking at the western, centre and especially the eastern part of Romania – where there are few investments in logistics. We've made plans and will start building at the beginning of next year. We're trying to build over 600,000 sqm of warehouses and invest over 200 million Euro in Romania. The main problem is infrastructure. It's very important to be close to the major cities and to develop ring-roads. A lack of manpower is also a problem."
John Houghton, Mivan
"Logistics companies can only pay so much for land to make logistics viable. It's becoming more difficult in prime sites because landowners want residential and office developments in locations that are not suitable for these developments. Landowners have this idea that their land is worth so much more than it is. This is due to a lack of control from the planning side. If the land is zoned around the city for certain uses, then it's controlled, but this is not happening."
Nicholas Abaco, president, Astoria Group
"I have one million sqm logistics space near Bucharest and I believe the prices are not outrageous. Companies can consider partnering with landowners - if you go into a joint venture with a landowner and lower your expectations in yields, it's a way to speed things up."
Labour shortage: a timebomb
Romania faces a crisis in the shortage of labour, especially for high intensive work such as construction – where there is a need for 100,000s of workers. However there is a lack of Government initiatives to promote the immigration of labour and tight regulations on foreigners working in Romania. There is also no comprehensive plan to train existing Romanians in parts of the country where the development rate is not so high.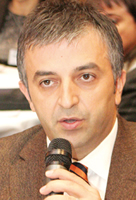 Savas Gunata, managing partner, Turkish constructor and developer Synergy
"All construction companies are suffering from a lack of workers. There is around a 150,000 worker shortage in construction, affecting the quality and performance of constructors.
Costs of construction will rise in the next year. I have been here for eight years and could never imagine the situation we are in now - on a weekly basis we have to turn down several invitations, especially for residential projects.
The way to get out of this situation is to be able to import manpower from Turkey, India or Pakistan. This is what happened in Russia and the United Arab Emirates. But it is not happening here. The legislation for work permits changes on a monthly basis. If I had the opportunity, I could bring a bulk of 200 or 500 Turkish workers here. Romanian wages in construction can now be higher than Turkish wages."
For more photos please visit The Diplomat Events