New Horizons for UK – Romania Trade and Investment Forum
---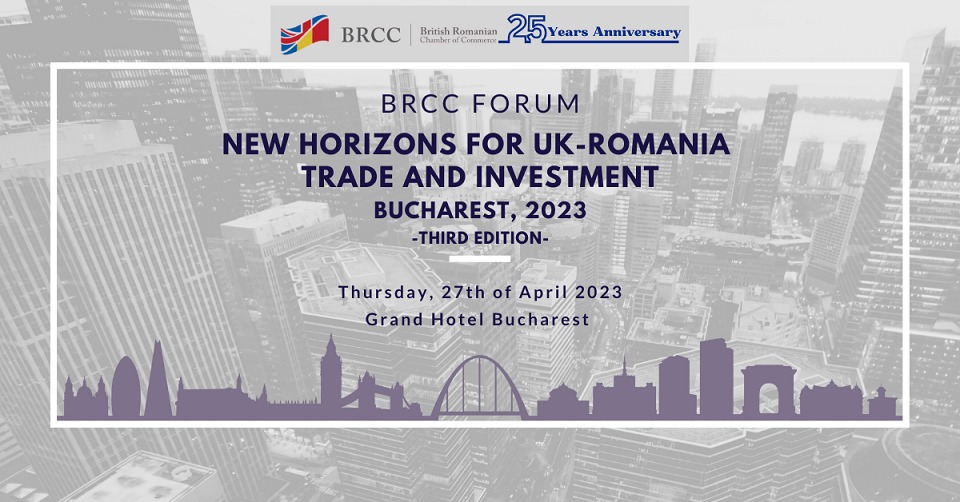 Date:27/04/2023 8:00 amLocation: Grand Hotel Bucharest
On the occasion of celebrating 25 years of existence, BRCC proudly organises the third edition of New Horizons for UK – Romania Trade and Investment Forum in Bucharest. The long awaited event will take place on the 27th April 2023 at Grand Hotel Bucharest.
The conference will investigate potential investment prospects in Romania, as well as exhibiting the best practices of the UK and Romania to promote both business and economic ties. Participants will also discuss strategies for strengthening the local economy for the future and focus on top industries that have become more attractive now in terms of investments.
The BRCC draws on its 25 years' experience and brings together its business acumen and expertise of the members' network, both in Romania and in the UK, and leverages the strong strategic partnerships it has built across British Chambers of Commerce, media partners and private and public sectors. Our aim is to give local businesses a deeper understanding of the support available to help them succeed. We aim to bring together business leaders to share insight and best practices in their respective field.
The brightest minds in investment management will offer their insights on the local macro-economics at play bringing together top speakers for an exceptional conference that is recognized throughout the industry for the quality of its content and the caliber of its speakers.
Now, in its 3rd edition it continues to focus on thought leadership content spanning the world of investing in Romania and offering stimulating debates and informative discussions with C-suite executives and policymakers from Romania and the UK.
Benefits of attending:
Access to the latest investments updates
Divergent Investment views from our top experts
Industry Networking sessions
Local and International content provided by BRCC
Duration & Agenda:
One Day Event (09.00-16.00)
08:00 — 9:00 – Welcome coffee & registration of participants
09:00 — 10:30 – PANEL I (Why invest in Romania now)
With an increase of over 44% in the first seven months of 2022, in the volume of British Investments reaching the historical maximum of EUR 5.5 bln compared to same period last year, Romania has a lot to offer to foreign investors – topics that will be addressed:
Growth opportunities for attracting investments in Romania in the new geo-political landscape and big players on the market from various fields
Excellent conditions for green and sustainable investments in order to combat climate change and achieve the net zero goal
Financial & State Aid: Available grants to support SME growth programs , greenfield investments and governmental programs both national and international in 2023 for a green and competitive Romanian market, PNRR digitalization 2023
Top fields and regions most attractive for investors in 2023
10:30 — 11:00 Coffee Break & Networking
11:00 — 12:30 (Going global and do business international – UK & Romania). – topics that will be addressed:
Trade opportunities between UK & RO. What ingredients need to be added for the UK and Romania to boost trade to reach its full potential?
Double taxation treaty in the new context – a necessity in Romania?
Perspective of Romanian Investment in the UK- case studies from Romanian business working in the UK
Is Romania ready to become a regional logistics hub for British companies to access the EU market, Ukraine and the Balkans?
12:30 — 13:30 Networking Lunch
13.30 – 15.00 PANEL III (Getting more renewables into the mix)
With an increase of 31% of renewables by 2030, most power generation is 100% state-owned in Romania. On the positive side, energy prices remain below the EU averages, despite significant increases in recent years. Total energy consumption increased by 5% in 2021, country is counting on new oil and gas fields, as well as new power and gas interconnections to improve its supply (a new nuclear unit could be commissioned in Cernavoda for 2031).
The country has a lot to offer to foreign investors – topics that will be addressed:
Steps to secure affordable and sustainable energy in Romania and CEE countries
Matching renewable supply with demand: leveraging data-driven results
Finding the right approach by leveraging investments in onshore wind
Initiatives in infrastructure investment
Securing public and private funding
What political and economic drivers are influencing Romania's energy economy in 2023?
Large-scale green hydrogen production for industrial use
15.00 – 16.00 – Concluding Remarks and Networking
BRCC members benefit for free entrance, while non members shall pay a ticket fee of 350 RON (VAT included). You can pay it HERE.
---
Trending Now