Window and door manufacturer QFort invests more than 20 million Euro in new factory near Craiova
Posted On November 29, 2022
---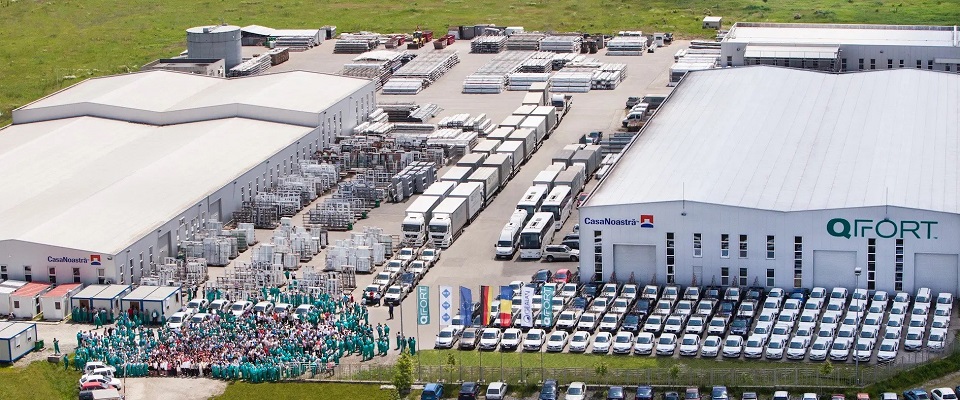 Casa Noastra, the manufacturer of QFort doors and windows and one of the largest manufacturers of insulating carpentry solutions in Central and Eastern Europe (CEE), is investing more than 20 million Euro in a new factory near Craiova, Dolj county.
The new production facility is part of a larger investment plan to expand the aluminium profile business, with a total investment of over 20 million Euro. For this project, Casa Noastra has applied for a state aid for investments, regulated by GD 807/2014, of over 9 million euros, successfully managed by the REI team, a group of companies specialized in attracting non-reimbursable financing.
The financing agreement for the state aid was obtained by Casa Noastra – QFort at the beginning of 2020, and over the last two years investments have been made in the development of the hall and the purchase of equipment, with the factory due to start full operation next year, after only partial production this year.
Located in Pielești, Dolj county, 6 km away from Craiova, the new production unit, specialising in the manufacture of aluminium carpentry, will generate over 200 new jobs.
"We are pleased to have been able to make this investment and achieve our goal of delivering a complementary product range to the market through the production of aluminium profiles locally, for which we have seen a growing demand in recent years. The investment, which was also made with the contribution of a state aid of about 45% of the total value of the project, will help us to better position our product offer both locally and for export, where we are present with an important part of our production, in markets such as Italy, France, Austria, Germany, Switzerland, the Netherlands, Belgium and Spain", said Ștefan Cherciu, owner of Casa Noastra – QFort.
According to data provided to REI by Neomar Consulting, a company specialising in the preparation of expert studies on the building materials sector, the market for insulating carpentry reached more than 900 million euros in 2021 and is on a continuous upward trend, with 80% of sales representing PVC profiles and 20% – aluminium carpentry.
---
Trending Now