Nuclearelectrica's RoPower and Donalam sign MoU for SMRs deployment in Romania
Posted On November 15, 2022
---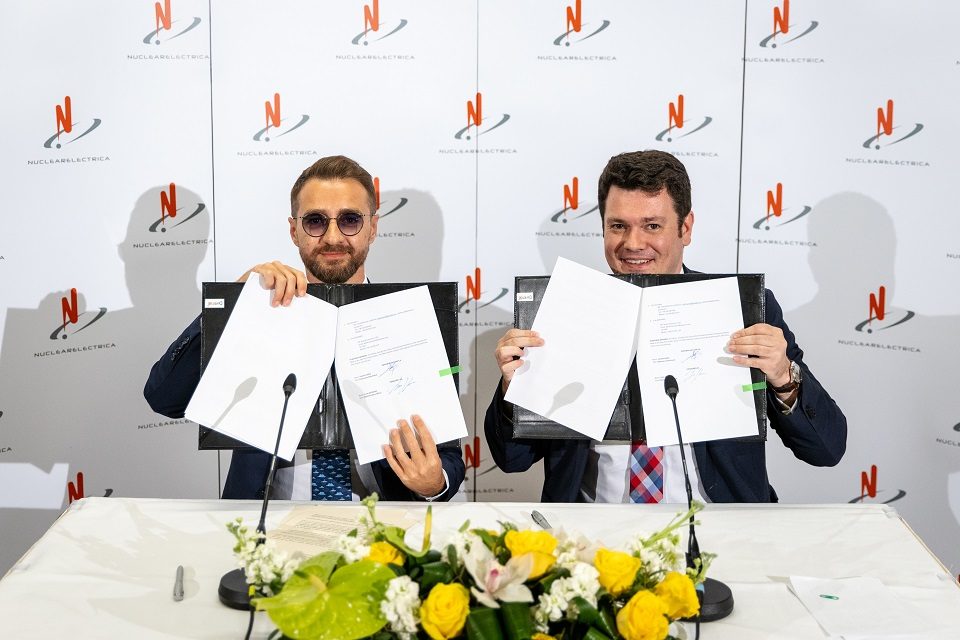 Nuclearelectrica announces the signing of the Memorandum of Understanding (MoU) between RoPower Nuclear SA, the recently established project company for the deployment of Small Modular Reactors (SMR), and Donalam SRL, part of AFV Beltrame Group, leading European steel producer, at the IAEA Atoms for Climate Pavilion within COP 27.
The objective of the MoU is to explore the cooperation and investment opportunities in support of the development of the first SMR Project in Romania, which could have a great impact also in achieving the production of green steel in Romania. On the same occasion, the two companies have joined the United Nations 24/7 Carbon Free Energy Compact (CEC), committing to the UN 24/7 principles in support of UN's goal to accelerate electricity system, mitigate climate change and ensure access to clean affordable energy.
By joining the UN's 24/7 Carbon-free Energy Compact, Nuclearelectrica and AFV Beltrame become members of a global community of organizations collaborating to develop solutions that enables access to 24/7 carbon-free energy.
The announcement comes at a pivotal time as senior government policymakers from around the world meet at COP27 to discuss the urgency of accelerating the clean energy transition.
The recent report published by United Nations on Emissions Gap in 2022 shows that current policies are not sufficient to reach Paris Agreement targets. Nuclear energy is needed to ensure effective and sustainable decrease in emissions. In this context, Romania's example of plans to achieve the first green steel facility with the support of clean energy produced by SMRs and photovoltaic panels can encourage even more steps and similar collaborations within the industry.
"Nuclearelectrica is committed to deploying Europe's first small modular reactor project, alongside the refurbishment of Cernavoda NPP Unit 1 and Units 3&4 Project, at the highest standards of nuclear safety and environmental sustainability. The expansion of the nuclear capacity aims to support Romania's and regional energy security, energy independence and reaching its decarbonation targets.
In this context, we are happy to announce a new step in our endeavour, a potential new partner in RoPower, Donalam SRL, part of AFV Beltrame Group, one of the most important steel producers in Europe. AFV Beltrame Group shares the same commitment for sustainability as we do and understands the role of nuclear energy produced by SMRs in achieving international climate change goals, securing in the same time energy security with a clean, stable, affordable and resilient energy source.
We are proud to make this announcement during United Nations Conference on Climate Change (COP27) to promote the importance of industrial sustainable partnerships with major beneficial impact on reducing carbon footprint.
We trust our example showcases ways to advance the Paris Agreement targets, inspires further industry actions, encourages global and European environmental policies and both governmental and private financing support for industrial for companies with strong economic and environmental strategies derived from a sustainable approach.
Moreover, as our vision to create a sustainable future for the next generations is fully aligned with the principles of United Nations 24/7 Carbon Free Energy Compact, we are proud to join the Coalition and further support Romania's electricity system decarbonation with the deployment of carbon-free nuclear energy technologies, both small and large scale.", Cosmin Ghita, CEO Nuclearelectrica SA and President of the Board RoPower Nuclear SA.
"We are fully dedicated to accomplishing our vision for a sustainable business and to turning into reality our ambitious investment plans for our operations in Romania – the plants in Călărași and Târgoviște and at Group level sustainability is a priority. Energy security has lately become a topic of great relevance. Our plan to build, in the near future, the photo voltaic park in Târgoviște as well as the partnership with RoPower, are two of the solutions for ensuring our access to affordable and sustainable energy in the long run.", Carlo Beltrame, CEO Romania&France and Business Development Manager, AFV Beltrame Group.
In Romania, SMRs will be deployed in complementarity with both large-scale reactors and renewable sources, the Romanian SMR Project also envisaging the addition of solar production capacity in the same energy complex. The joint nuclear-renewable solution would represent not only an optimal production capacity, with the ability to vary output, but also a vision of the generation sources for the power grid of the future.
---
Trending Now