Kaspersky is looking forward to 2022 with excitement and hope
Posted On December 8, 2021
---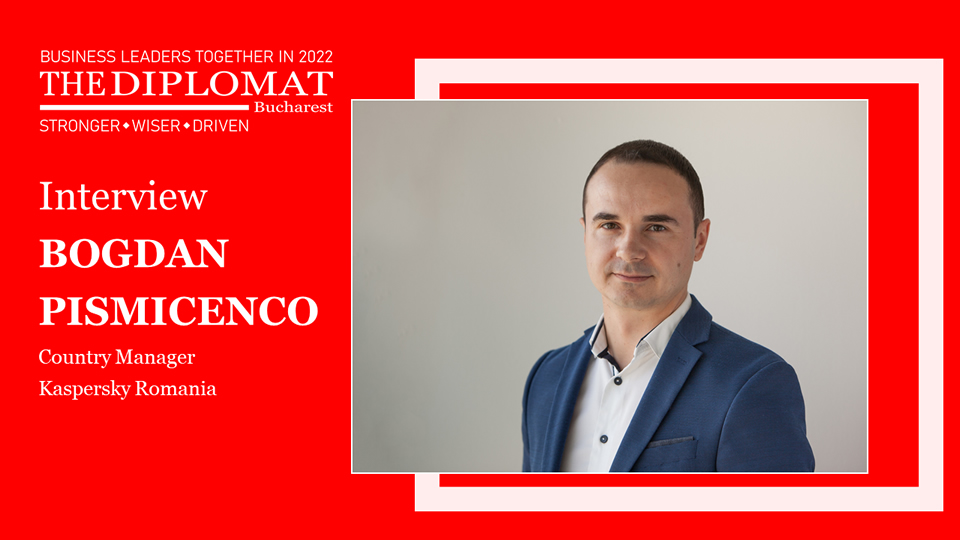 2021 was a successful year for Kaspersky, with the company managing to take advantage of a number of opportunities that it turned into projects for 2022.
"We have, as of today, a 10% growth YoY of our sales, in my region (Romania-Bulgaria-Moldova)," Bogdan Pismicenco, Country Manager – Romania, Bulgaria & Republic of Moldova, Kaspersky told The Diplomat-Bucharest.
Kaspersky has also launched a security awarereness portfolio, locally, in Romanian launguage, and already sees a 'particularly high interest from the market and good sales figures'.
COMMITMENT TO PERFORMANCE | BUSINESS EVOLUTION, PROJECTS, PERFORMANCE, FIGURES
"In 2021, the trends that emerged with the beginning of the pandemic turned into what we now call "the new normal". Most of the businesses who had migrated online then stayed online or implemented a hybrid system which still required all people to carry mobile devices and stay connected all the time. This heightened the concerns for cyber security and a need for trusted partners who could not only sell good products and solutions, but also effectively audit the companies IT infrastructure and recommend systemic solutions or provide security services. So our particular expertise was needed, and we were there to support our clients with this abrupt transition to an environment that still feels foreign and volatile to many.
Strictly speaking based on figures, 2021 was successful, taking in consideration this year's cautious strategy of the business segment. We have, as of today, a 10% growth YoY of our sales, in my region (Romania-Bulgaria-Moldova). But I believe the most important thing we achieved is the increased number of new opportunities we managed to open, especially in the Enterprise segment, which will be converted into important projects during 2022. And this is something that we didn't have in 2020, due to the Covid-19 effect on the local economy. We also managed to launch our security awarereness portfolio, locally, in Romanian launguage, and we already see a particularly high interest from the market and good sales figures."
STRATEGY & VISION | RETHINK STRATEGY & PRIORITIES
"My main challenges in 2021 were more related to business rather than our team. Our people are loyal and dedicated and the main challenge we all faced in 2021 was to capture the growth opportunities that the market was providing. Apart from the effective sales of our products and services, this required constant educational and consulting efforts, as in order to be successful, we not only have to sign contracts and deploy solutions, but also gain the companies buy in, so that the cyber criminals social engineering attempts should also be counteracted, not only those that are related tot he IT infrastructure. It was intense, but rewarding.
At Kaspersky, we have a variety of products, services and areas of expertise. Our priorities would be on one hand to expand our offering with our existing clients and on the other, to educate other companies regarding the need for and the benefits of strong cyber security. There is a lot at stake nowadays fort he companies, individual security ties in with corporate security, hackers are constantly looking for new ways to access corporate online assets and we need to make sure companies understand all these and come to us for solutions. Our main focus will be towards securing the critical infrastructure with our dedicated solutions and services, and to add the extra security layer provided by the security awareness trainings."
PEOPLE & COMMUNITY | FOCUS ON SAFETY, SOCIAL APPROACH, LEVERAGE THE POWER OF COMMUNITY
"2021 was an unusual year, however, we have continued to run CSR initiatives. We have sponsored a tree planting project with Asociatia Plantam Fapte Bune, we have participated in the Scoala Altfel program, contributing to the early education of the children regarding Internet safety, we have awarded students in Communication who have participated in a competition of cyber security campaigns directed to parents and children alike and we have held lectures at the University of Bucharest helping students understand the current cyber security challenges. Although we are talking to and about "digital natives", we still need to educate the younger generations about the dark side of the Web, so that we can make sure they are able to protect themselves and keep away from the attacks of the cyber criminals.
KEEN ON GREEN | SUSTAINABLE, GREENER, COMMUNITY & ENVIRONMENTALLY-FOCUS
"By the nature of our business, we are green and sustainable. Helping companies cross the line from the real world to the online world safely invariably reduces their carbon foot print. So basically everything we do has a contribution to the environment."
DIGITAL DNA | GRASPING TECH, DIGITAL INNOVATION, CUSTOMER -DRIVEN, BUILDING NEW BRIDGES
"We have recently started to release our previsions for 2022, like we do every year, and based on our experience in the field we see that lots of criminal activity will be associated with cryptocurrency; Mobile devices will be subject to increased and intensified criminal attempts.
The exploitation of the WFH system will continue, with attempts against individuals intertwined with attacks on the companies they work for. The supply chain will be attacked too – as cyber criminals are looking for way to target the big client companies.
COVID will continue to be a key topic – from scaremongering to selling fake certificates."
2021 IN 3 KEY WORDS
"Online, adjustment, flexibility"
2022 IN 3 KEY WORDS OR MORE
"Mobility, cryptocurrency, metaverse, growth, excitement, hope"
---
Trending Now