Cristina Ionescu, HR Manager South Central Europe, Mondelēz International: Our employer branding is deeply rooted into our purpose and values, providing a meaning in the workplace
Posted On August 16, 2021
---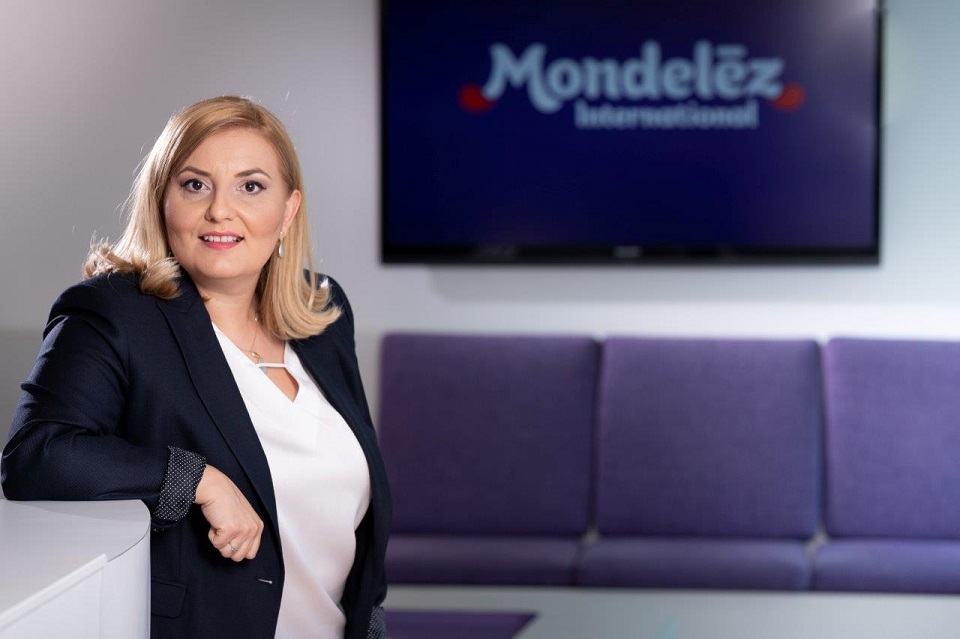 In the ever-changing global business context, multiple business elements adjusted to the new work realities and consumer expectations. In the new light of multiple changes on verticals and horizontals of various businesses and markets, we talked to Cristina Ionescu, HR Manager South Central Europe, Mondelēz International, to find out which are the company's current hot topics and main priorities in terms of business, employer branding, work culture and  recruitment strategy.  
Business drivers for business growth in 2021
All around the world there is a universal snacking need and cultural tension: the lines between meals and snacks are blurring. There is an increasing snacking need, but consumers don't want to have to choose between snacking and eating right. People want convenient and delicious snacks they feel good about eating made with less energy, water, and waste, with ingredients they know and trust, found in the places they want to shop. With our diverse portfolio of brands and a flexible and agile team, we have the unique ingredients to empower people to snack right.
Locally, our business plans are aligned with the Mondelez global strategy. Our mission is to provide the right snack, for the right moment, made the right way. This is embedded in the core of our plans, especially during unpredictable periods like this, being our lighthouse. For us, as a FMCG company, the focus is on our core portfolio, exploring adjacent opportunities and, of course, we will continue to remain visible in all our distribution channels, in traditional and modern retail, with a special focus on e- commerce.
Workspace culture & values to be consolidated
We are Purpose led, consumer focused and values enabled company. Our roots and our progress give us a strong foundation to now evolve into the winning growth culture we all want to become. Our three values –Love Our Consumers & Brands, Grow Every Day and Do What's Right –shape our culture, guide our actions, and reflect what we believe in and how we desire to lead, every day.
In 2021 we will continue building a consumer-centric and diverse winning growth culture that empowers our teams to lead with a growth mindset and agility over perfection. During these times, more than ever, we foster the creativity and innovation of our diverse team. We're embracing inclusion to reflect the diversity of our consumers and maximizing the power and potential of our passionate teams, as a competitive advantage to deliver stronger business performance.
Digitalization, tech tools and AI applications
The snacking industry is being disrupted and shaped by changing consumer behaviors including the rise of e-commerce, the shift towards well-being products and growth in insurgent brands. In response, we at Mondelez must be agile, fast, and obsessively focused on the consumer. We're focused on harnessing the power of data and technology to understand people better and cater for their individual needs and wants. We're committed to approaching our marketing with a Humaning lens –ensuring that we're using our data insights to make genuine and personalized connections between our customers, consumers and brands, and adapt with the consumer need.
The sustainability approach
We just published our 2020 Snacking Made Right Report, highlighting how the company's differentiated approach to ESG (Environmental, Social and Governance) is driving global progress against our ambitious 2025 targets and creating long-term value for the business and its stakeholders. ESG is one of Mondelēz International's long-term value drivers, is integrated throughout the business strategy and is core to its purpose. At Mondelez International our purpose-driven approach to sustainability and well-being is focused on reducing our impact on the environment and creating a positive impact on society as part of our mission to lead the future of snacking by delivering the right snack, for the right moment, made the right way.
Snacking Made Right is part of everything we do at Mondelēz International. It drives us to take care of our people, to protect our resources, and provide moments of comfort and connection for our consumers around the world. In the past year, Mondelez International made meaningful progress against its sustainability and well-being goals and exceeded multiple targets. Our main milestones and results are the following:
Sustainable Ingredients
o 68% of cocoa volume sourced sustainably via its signature sourcing program Cocoa Life
o 98% palm oil sourced from suppliers aligned to MDLZ's 2020 Palm Oil Action Plan
Environmental Impact
o 20+% reduction in CO2 from manufacturing, exceeding the target of 15%
o 30+% reduction in priority water usage, exceeding the target of 10%
o 30+% reduction in total waste from manufacturing, exceeding the target of 20%
Packaging Innovation
o 94% of packaging designed to be recyclable
Well-being
o 16% revenue from snacks from portion control snacks
Community Support
o Established the Sustainable Futures platform to amplify long-term positive impact for people and the planet through innovative social investment and partnerships
o Delivered more than $30 million globally for COVID-19 relief efforts, including a recent $2 million donation to support India's fight against the pandemic
Consumers' behavior has changed, their buying decisions are based on the company's value and commitments. We know consumers are increasingly aware of the impact their choices have on the world and what the companies stands for, beyond the product on the shelf. We believe in making our snacks the right way, which means to both create a future in which people and planet thrive and to stand up for what we believe in. Our Snacking Made Right report is an important step forward as we continue to demonstrate our progress on this journey and reaffirms our 2025 environmental goals.
Cocoa
In 2020, 68% of cocoa volume needed for our chocolate brands is sourced through Cocoa Life, compared to 63% in 2019. 100% of cocoa volume needed for our chocolate brands sourced through Cocoa Life by 2025. Cocoa Life is a program that helps communities thrive in six key cocoa-growing origins―Ghana, Côte d'Ivoire, Indonesia, India, the Dominican Republic and Brazil. We are helping them gain knowledge and skills to improve their livelihoods, strengthen their communities and inspire the next generation of cocoa farmers. 
Wheat:
As the world's largest biscuit producer, we're committed to sustainably sourcing the wheat we use in our products. To help farmers improve the methods they use for growing their crops, we created Harmony Wheat. Working with local organizations, governments and farmers, Harmony Wheat is improving local conditions and setting standards for the way wheat is grown. At the end of 2020, 76% of the volume of wheat needed to produce our biscuits across our EU business unit was grown under the Harmony Charter. Our goal is to reach 100% by 2022.
Carbon
We take an end-to-end approach to reducing our CO2 emissions both in our own operations and in our value chain, including the sourcing of our key raw materials and our packaging. We set a new ambitious company wide target to reduce absolute end-to-end greenhouse gas emissions by 10% by 2025. This is in line with reductions in emissions necessary to keep global warming well below 2 degrees Celsius and an important milestone in our work towards creating a sustainable future for snacking.
Packaging
By 2025, 100% of our packaging designed to be recycled ready. Another 2025 Goal is to use 5% recycled content across all our plastic packaging. We set a virgin plastic reduction target for 2025 that will result in a 5% absolute reduction in virgin plastic use in overall plastic packaging relative to 2020, including a 25% cut in virgin plastic in its rigid plastic packaging. These actions are expected to result in a 10,000 tons reduction of virgin plastic packaging in five years.
In addition, since 2019, Mondelēz International made strong progress in well-being to both align the company's portfolio to contemporary well-being needs as well as encouraging mindful snacking habits through portion control and labelling.
What makes a good employer branding?
Any strategy is only as good as the people and culture that bring it to life. We've adopted a "local-first" commercial focus to win in the business, driving a growth mindset by shifting decision making closest to our consumers and rewarding performance with our incentives and KPIs. We're investing in growth capabilities and shifting our ways of working to lead with an agile and growth mindset –experimenting with new ideas, enabling a digital and flexible workplace to increase collaboration and efficiency, learning from mistakes, and enabling speed with innovation models. We're focused on making Mondelez a place where people are proud to work and a place, they'd recommend by building an engaged team.
Priorities in HR and recruitment
We adapted our working style to suit better this atypical period we are going through, ensuring the safety of our employees and keeping them connected to our company purpose and business priorities. Our hybrid workplace solution ensures colleagues can work remotely and flexibly when appropriate and that our office spaces can play a bigger role in fostering connection and collaboration to allow better management of work and life for our colleagues, attract a broader and more diverse workforce, and reduce environmental impact and improve productivity.
Our employer brand, to attract and retain talents, is deeply rooted into our purpose and values, providing a meaning in the workplace. Our "Make It" external global employer brand proposition connects to our Purpose and Values and showcases our unique culture to potential talent, encouraging our colleagues to serve as company ambassadors through our Social Hub employee advocacy program.
We're capability driven and aim to attract, develop, and nurture diverse talents. We are focused on building deeper line of sight to talent gaps, strengthening our bench of diverse talent and addressing enterprise capability gaps. We provide critical career experiences to build our leadership bench. Our priority is to embed diversity and inclusion in all core people processes, nurturing a culture where everyone is treated with integrity and respect, living our Do What's Right value and commitment that we are stronger through our diverse, inclusive and connected community.
---
Trending Now