INTERVIEW Cristian Lazar, CEO Green PC Ambalaje: "Sustainability is the only option for the future"
---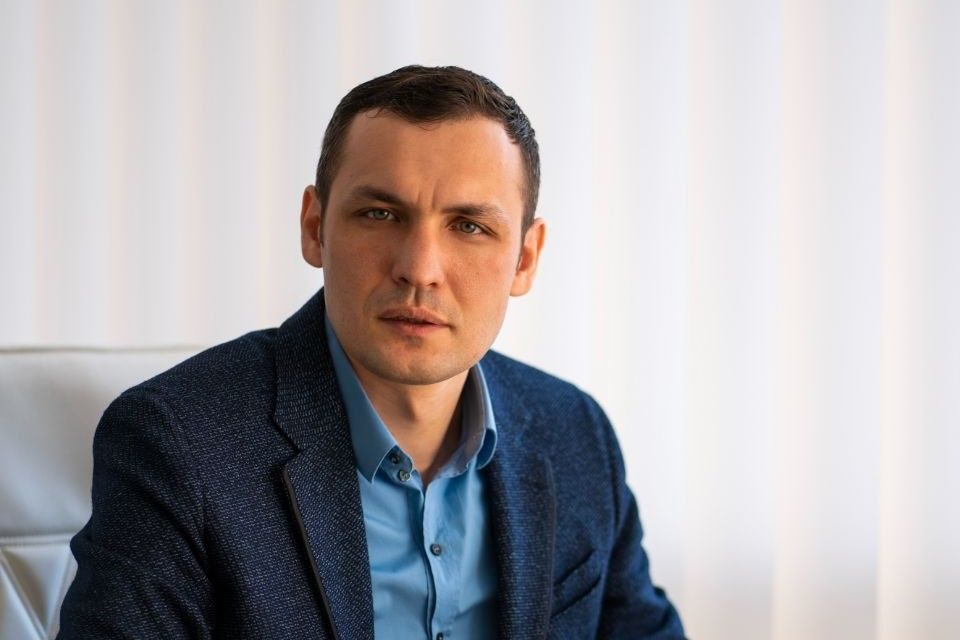 "Sustainability in business is essential for the environment as it is for a successful business. For a company to become sustainable, it should first start addressing issues such as pollution, climate change, depletion of resources and equality, and it should do this in the name of good and in the name of business," Cristian Lazar, Chief Executive Officer at Green PC Ambalaje told The Diplomat-Bucharest.
"Regions and cities play a massive role in achieving climate neutrality and a sustainable economy. Transition pathways are possible if partnerships between the private sector (producers, OIREPs, collection companies) and public authorities are meant for the long run."
Why is it important for a company to become sustainable? How are the sustainability aspects approached in your industry?
Sustainability should no longer be just an option. It is THE ONLY option for the future. Sustainability in business is essential for the environment as it is for a successful business. For a company to become sustainable, it should first start addressing issues such as pollution, climate change, depletion of resources and equality, and it should do this in the name of GOOD and in the name of BUSINESS. Business and sustainability go hand in hand for humanity to move forward and progress to be made. Successful businesses develop solutions for social and environmental issues in their industries. The same goes for the packaging waste industry: a successful business will do good, it will contribute to the organization's overall performance, it will shift behaviours and set an example for the world and make our it a better place.
In our industry, the concept of sustainable waste emerges within the production of consumer goods and the packaging design producers choose, regarding the environmental and natural resources. Which leads us to the crucial role of waste and how it is perceived, its quality and how it is collected and then treated, its value and how it gets into the recycling process. Our companies try to achieve balance and goals through four basic principles – reduce, reuse, recover and recycle, and we work in partnership with our clients to apply these principles. We know good habits take time and energy, we invest in the education of people and in raising the awareness of others, from stakeholders to citizens. Awareness that waste, in general, and packaging in particular, is a resource – valuable but, unfortunately, still disposed of incorrectly most of the times. Both on industrial circuits, as well as in the domestic areas.
Last year, one of our companies received the Silver Recognition for our sustainability strategy and the impact generated in 2019. Also, this year, one of our projects got the Golden Recognition, namely EcoBon which is the program run together with Coca Cola HBC Romania and which is now included in the Community Index 2021 for best practice in the community investment. For the companies in our group, we use environmental, social and governance metrics (ESG), based on which our management determines the next actions.
What are your industry's expectations in terms of business evolution for 2021? What challenges?
2021 is the time for reorganizing and alignment. The targets imposed by the EC for the upcoming years are ambitious. In order to reach them, the industry needs proper conditions that allow placing focus on prevention, separate collection, and waste recycling. We expect the industry to become stronger and more united, after a time of uncertainty and external pressures. This will only benefit the country, in the long run, while Romania's change for a better waste management and better boost in recycling rates will be possible.
Challenges in the waste management industry are equally known by operators and authorities. The role played by local authorities and intercommunity development agencies is key. There are two main barriers. The first is related to how packaging waste is perceived, in the context that most part of the people still do not acknowledge its value and therefore, do not care enough to separate waste in fractions. This calls for urgent change of the paradigm so that waste gets collected separately and treated accordingly; waste is a valuable resource, waste is usable and very much sought for secondary matter by different industries! Which takes us to another major challenge in the industry: waste prevention and what can be done to manage the system efficiently. Difficulties can be overcome with a better coordination between all participating stakeholders, meaning that the technical solutions put out there by authorities should reflect the reality.
For recyclers, capital investments and other efficiency gains have lowered certain risks due to COVID, but supply constraints, labour shortages, transport/logistical hurdles, regulatory costs, and trade restrictions are all still uncertain. Looking at potential opportunities for 2021, rising societal concerns about sustainable development, environmental protection, and climate change, increasingly reinforce recycling's critical role in conserving natural resources, reducing energy costs, greenhouse gas emissions, and preserving low-cost raw material inputs for our manufacturing industries. Price and volume should be positive, with volume starting out negative but quickly swinging positive as the year over year comparisons ease.
What is the key to a sustainable and climate-neutral approach?
Regions and cities play a massive role in achieving climate neutrality and a sustainable economy. Transition pathways are possible if partnerships between the private sector (producers, OIREPs, collection companies) and public authorities are meant for the long run, with the strategic planning in mind to design and implement coherent policies across the industry and among the various layers of governance. Sustainable development and a climate neutral economy require an acceleration of work and investment. This acceleration is required to provide infrastructure for separate collection, building capacity to address the environmental and energy transition and allowing and promoting the use and integration of innovative services into the local waste management system.
Policies often focus on single technological solutions, such as promoting renewable electricity or electric vehicles, potentially neglecting necessary complementary innovations and other changes such as relevant infrastructure development or coupling energy end-use to renewables. Transition policy should focus on whole systems rather than on single innovations and tackle production and consumption patterns.
At what extent education plays a role in supporting sustainability? Please name an educational initiative run within your company or in your industry towards this goal.
Education plays a vital role in supporting sustainability, especially for children who are more aware of the changes happening now, affecting their future and development patterns. Education for sustainable development should promote the development of the knowledge, skills, understanding – values and actions required to create a sustainable world, which ensures environmental protection and conservation, promotes social equity, and encourages economic sustainability. This year we have joined forces with The Institute and Lidl Romania in implementing the most ambitious education project on separate collection in schools: ASAP is a program that aims to educate teens about plastic pollution. It addresses students with a strong educational campaign focusing on explaining the collection by fractions, namely plastic, paper, glass, and metal, and it also involves understanding the waste management process, from collection to sorting stations.
Another educational project we have been implementing, for over 2 years now, is Azi pentru maine (Today for Tomorrow). It is a project in which one of our companies partners up with CSR Nest and The Coca Cola Company on separate collection in schools across 6 counties, including Ilfov and the capital city, Bucharest.
Moreover, together with the administration of the Sector 3 in Bucharest, we have managed to provide all schools across the district with necessary infrastructure for separate collection of waste. Together with the experts from Act for Tomorrow, we have organized trainings for all students and staff in schools.
Overall, through our education projects, we have reached hundreds of thousands of children and parents so far. I am confident the numbers will only grow, and results of our field work will soon be seen in people's behaviour towards recycling and resourceful waste.
What partnership with impact in the development of a sustainable project or initiative would you name?
Big Belly containers in Sector #3 of the capital city is a pilot project we implemented together with Coca Cola HBC and Sector 3 City Hall, an investment worth 220.000 euro that supports the collection system of the city hall. It is a smart solution which has led to significant reductions in terms of costs, time and human resources allocated to collect the actual waste in the street, carbon footprint, and others, while improving citizens' overall well-being.
How can Romania accelerate its transition to a circular economy?
Effective waste management is a great way to accelerate the transition to the circular model, in Romania and in Europe. Separate collection is key, and the European Union sets the trend/tone loud and clear. The EC Circular Economy Action Plan includes recommendations on how to sustain and harmonize separate waste collection systems in member states. The whole process of recycling, which allows for the materials in waste to be recovered and reused in the form of new products, is set back by the low quality and the small quantity of recyclable materials. Separate collection systems are the element that can facilitate an accelerated transition to circularity where products and materials are converted into new products and the end of life becomes the beginning and so on.
From this perspective, the role of multinational companies, which have access to the most innovative technologies is critical as they will be able to implement the first principles of the circular economy. They will practically shape the future global economic picture, through the directions of approaching the circularity and by changing the technologies for various components and subassemblies.
The most efficient way of promoting the circular economy is to extend the product life cycle by using durable materials and make long-life products that can be repaired and that are reused at the end of their life cycle.
What are the most important objectives that should be introduced in the National Strategy for the Circular Economy?
The essence of Circular Economy is to reduce and to decouple the economic growth of natural resource consumption. To achieve this, it is necessary to reduce the waste of material, therefore the waste of package and any material out there – we're talking about such valuable secondary resource! The priority, hence, should be the reduction of waste through its transformation into new resources. The 2030 European Agenda for Sustainable Development addresses the waste management quite clearly: responsible production and responsible consumption, as a general key goal, increasing the recycling rates in our country. A must be objective that can only be achieved though joined efforts of the authorities, the industry, and the civil society. Which means successful cooperation between the local authorities and the producers/ the organizations that implement the extended responsibility, learning from previous actions which, from experience, has rather endangered the recycling, than sustained it.
At a regional level, Romania's goals should include becoming a leader in central – SE Europe, in the next decade, if not sooner than that. We have the capacity, the know-how and the will; we only need unity and consistency in the industry, along with the Government's will to make sustainability and the environment top priorities.
What is your company's business approach in the current economic context?
Our group remains faithful to the belief that a company should seek to provide the best possible service while doing good, in society, and doing well, in business, intertwine, regardless the economic troubles. The unusual context, post pandemic, has only pushed us to build more resilience, which, in the long run, will only prove beneficial. In short, we are in a non-stop search to reimagine and reinvent our businesses, especially now in post-pandemic times when industries must reset at more flexible conditions and being supported by the strengthened resilience across the chains. In the current economic context, we seek to consolidate our business model, and create a synergy inside the organization. We are focusing on our future growth strategy, refining our processes and procedures, and investing in added-value fields which can support our organic growth.
What are the key elements at the heart of a circular economy transformation?
Use waste as a resource! When everybody understands what a great value it has, both economically and environmentally, waste streams will start getting utilized as a source of secondary resources and recover waste for reuse and recycling, which is the base of whole circular economy idea: we reduce pollution, keep materials in use and allow the natural systems to regenerate. And, the system always works better when stakeholders join forces, instead of settling for standards that are lower than what's desirable. From Producers to OIREPs, from ADIs to central authorities, partnerships should be about working together throughout the recycling process so that the increasing rates become achievable.
What are your most important ongoing projects?
We continue to grow our businesses and part of our focus remains the investment in projects that facilitate the implementation of the circular economy principles. Just recently, we have confirmed contracting two schemes with Banca Romaneasca, amounting 15 million Ron and which will be invested in recycling infrastructure. The project is over $1 million investment, and it addresses recycling and reutilization of materials in medium and long run, set to generate major benefits to the state of the environment and people's health.
On long term, we will continue to reduce our carbon footprint by transitioning our fleet to electric vehicles instead of fossil fuels, continuing our journey to a more "greener" company.
---
Trending Now