SMART TRANSFORMATION FORUM to take place on September 9 at Bucharest
---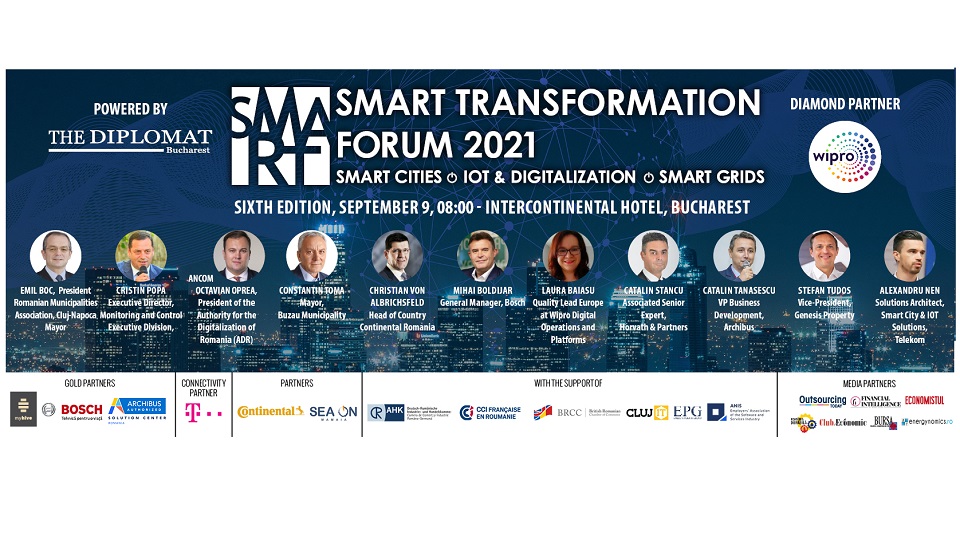 Leveraging on best practices of the already completed projects and the success stories of several Romanian cities, The Diplomat – Bucharest organizes the sixth edition of SMART TRANSFORMATION FORUM to be held on 9th of September 2021 at Hotel InterContinental Bucharest.
REGISTRATION AT THE EVENT: Smart Transformation Forum 2021 (thediplomat.ro)
Smart cities leverage the latest technology to address aspects such as city safety, economic development, waste disposal, utilities network efficiency, urban planning using green solutions, transportation concerns, and the like. The past few years have seen cities absorbing digital transformation trends to improve their citizens quality of life.
MEET THE SPEAKERS
EMIL BOC,  President of the Romanian Municipalities Association
CRISTIN POPA, Executive Director,  Monitoring and Control Executive Division, Ancom
OCTAVIAN OPREA, President of the Authority for the Digitalization of Romania (ADR)
CONSTANTIN TOMA, Mayor, Buzau Municipality
CHRISTIAN VON ALBRICHSFELD, Head of Country, Continental Romania
MIHAI BOLDIJAR, General Manager, ROBERT BOSCH Romania and Bulgaria
CATALIN STANCU, Associated Senior Expert, Horvath & Partners
CATALIN TANASESCU, VP Business Development, Archibus
STEFAN TUDOS, Vice-President, Genesis Property
ALEXANDRU NEN, SOLUTIONS ARCHITECT, SMART CITY & IOT SOLUTIONS, Telekom
LAURA BAIASU, Quality Lead Europe at Wipro Digital Operations and Platforms
The smart city-tag is a concept that has to be earned in Romanian cities, by pushing on the main aspects such as: safety and security, economic development, waste and utilities management, urban green planning, smart transportation & smart infrastructure and technology enablement.
Smart cities are referred to as wired cities, digital cities, intelligent cities, cyberville. In 2021, there are core technologies that will stay a part of the transformational journey of smart cities.
---
Trending Now