Our Way Towards Reliable Green Energy and Circular Economy. Perspectives from BASF Romania, CEO Andreas Lier
---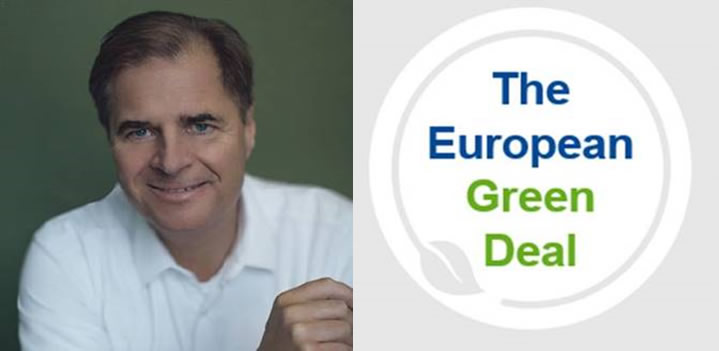 The European Green Deal presents a roadmap for making the EU's economy sustainable and aims to boost the efficient use of resources by moving to a clean, circular economy and stop climate change, revert biodiversity loss and cut pollution.
Andreas Lier, CEO at BASF Romania speaks about challenges and opportunities for the Romanian industry and connects it with a recent project announcement of BASF and RWE and their plan to cooperate on new technologies for climate protection. He also emphasizes that now is a great time to create together with partners projects, which are connected to sustainability, Circular Economy, ChemCyclingTM, green energy and hydrogen. With the practical, efficient, and effective allocation of EU Funds towards such projects the country can make significant steps towards a new, sustainable economy, supported by an Industrial Strategy from the country to support competitiveness.
In the coming years we will see significant changes and we need to act now, says Andreas as the European Green Deal will involve a huge number of policy measures i.e. European Commission aims to reduce greenhouse gas emissions in the European Union to zero by 2050, making it the first continent to become climate neutral. In the last months, when I talked to companies and partners, I see more and more interest and readiness to develop innovations and drive the transformation. To achieve this, the right regulatory framework is necessary, summarized Andreas.
Connected with this Andreas emphasized that the chemical industry is the cornerstone of a low-carbon future. In this context chemical companies deliver innovations that are essential for climate protection, insulation materials for energy-efficient housing, battery materials for electromobility and many more. But we must acknowledge that production processes are very energy intensive and are associated with emissions. A deep transformation therefore is necessary.
Sustainability has become a vital part of many business strategies across industries, and that has prompted growing interest in the Circular Economy— including among European chemical companies. The advent of the Circular Economy is likely to lead to significant changes for the industry, along with fundamental challenges. But it could present a major opportunity for the European chemical industry, and for Europe overall.
Plastics are crucial for modern life. But unfortunately, there is impact of plastic litter on the environment. The New Circular Economy action plan in the EU Green Deal focuses on options to avoid rather than manage waste. This is part of the solution, but it is not all. We see the need for more education and more investment in waste management to reduce littering. Furthermore, we see the need to improve the circularity of the plastic products that benefit society.
Circular Economy – ChemCycling™
There are several solutions for mechanical and organic recycling with products that improve recyclability or are biodegradable. In addition, there are also chemical recycling solutions available that is a major advance in increasing plastic recycling. It complements mechanical recycling by dealing with plastic waste that is currently not recycled, and it creates products that fulfil high quality standards such as those needed for food-contact materials.
In simple terms, the plastic waste is converted back into an oil (though the pyrolyze process) that can be used instead of fossil resources in production processes. An independently reviewed life cycle analysis has shown that this method has a better environmental profile than waste incineration and fossil-based production. Thus, chemical recycling can contribute to the Circular Economy and would like to see it benefit from the same support as other recycling technologies. BASF is collaborating already with partners on this concept and Romania could be also an interesting place for this, said Andreas Lier.
Reliable renewable energy
The European Green Deal focuses on sustainability and climate protection. The chemicals sector plays in this context a major role in achieving these objectives.
Chemical companies can provide new technologies with two core elements – using renewable electricity and using completely new processes, for example to produce clean hydrogen. The technological challenges are enormous and State support is needed to enable the efforts of the industry and facilitate this important transition.
By 2030, following market penetration, hydrogen demand is set to experience an initial increase – especially in the industrial sector (chemicals, petrochemicals, steel), transport sector and not only. If the 2050 carbon neutrality goal is to be reached, hydrogen technologies will also have to play an important role in Romania.
For hydrogen production to enable the market penetration and export of hydrogen technologies, a domestic market is indispensable – one that provides a strong and sustainable base for the production and use of hydrogen while furthering the energy transition. If hydrogen is to have long-term prospects of being used in a sustainable and economical way, capacities for generating electricity from renewables (particularly wind power and photovoltaics) must be systematically improved. Romania offers a perfect production environment for this – with windfarms and solar parks and water energy. Involvement of different stakeholders to create networks and a "living laboratory" with State support by funding could focus on supporting the comprehensive transformation of the energy system with respect to rapid decarbonization in all consumer sectors, summarized Andreas the opportunities. With our recent announcement to cooperate with RWE in the North Sea on green hydrogen we are doing a significant step – to read more see the next page on this project.
BASF and RWE plan to cooperate on new technologies for climate protection
---
Trending Now