LAST CHANCE TO NOMINATE for this year's edition of ROMANIAN ENERGY CEO FORUM & AWARDS GALA!
---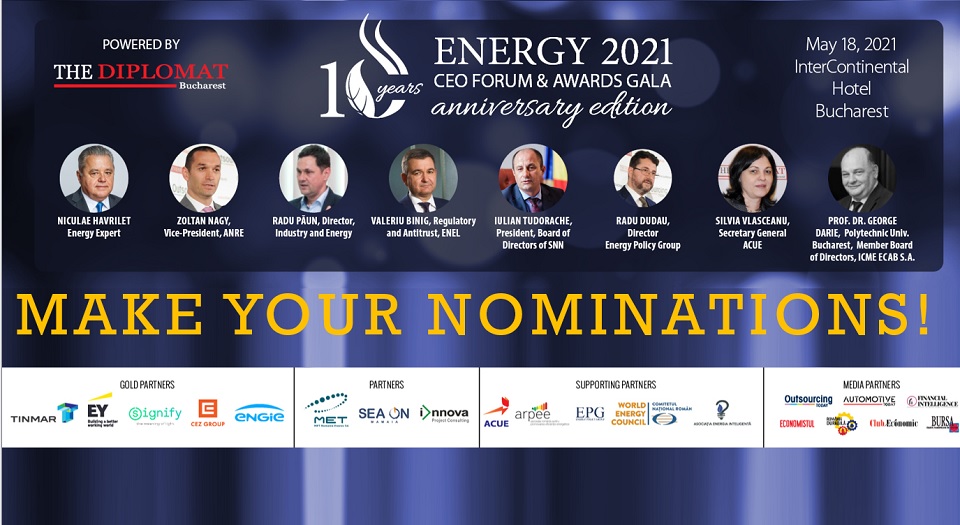 The Diplomat – Bucharest organizes THE 10th ANNIVERSARY EDITION of THE ENERGY CEO FORUM & AWARDS GALA in a special event to take place on May 18th, at InterContinental Hotel in Bucharest.
Until April 30, candidates can SUBMIT their most performant company, manager and project on the online form: NOMINATE FOR THE ENERGY AWARDS GALA, 10th Edition, May 18! (google.com)
THE LANDMARK EVENT in ENERGY SECTOR
Starting as an Awards reception in 2012, Diplomat Media Events developed the Awards Gala event into a more complex platform, featuring the energy industry's CEO FORUM followed by an AWARDS GALA to highlight the performance of Romanian energy firms, live streamed on the online platforms of the event and The Diplomat-Bucharest.
ENERGY CEO FORUM & 2021'S SPECIAL ANNIVERSARY EDITION acts as a dialogue and knowledge sharing information platform dedicated to leaders, companies and managers acting in the industry, with the aim of depicting the latest updates and the perspective of the energy sector.
AGENDA TIMELINE
15:00 – 15:45 WELCOME GUESTS & OFFICIAL OPENING
15:45 – 17:30 | CEO FORUM | THE 10 YEARS' PERSPECTIVE IN THE ENERGY SECTOR
The special anniversary edition of this section will highlight the Leaders' perspective for the energy sector in Romania, within a 10 years' horizon.
17:30 –17:45 Q&A
17:45 – 18:30 Networking cocktail
18:30 – 21:00 | ROMANIAN ENERGY AWARDS GALA
18.30 – 21.00 Awards Ceremony
More on the event agenda and NOMINATION CATEGORIES at: Romanian Energy CEO Forum & Awards 2021 – power by The Diplomat Bucharest
---
Trending Now