Orange Romania, long-distance runner for the Romanian economy
Posted On September 24, 2019
---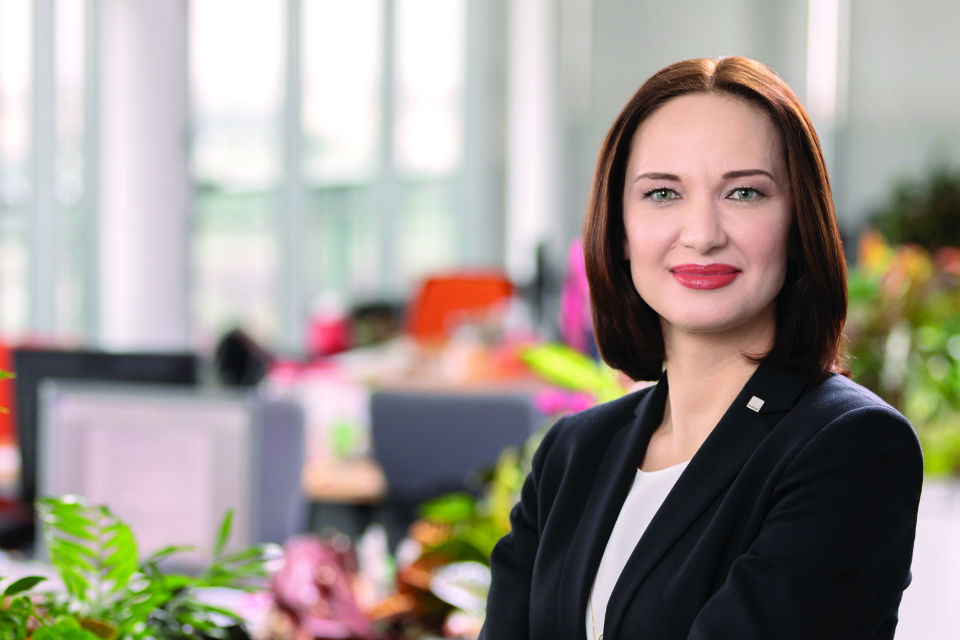 Orange is one of the main investors in Romania, with a turnover of 1.12 billion euros in 2018. The company has invested over 3.5 billion euros over the past 22 years, which makes it a great contributor to the economic development of the country. One out of two people in Romania are choosing Orange services, while customer experience and innovation are key elements for the local competitiveness of a long-distance runner. Constantly investing in new technologies and new capabilities, Orange Romania is recognized as an innovator within the Group. The Diplomat-Bucharest talked to Liudmila Climoc, CEO of Orange Romania, to find out more about the company goals and its plans.
How would you describe the evolution of your company in 2018? What estimates do you have for this year and 2020?
Looking at figures, Orange is one of the main investors in the country, a status that comes with satisfactions and also great responsibilities. Last year, Orange Romania had a turnover of 1.12 billion euros and 533.5 million euros in the first half of 2019, down 2.4% over the same period from last year.
The evolution was mainly impacted by the regulated cut of the mobile termination rates and a slight decrease in equipment sales. Still, we continue to see positive evolution of fixed-mobile services and mobile data consumption, and we expect further growth, thanks to considerable network investments.
The network investments are a prerequisite for service quality and customer trust. In our studies, we see that the network reliability scores high in terms of main satisfaction drivers for almost half of our clients. That's why a significant part of the  3.5 billion euros  invested by Orange over the past 22 years, went in networks. This allowed to  sustainably create national telco infrastructure, as well as jobs, in this way significantly contributing to the economic development of the country.
What have been your company's most important accomplishments this year? 
Having in mind the high level of competitiveness in the Romanian market, I believe the most important achievement for us is preserving our customers trust – 1 out of two people in Romania choosing Orange services. That's why, we spend a lot of energy in making sure we deliver on our promise to our customers – to connect them to what's essential in their lives through the best connectivity and a reach & quality portfolio of products and services. For this, customer experience and innovation are key.
In our journey on the Romanian market, Orange brought new technologies and new capabilities year after year, and we are proud to be recognized as an innovator  within Orange Group as well.
This year, at the largest music festival in Romania, we showed a glimpse of the future. Over 5G technology, we made a live transmission from the main stage where artists performed. The performance could be seen live at 360° in a different area of the festival, using virtual reality headsets. It's a proof of future capabilities for entertainment, as in the following years we might as well experience in this way concerts or sports competitions from another part of the world straight to the comfort of our home.
It was a sequel of the demo we have made during last spring and summer, when 5G (fixed-wireless access technology) was tested in real life conditions with the help of customers from Florești, Cluj-Napoca County. That was the first 5G test of this kind run in Europe.
A novelty is also Live Objects, a platform dedicated to Internet of Things (IoT) projects, that covers the main functionalities required to manage and transform the business in a new way.
Additionally, this year we have launched eSIM technology, a premiere in Romania, that already registers thousands mobile Apple users and the numbers are growing day by day. The eSIM enables users to connect to the Orange mobile network quickly and easily without the need for a SIM card. Also, users can install simultaneously multiple phone numbers on a single mobile device, thus giving them the possibility of using them alternatively, depending on the context and needs.
Important steps were made also in mobile financial services, a domain where people are looking for innovation and for simplicity alongside with fast and secure ways to manage their money. Since 2016, customers can manage their finances with us much easier thanks to Orange Money. We are constantly adding new capabilities for digital finance and growing this part of our business.
This spring, we introduced contactless Visa debit cards, payments using the smartphone or the smartwatch via NFC technology and recently launched My Reserve, a financing solution at handy when you want to buy a new smartphone or a smartwatch for example.
Another area of development for Orange Romania was the enrichment  of our offers portfolio  to business customers. In the past years we developed products and services to help the digital transformation of  companies in order to become more efficient, agile, mobile and productive. But optimization is no longer the only key to success, as digital technologies and the use of data can play a significant role in creating new customer interactions, sales contexts and personalized offers. This is why we integrated an end-to-end secured ecosystem of technologies, solutions and partners able to assist our business customers to value and valorize their digital information.
More, starting July, we combined our experience in the Romanian business specificities with the international expertise in business solutions integration, as our dedicated business division became the local representative of Orange Business Services. This change will enable public entities and companies in Romania, small and large alike, to have access to technological innovations and best in class solutions.
What are the challenges that your company and the telecom industry are facing at the moment?
We are focused on offering to our clients the best services and an excellent customer experience across all channels, Therefore, over the years, sustained investments were a continuous and necessary process, especially when we consider network and investments in innovation,
In this context, it is worth mentioning that business environment predictability is vital for the telecommunications industry and for all the other industries as well.  Legislative and regulatory  need to ensure stability for the business environment, to provide a setting of growth that promotes the welfare of citizens and companies alike.
The first half of 2019, just like last year, has been effervescent, with many challenges coming from an unforeseen economic and regulatory context and fierce competition. However, even under these conditions, we have managed to maintain a stable performance and to consolidate our position as leader on the telecom market in Romania.
Undoubtedly, the Romanian  market is a performant one, offering high quality networks and top services, at affordable costs for final users, one of the best from value-quality ratio perspective in the EU. Therefore, another industry challenge is  to preserve this equilibrium and it is vital for the operators to find a good balance between prices, qualitative services and investments-favorable regulatory framework.
Since we're talking about performance and challenges, I also have to admit that our success in Romania was as well the merit of the technology & IT expertise of the specialists who live and work here. Our local top engineers' contribution is reflected in the achievements Romania is renowned for, the country topping charts within Europe and even worldwide for internet speeds and the quality of connectivity.
Employees are one of our main assets so we face some challenges coming from the local labor market as well, since Romania's workforce is attractive for international employers and highly in demand. It is a struggle of the whole industry, as the unemployment rate is positioned at a historical minimum and is one of the lowest in Europe, currently 2.9% according to the National Agency for Employment. Numerous companies choose Romania to open new centers or expand new lines of business and simultaneously we see an increased phenomenon of migration, many Romanians choosing to work in other European Union countries. So, the challenging context of the labor market for Orange means to continuously strengthen all aspects regarding our employer brand.
What is your perspective on the evolution of the industry on which you are active in the context of political and economic instability?
I see Orange as a long-distance runner. The company operates on the Romanian market for over 20 years and in this timespan, we've seen dramatic changes in the industry, in terms of technology progress and consumer behavior, as well as in the society in general.
The digital innovations and new technologies will continue to drive the development of the sector, and this will be partly accomplished through the support given to tech start-ups and R&D projects. We can already see this in the innovation ecosystem created around Alba Iulia smart city, deployed by Orange. Therefore, connectivity, innovation and infrastructure are key.
The telecommunications infrastructure poses a great potential for the development of all other industries, from energy to services, thanks to the countrywide span and speeds that place Romania among the top countries with the best Internet connections in the world. In order to unleash this potential, the further evolution of the industry is closely related to investments. Romania has to keep the pace of the European market, that is currently investing in implementing new technologies that allow the automatization of industries.
It is important to stress out the fact that the telecommunication industry needs predictability, as well as the authorities' support in order for this to be accomplished.
The connected SIM or object is not only enabling work, info or fun applications, but also industry-changing services like real-time monitoring, security solutions, instant mobile banking transactions or connected cities. This brings a long term benefit for the customer and to the country by securing an environment favorable to investments, a climate which stimulates value creation and stability.
We have a long term commitment concerning our presence in Romania and certainly we'll keep a constant pace of  investments,  that further contribute to  the country digitalization journey too.
How would you describe the launch of Orange Business Services in Romania? What are the objectives of your B2B unit?
On the local market, Orange already has over 2 decades of experience as the digital transformation partner of the companies. Our division dedicated to businesses and public sector is already one of the strongest technological consultancy organization and develops, together with our customers, integrated solutions tailored to their business needs.
The association with Orange Business Services (OBS), an international organization within the Orange Group specialized in business transformation solutions based on IT&C, is a big step forward in our journey to grow the local  business community and will enable large companies, SMEs and public authorities to transform their organizations through the use of technology and digital information.
OBS is known as a global  infrastructure operator, technology integrator and value-added service provider force, with over 25.000 specialists in IT&C operating in 220 countries and territories. Several thousands of them are specialized in Big Data, IoT and app development, an impressive number  of experts are working in cloud technologies and no less than 1300 specialists are dedicated to cyber-security. The OBS solutions in networking, cloud or security are recognized every year by international analysts such as Gartner, Forrester, Frost&Sullivan or Global Data. More, OBS partners at a global level with leading IT&C providers in order to integrate the best in class, future proof technologies. All these resources and the innovations coming from the 18 research and development centers across the globe will gradually become part of our offer to the Romanian business community.
These enlarged capabilities offer our clients access to innovations and solutions developed in the OBS global research & development centers. Public authorities, large companies and SMEs will benefit  of new solutions in areas such as smart networks, Internet of Things (IoT), cloud computing, cyber security, data analytics, machine learning and artificial intelligence.
The OBS solutions will be progressively integrated on the local market, adapted to the Romanian market specificities and scaled to meet the needs of all companies, regardless of the size of the company or the industry they are part of.
What are the most attractive services for your clients in terms of IoT, cloud computing, cybersecurity etc.?
Customers are becoming more aware about the risks associated with the business digitalization process and therefore are willing to invest in solutions that protect their business against these risks.
For example, our cyber security solution, Business Internet Security, is an appreciated tool, as it can detect and prevent in real time complex threats, at the same time as it easy manageable by non-technical staff.
We observe a growth of requests for security solutions, both for the central area of ​​IT architecture (data centers) and for the mobility area. In the first half of 2019 we saw a 50% increase in revenues generated by this type of services, comparing to the same period last year. Whether we talk about securing mobile terminals or securing fixed networks, these security solutions are increasingly sought after, alongside data center hosting and smart Wi-Fi solutions.
At the same time, there is a high demand for new technologies in the area of  unified communications and solutions designed for customer interaction and engagement.
In this respect, Orange Business Services is a reference provider for contact center and call center solutions.
What new services are to be launched by Orange Business Services?
New services have already been added to our national portfolio and are currently being implemented for clients in banking, retail or agribusiness.
For example, the smart networking solution SD-WAN, which is the latest development in the move towards software defined services in networking. For a CEO who needs an infrastructure able to cope with rapid market changes, mergers and expansions, or the implementation of new processes and customer interaction tools, it is a platform for business transformation. For a CIO, it allows for network optimizations by allocating resources dynamically, according to each application's requirements, with improved network reliability through end-to-end visibility and easy management.
Another example is Flexible Engine, which is a cloud computing platform as a service that uses machine learning algorithms to allow for big data and predictive analysis. The applications in business of such predictions based on large sets of data are virtually limitless, from the anticipation of customer behaviors in marketing campaigns to processes optimizations in manufacturing or crop harvesting time optimization in modern agriculture.
Last, but not least starting this year we offer Flux Vision. It is a data analysis platform that provides information on the mobility of different segments of population, in order to optimize communication with customers and create dedicated geo-marketing analyses or campaigns.
Nowadays, data is the new currency, one of the main assets of a company and an essential resource for the business growth of small and large businesses likewise. That is why the technologies, the services and the Orange Business Services partnerships are integrated into a secured ecosystem. Like an alchemist, that transforms ordinary metals into gold, this ecosystem provided by Orange transforms digital information into insightful business resources.
---
Trending Now
You may also like