Property of the month
Gallic flair at the heart of the city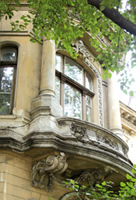 Lascar Catargiu Close to Piata Victoriei, this 19th century villa designed by a French architect is now available for sale from real estate agency Perfect Casa for 2.7 million Euro.
Using baroque inspiration from French country houses, the villa has interesting first-floor bay windows framed by columns and an ornate balcony.
The house belongs to the family descendants of turn-of-the-century painter Arthur Verona. One of its uses since World War II has been a residence of the Ambassador of Belgium to Romania.
Still occupied by tenants, the building has some rusted ironwork at the front and along the roofs and features that may need some redevelopment to recapture its former glory.
There is a semi-basement, ground floor, two upper floors and a mansard that can be occupied. The building is spread over usable space of 720 sqm and a total land of 500 sqm.
There is also a garden and garage space for six cars. At present the building has been separated into different apartments, with a kitchen on each floor.
The owners believe the best use of the property would be as a residential property. Its central location and proximity to travel links would make this ideal for buying-to-let to senior managers or diplomats needing a residence in the city, but speedy access to the airport.
Inside facts
• Price: 2.7 million Euro
• Built: late 19th century
• Land: 500 sqm
• Built area: 720 sqm
For more information call
Perfect Casa on 021 224 5520
---
Residential blitz of 2.5 billion Euro
pledged for capital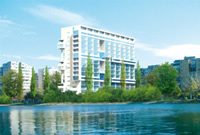 COLENTINA Developer Copper Beach is building a 30 million Euro block with 156 apartments overlooking Lacul Plumbuita, Bucharest, in part of a proposed 2.5 billion Euro residential development programme for the capital and outskirts.
The developer aims to set up 17 projects over five years constructing 16,000 homes including villas, apartment blocks and is "seriously considering" low-cost housing, according to Diwaker Singh, managing director of Copper Beech.
"Budget homes are a huge market," adds Singh.
The company has bought 600 hectares of land and is focusing on developing in the north of the city.
Aimed at young families, the first project, Blue Tower, has studio, two, three, four and five bedroom apartments as well as penthouses. The prices are between 1,400 and 1,580 Euro per sqm. Ground floor apartments have a private garden and there is also a roof garden. Around 110 apartments, 70 per cent of the project, has already been sold.
Alpha Bank is funding 14 million Euro of the project with an investment loan with a two-and-a-half-year maturity and a credit line.
Residents will also have the chance to buy furnishings from Mobexpert, LG and Franke at smaller prices. Graphic Studio are the architects, Aquarius group are project managers, Total Confort the construction firm and Eurisko the real estate agents.
Copper Beach is a made up from Cyprus-based Copper Beach Group and shareholder Singh, who has also developed the five-star Delta Nature Resort in the Danube Delta and headed Telemobil in Romania. The company intends to launch a new 200-apartment project in the next three months.
---
Cascade banks on high-rise offices
BLVD LACUL TEI Dutch developer Cascade Group has started construction works on an A Class office building in central-north Bucharest, dubbed Euro Tower, in an investment up to 60 million Euro.
The project stretches over 18,000 sqm and will be 80-metres high, structured on 18 floors and five underground floors, which will comprise almost 200 parking spaces. Construction management is assured by Bovis LendLease and financing by Banca Romaneasca and Piraeus Bank.
Euro Tower is located at the junction between Str Barbu Vacarescu and Blvd Lacul Tei and, will have green areas on the roof, which will be open to visitors.
---
Polimeni makes shock withdrawal
Just a few of weeks after announcing investments of 300 million Euro locally, US-based developer Polimeni International will withdraw from Romania. This follows the firm's failure to attract financing for its first two commercial projects in Satu Mare and Galati. The company has lost about 500,000 Euro and is undergoing a liquidation process for all firms it owned in Romania, according to Ziarul Financiar.
---
Property: Bucharest
CALEA GIULESTI Spanish-owned Ibiza House Group plans to build a 120 million Euro office complex on Calea Giulesti, once the company receives planning permission. On a 10,000 sqm plot of land, with 90,000 sqm built surface area, the block aims to have twenty floors, offices, some apartments and a small parade of shops.
TITAN Romanian-Icelandic developer Gigant Construct said it will build 1,000 new apartments in Titan, east Bucharest, in two residential projects dubbed Pallady Residence and Pallady Towers. Completion date for both projects is 2010.
DRUMUL TABEREI Italian developer Romedil Util will build 99 housing units on a plot of land between Drumul Taberei and Militari districts in western Bucharest, in a total investment of ten million Euro. The 99 apartments will occupy two eight-storey blocks on land that stretches over 3,000 sqm.
PARCUL CAROL Lithuanian developer Hanner and British-based Bellerive are building a 40 million Euro residential complex near Parcul Carol on Blvd Marasesti. This will comprise four blocks of flats, with 144 apartments and shopping spaces. Dubbed Carol Park Residence, the complex is scheduled for completion at the end of 2008, with prices costing between 195,000 and 490,000 Euro and flat areas between 68 and 177 sqm.
LACUL VACARESTI Developer EuroClub will pour in three million Euro to erect a 12-storey block of flats on a 1,437 sqm plot of land between Piata Sudului and Lacul Vacaresti, in south Bucharest. The block will include 46 apartments and lodge 300 sqm of commercial spaces. It is set to finish in September 2008.
SOUTHERN BUCHAREST Jafco Holding Romania, which holds a majority stake in Chimopar Bucharest, in collaboration with a consortium of international banks, will invest 150 million Euro in a complex on the location of the chemical plant. The complex will include Media City Mall with 115 stores, a hypermarket, cinemas and furniture warehouses, stretching over 26 hectares.
Property: Romania
STEFANESTI-TUNARI Turkish developer Opus Project and Development is building around 4,600 apartments and villas, retail space, hospital and offices in an investment that could rise to 700 million Euro on 100 hectares in Ilfov county. The first phase of the project started this summer, including 565 apartments, a church and a school, plans to be ready at the end of 2008. The entire Cosmopolis project should be finished by 2014. Opus Project & Development was founded this year and is owned by the Turkish Buyukhanli Group.
TARGOVISTE Cluj-Napoca-based Matrix Investments developer will invest 25 million Euro to build a mall in Targoviste, Dambovita county. The project will be built in the centre of the city, and is to become operational by 2009, comprising about 100 stores and 700 parking spaces. Lettable space in the new mall will stretch an area of over 25,000 sqm.
PLOIESTI Ideal Trio Construct Bucharest will invest 35 million Euro in a residential complex that will include 152 villas near Ploiesti. Works have begun in August and are scheduled for completion in three years' time. The complex plans to stretch over a 102,000 sqm area.
IASI Israeli-based AlfaRom Holding and real estate developer Future Group will invest 120 million Euro to develop a real estate project comprising 1,100 apartments in Iasi. Dubbed Green park, the project is scheduled for completion by the end of 2009 and will comprise 14 blocks of flats.
113 TUDOR VLADIMIRESCU BLVD, IASI
Greek real estate company Eurobank Properties has signed a preliminary agreement for the purchase of a 8,950 sqm retail unit due for completion on 15 December. DIY store Praktiker will take over the building for a 15-year lease. Eurobank Properties, part of the same financial group which owns Romanian bank Bancpost, is also looking for other potential acquisitions in Romania.